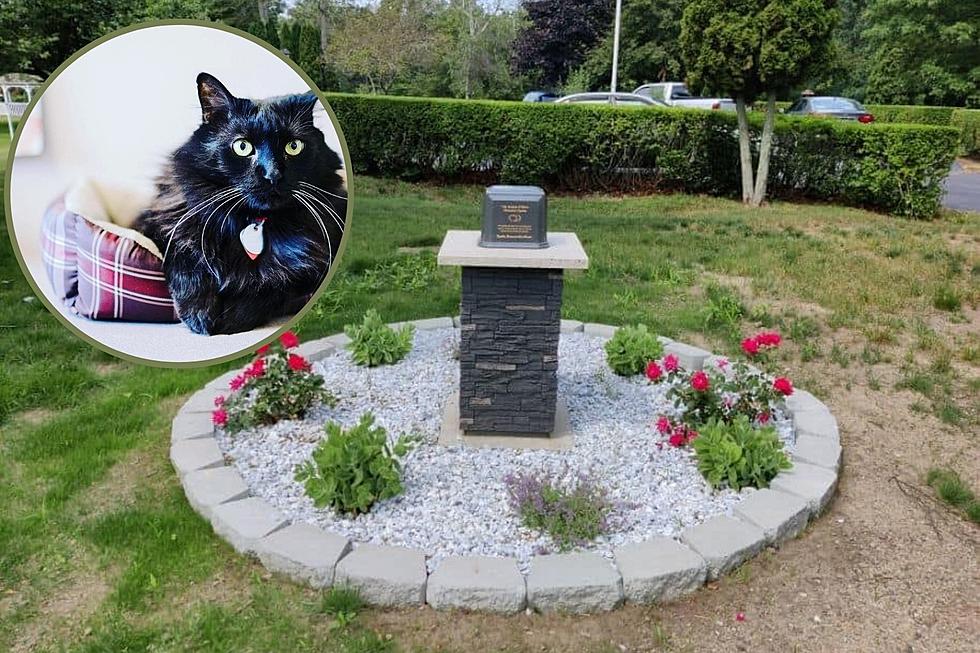 Woman Petitions for Access to Middleboro Communally Cremated Pets
Photos Contributed by Anastasia O'Brien
Anastasia O'Brien is no stranger to the lengths that pet owners go to for their beloved animals. In March of 2017, she traveled to New York to pick up her rescue cat, Hudson. She knew that she wanted a pet that was considered hard to adopt and would provide a loving home for him or her. Hudson was the lucky cat that day.
"She was stunning," O'Brien said. "I couldn't stop staring at her when I got her picture and knew she was the right fit."
After three and a half years together, Hudson unexpectedly passed away in August of 2020. The loss was difficult for O'Brien, as many pet owners struggle to say goodbye to their beloved family members when it's time to cross the rainbow bridge. To make matters worse, O'Brien made an error on the euthanasia form in her state of mourning, and Hudson's ashes were not sent back home. Instead of being cremated separately so the cat's ashes could be returned to her, O'Brien accidentally filled out the form for a communal cremation, a more affordable option in which a number of recently-deceased pets are cremated together and their ashes are buried in an unmarked grave.
"I found out that her ashes were being buried in a hole on a field that was not accessible to the public," O'Brien said. "I was shattered. I couldn't understand why communally cremated pets were not given the same respect as all of the other pets buried at the cemetery."
O'Brien used that anger as fuel to make a difference. She sent an open letter to Final Gift, the owners of Angel View Pet Cemetery and Crematory in Middleboro, and created a petition to request a change in their policy.
"To their credit, Angel View was incredibly receptive," O'Brien said. "They took the time to read my letter and reached out. I spoke with them on the phone, and they explained that everything was done according to regulation but agreed with me that there needed to be a change."
Angel View considered the issue and found a way to resolve it. O'Brien said they told her that they were going to get started on an ossuary with a memorial right away, requesting permission to name it after the pet who inspired the project: Hudson O'Brien.
"It was amazing," O'Brien said. "They told me they'd keep me posted every step of the way. I received consistent emails regarding the project telling me that they met with a landscaper or contractor. They sent me an example of what an ossuary was and a memorial plaque. They drafted an inscription for me to edit, and she took the edits no questions asked. They paid for it and did everything themselves."
Although the project was somewhat put on hold due to the COVID-19 pandemic, it started back up again this year and the Hudson O'Brien Memorial Garden is now officially open as of Monday, July 19.
"I will never forgive myself for filling out that form wrong, and Hudson's ashes are already buried so it's too late for her," O'Brien said. "However, knowing that going forward, people have a physical place to go and visit their beloved pets at their place of rest is so special. Something wonderful came out of all of this heartbreak and it makes me so happy for being able to facilitate this change."
O'Brien is grateful to Final Gift-Angel View for giving her and others this opportunity. She sent another letter to the company, thanking them for their consideration.
"The services that they provide are so important to these people and there are a lot of emotions involved," O'Brien said. "The way that they handled this situation just shows how much they care. It's a testament to their compassionate business and that kindness will not be forgotten."
Whether a pet owner made a mistake like O'Brien did, or intentionally chose to lay their pet at rest via communal cremation, access to the remains will provide comfort for all of those grieving the loss of a truly special pet.
What to Expect at Bajah's Cat Café in Tiverton
A cat café is coming soon to Tiverton, and Amanda Souza-Viera is exciting to bring cat lovers and coffee lovers under one roof.
More From WBSM-AM/AM 1420