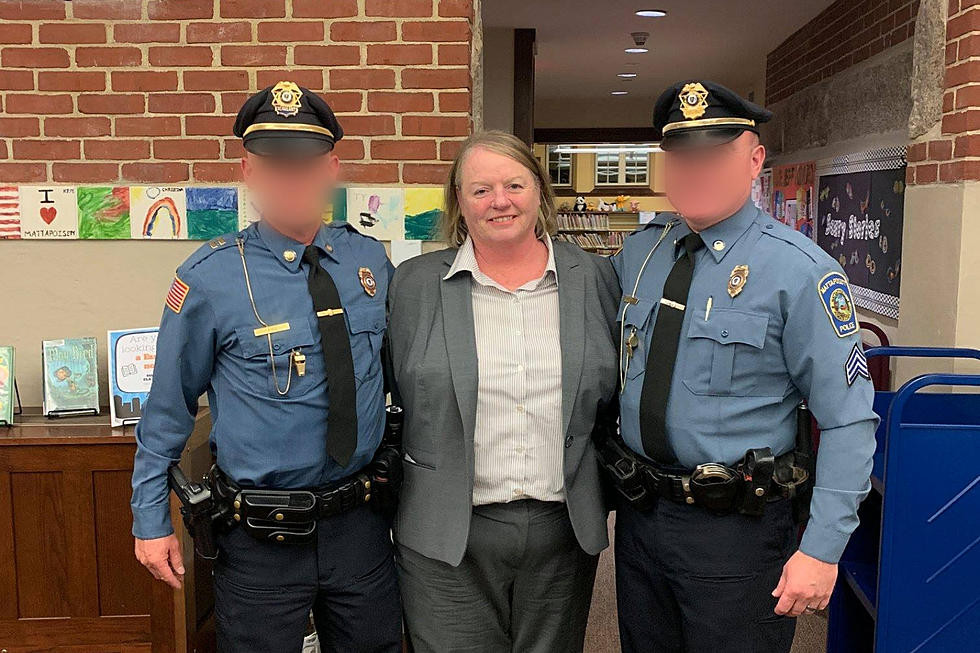 Mattapoisett Police Chief Mary Lyons Should Step Down [OPINION]
Mattapoisett Police Department via Facebook
Mattapoisett Police Chief Mary Lyons' storied career may be ending on a sour note. Lyons is facing an OUI charge after being busted by Massachusetts State Police in Falmouth on Saturday night. It appears Lyons was somewhat less than cooperative.
Lyons has been Mattapoisett Chief of Police since 2001 and according to the Standard-Times became the first female president of the Massachusetts Police Chiefs Association in 2009. Lyons has been placed on paid administrative leave, and town officials told WBSM News they have no comment at this time, citing the "integrity of the investigation."
Lyons entered a not-guilty plea during her arraignment on Monday, and the case was continued to August 31 for a pre-trial hearing.
According to a state police report on the incident, Chief Lyons gave the investigating officer a hard time. At first, she refused to get out of her vehicle when requested to do so and then failed to complete a breathalyzer test. The report says Lyons removed her handcuffs while seated in the back of the police cruiser.
Chief Lyons insists she was not intoxicated, though the investigating officer said she smelled of booze and appeared to be under the influence of alcohol.
If Lyons was drunk, that could explain her bizarre behavior. But if she was sober, as she claims, she was just acting like an ass for the fun of it. Chief Lyons deserves her day in court. If convicted, she should resign immediately. How could a convicted drunk driver remain in charge of busting other drunk drivers? Her credibility as police chief would be shot.
If Lyons is acquitted, she should resign anyway because she displayed poor behavior and judgment by failing to cooperate with a fellow officer. It sounds as though she may have tried the old "do you know who I am" jazz on a state cop, who wasn't buying it.
The people of Mattapoisett must be mighty disappointed in Mary Lyons.
Barry Richard is the host of The Barry Richard Show on 1420 WBSM New Bedford. He can be heard weekdays from noon to 3 p.m. Contact him at barry@wbsm.com and follow him on Twitter @BarryJRichard58. The opinions expressed in this commentary are solely those of the author.
It's Illegal to Spark a Bonfire in These 22 Massachusetts Communities
There's nothing better than lighting up a nice bonfire on a warm summer night. But depending on where you live in Massachusetts, it actually could be illegal to do just that. Naturally, there are exceptions to every rule, and bonfires being used for outdoor cooking are allowed, but exceptions aside, 22 cities and towns across the Bay State have prohibited open burning year-round because they're just too densely-built and populated for burning to be considered safe. Is your community on the list?
St. Michael's Feast in Fall River 2021
A look back on the weekend of the 2021 Fall River Feast with St. Michael's Church.
More From WBSM-AM/AM 1420