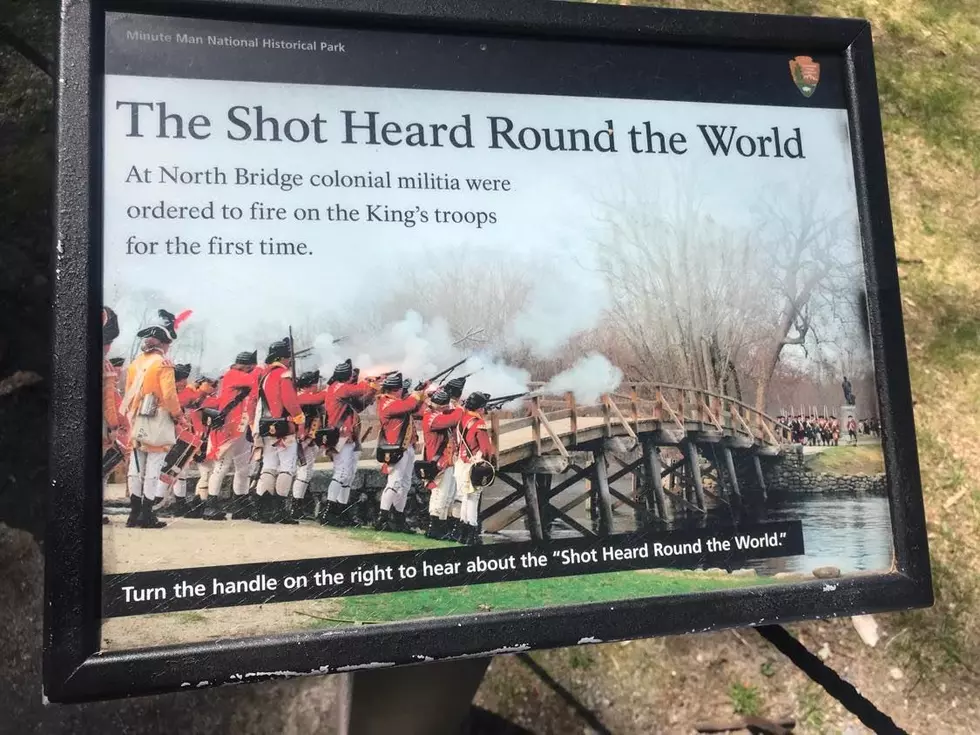 Massachusetts' Patriotic Cookout Alternatives for the Fourth of July
Barry Richard/Townsquare Media
Independence Day is approaching, and that often means cookouts or beach parties – but if you are looking for something a bit more patriotic to do to capture the spirit of the Fourth of July, I have a couple of suggestions for you.
Independence Day is a celebration of the historic vote of the Continental Congress on July 4, 1776, to approve the Declaration of Independence. That vote occurred in what we now refer to as Independence Hall in Philadelphia, where the U.S. Constitution was also debated and adopted some years later.
When we reflect on America's independence, however, we must also remember Massachusetts, the battles of Lexington and Concord on April 19, 1775, and "the shot heard 'round the world" that ignited the American Revolutionary War.
Minute Man National Historical Park covers some 970 acres in Lexington, Concord, and Lincoln and includes Concord's North Bridge, where the first shots of the Revolution were fired.
The five-mile Battle Road Trail is a flat, wide dirt pathway connecting Lexington and Concord and is an excellent hike featuring historic structures, nature, and wildlife. The best part is that it is pet-friendly. Dogs are welcome.
The Declaration of Independence will be read aloud at North Bridge at 2 p.m. on July 4. Following the reading, re-enactors representing the 10th Massachusetts Regiment will fire three musket volleys in honor of American independence.
Adams National Historical Park in Quincy, Massachusetts, is another great option. The park contains the preserved home of Presidents John Adams and John Quincy Adams, the birthplaces of both presidents, the first presidential library, and the church where both John and John Quincy Adams and their wives are buried.
The Adams family homes and the church are usually open for tours, but you may want to consult the website before going.
A number of events and reenactments are planned for Adams National Historical Park on July 4, including a reading of the Declaration of Independence at 1:30 p.m.
All of the events listed above with the possible exception of the Adams' family home tours are free and open to the public.
These are some awesome opportunities to celebrate a patriotic Independence Day with the family before heading home for the Fourth of July fireworks.
LOOK: What 25 Historic Battlefields Look Like Today
The following is an examination of what became of the sites where America waged its most important and often most brutal campaigns of war. Using a variety of sources,
Stacker
selected 25 historically significant battlefields in American history. For each one, Stacker investigated what happened there when the battles raged as well as what became of those hallowed grounds when the fighting stopped.
These are the battlefields that defined the United States military's journey from upstart Colonial rebels to an invincible global war machine.
LOOK: Famous Historic Homes in Every State
More From WBSM-AM/AM 1420