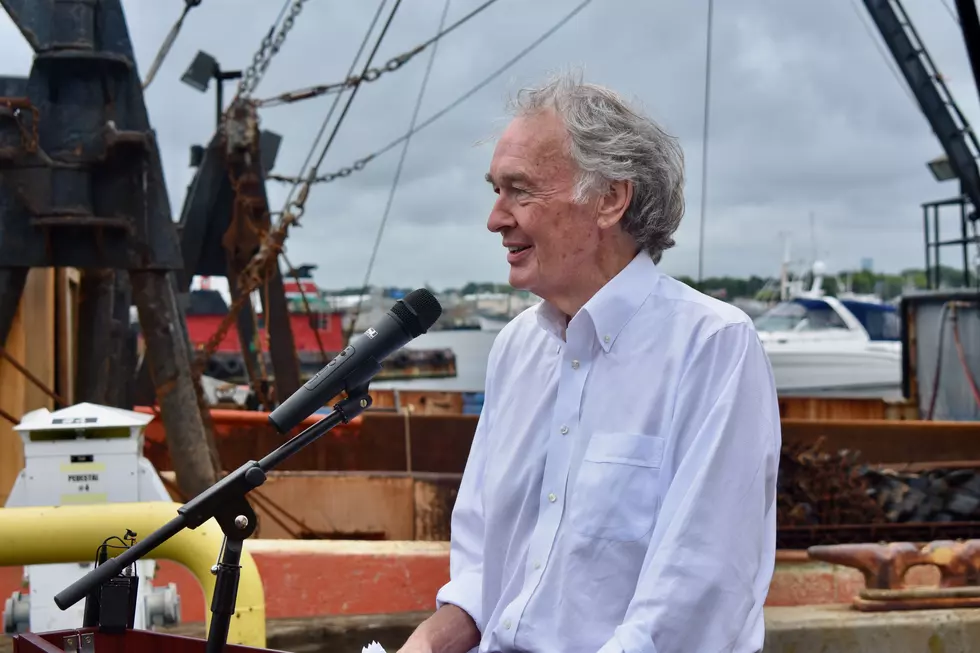 Markey Touts Fisheries Aid, Hedges NOAA Question in New Bedford
Mary Serreze/Townsquare Media
In a New Bedford campaign stop on Friday U.S. Sen. Ed Markey touted his work to procure coronavirus aid for the fisheries and to secure federal port infrastructure funding for the city's working waterfront.
He also spoke of upcoming battles on Capitol Hill, blasted Republicans, and hedged when asked by local reporters if he would support construction of a new NOAA Fisheries science center in New Bedford – a federal investment Mayor Jon Mitchell and other local officials have long been pushing for.
Markey, 74, is facing a Democratic primary challenge from 39-year-old U.S. Rep. Joseph P. Kennedy III of Massachusetts' 4th Congressional District. Kennedy, in visiting New Bedford last week, made NOAA the cornerstone of his stump speech, insisting that the government scientists who conduct stock assessments central to the regulation of the commercial fisheries should share geographic proximity with the industry, and that as such the brand-new lab should be built in the Whaling City.
Fisheries scientists with the National Oceanic and Atmospheric Administration have been headquartered in the seaside scientific community of Woods Hole since the 1960s, and plans are afoot to replace their aging lab facility. Mitchell has been a strong advocate for building the center in New Bedford, saying it could help heal the uneasy relationship between commercial fishermen and NOAA's National Marine Fisheries Service while bringing economic development and jobs to the city. However, communities on Cape Cod have pushed back, saying NOAA should stay in Barnstable County.
Markey on Friday did not give a yes or no answer when asked by local reporters if he would support moving NOAA Fisheries from Woods Hole to New Bedford, the highest-grossing fishing port in the nation.
"Well, my belief is that Woods Hole is a national institution, but that new Bedford should play a larger role because of its access to the ocean," Markey said. "So my goal would be to complement what goes on at Woods Hole with with what goes on here in New Bedford, and to make sure that the programs are here in New Bedford that properly belong here in New Bedford to make sure that that research is done. Yes, my goal would be to make sure that new Bedford is a part of that research."
When pressed for specifics, Markey said that Woods Hole and the University of Massachusetts at Dartmouth already do "substantial work" in the area of fisheries research, and that "the same could be true here in New Bedford."
"I'm on the Environment Committee, I'm on the Infrastructure Committee, and next year we will be putting together a massive $2 trillion infrastructure package. And my goal is going to be to make sure that New Bedford also becomes a center for research in the future, complementing UMass Dartmouth and complementing what goes on at Woods Hole," Markey said.
Mitchell, who is not endorsing a candidate in the Senate race, introduced Markey as a long-time friend of the city. He said he was grateful for Markey's work to secure a $15.4 million BUILD Act grant from the U.S. Department of Transportation to reconstruct North Terminal in New Bedford Harbor – a port facility north of the Rt. 6 swing bridge that Mitchell said is poised to support fish landings, port cargo, offshore wind deployment, and more.
"To get a grant that big, it has to be compelling on the merits. And a little bit of a political push matters in this case," Mitchell said. He said Markey approached Transportation Secretary Elaine Chao to secure the earmark, choosing the New Bedford project over other Massachusetts priorities because "he understood the role federal infrastructure could play in opening up the doors of opportunity."
The city and the state both posted funds, but the city-owned North Terminal project would not be possible without federal money, Mitchell said, while adding that the Port of New Bedford supports 7,000 jobs.
Markey launched his comments by saying New Bedford "has a bounce in its step" and is well-positioned for the 21st century. He said generations of families have "headed out to sea every day, coming back with their daily catch" but that COVID-19 has damaged the fisheries market with restaurants shut down.
Markey touted the procurement of $28 million for Massachusetts fisheries through the CARES Act, saying he worked with Democratic Sen. Elizabeth Warren and "actually crossed the aisle" in partnering with Republican Alaska senators Dan Sullivan and Lisa Murkowski to ensure the coronavirus relief bill contained $300 million to help fishing ports nationwide.
"With restaurants shut down, the fishing community has lost a major consumer. Despite this lack of income, these fishermen must still put food on the table, and at the end of the day, find a way to cover their boat costs and search for ways to make ends meet," Markey said.
Markey said that he persuaded the USDA to procure $20 million in North Atlantic seafood. Back in April and May the entire Massachusetts delegation pushed the federal agency to look beyond farm products in its Section 32 purchasing program.
"Historically, the USDA has overlooked East Coast seafood in its purchases for this program," Markey said. "But after conversations with industry representatives, I fought hard in the third round of the COVID relief packages to ensure that USDA was not leaving a Massachusetts fishermen without the means to provide for their families."
Markey said he "has the back" of the fishing industry and that "we're going to create a financial life raft for you, so that you are not adversely impacted by something that you had nothing to do with. You are the victims."
Markey turned to the topic of offshore wind, an industry that has long promised economic benefit to New Bedford but has yet to launch.
"It's a perfect match, where in the same place where the fishing industry will be docking and bringing in their catches, it will be the staging area for the wind turbines to be built off our coastline," he said. Markey said offshore wind means "more jobs on an ongoing basis with a real plan for the 21st century."
Markey said he and Sen. Sheldon Whitehouse of Rhode Island are co-sponsors of legislation that would provide a 30-percent tax credit for offshore wind development. He said the tax credit is opposed by the Trump administration, and promised that the measure would be enacted under a Biden administration.
Markey concluded by saying he is preparing for an "epic battle" in Washington over the next coronavirus relief package. "We have a racist president. We have a criminally negligent president who has not put in place the proper safeguards against the coronavirus," Markey said.
Markey said he would push for $175 billion in public education funding in the upcoming bill, and blasted Education Secretary Betsy DeVoss as Trump's "worst cabinet secretary."
"She's pretty much saying that kids...should go back to school, but simultaneously Trump and McConnell are saying that no funding that will go into the cities and towns."
Markey and his entourage – who arrived in New Bedford fresh from whistle stops in Attleboro and Fall River – quickly hit the road again for Taunton to wrap up a day of campaigning in Bristol County.
State Rep. Chris Markey (D-Dartmouth), who is not related to the Senator, and State Rep. Christopher Hendricks (D-New Bedford) both delivered introductory remarks where they endorsed Markey in his re-election bid.
Enter your number to get our free mobile app
More From WBSM-AM/AM 1420