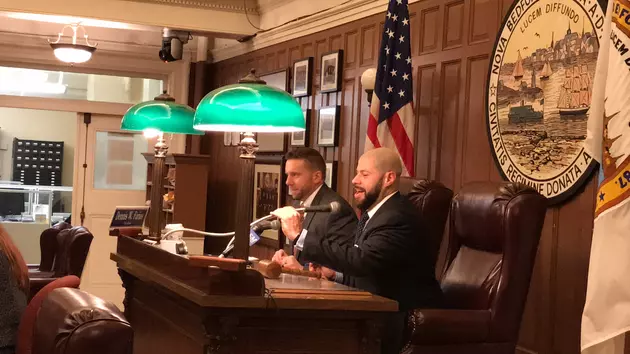 Lopes Unanimously Named 2017 City Council President
Greg Desrosiers/TSM
Ward 6 Councilor Joseph Lopes was unanimously elected the New Bedford City Council's 2017 president during an organizational meeting Monday evening. 
Lopes previously served as president in 2014 and told his fellow councilors he is honored to serve again and looks forward to a collaborative effort by the full body.
"I feel blessed that you gave me your confidence, your support to do this again," Lopes said during his brief speech. "I do look forward to working with each and every one of you collectively. It doesn't matter if you're elected as a ward councilor or an at-large councilor, we all represent the entire city."
Among his top priorities is creating a special committee to handle licensing and zoning of recreational marijuana shops and cultivation centers.
"We'll do a special committee that'll strictly look at that issue and make sure that the city's prepared and has the zoning requirements in place to not only grow but flourish in New Bedford," Lopes said.
The special committee will be made up of Lopes, Councilor at Large Ian Abreu, the chairperson of the Committee on Finance, the chairperson of the Committee on Ordinances and the chairperson of the Committee on Public Safety.
Chairpersons of all committees are expected to be announced by the end of the week.
Lopes is succeeding Councilor at Large Linda Morad, who served as president for the 2016 term. Morad said she greatly appreciated the experience that came with the role.
"I've been on the council a long time now and being council president isn't an experience I have had before and I really enjoyed it," Morad said after the meeting. "It's a different phase of the job, if you will."
Under Morad's leadership, the council saw more efficient meetings with the elimination of presentations of official citations and resolutions prior to official business. The council also became more involved with the drafting of the city budget, though Morad believes more work has to be done to overhaul the entire process.
More From WBSM-AM/AM 1420