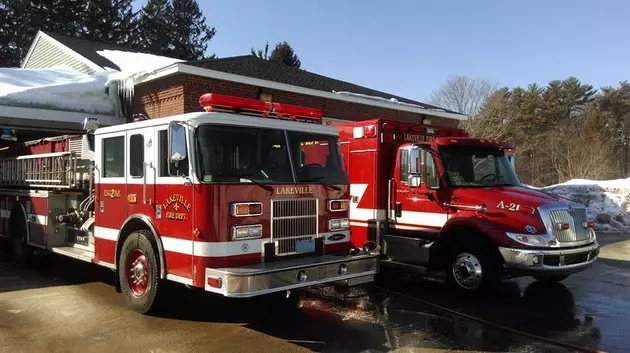 Lakeville Lieutenant Charged with Raping Another Firefighter
Lakeville Fire Department Facebook
Lakeville Fire Lieutenant Thomas Dunlevy has been charged with raping another firefighter after illegally serving him alcohol. The 51-year-old Lakeville man appeared in Wareham District Court today to face the charges.
Lakeville Fire Chief, Daniel Hopkins, told Fun 107 that the young man was a Lakeville firefighter and underage at the time of the alleged assaults.  When the fire department found out about the alleged incidents, Dunlevy was given a choice to resign or to face a disciplinary hearing.  Chief Hopkins says the lieutenant chose to resign on March 4th, 2016.
According to WCVB in Boston, the victim told police that underage drinking took place on a regular basis at Dunlevy's Lakeville home with him and other underage firefighters.  He also told the court that he was served alcohol by Dunlevy at a campground in 2014, and that Dunlevy assaulted him inside his camper.  The victim says he was assaulted again a few weeks later at Dunlevy's home.
The young man, who is now 22 years-old, indicated in court documents that the lieutenant used his power to intimidate him.  A sexual harassment complaint was filed against Dunlevy with the town of Lakeville.
The young man said he first met the Lieutenant at the scene of a fatal accident in 2012, according to WCVB, and that he eventually became a father figure to him.  Channel 5 is also reporting that the victim's attorney and Lakeville's Fire Chief believe there could be other victims.
Dunlevy has pleaded not guilty to the charges and is being held on $25,000 bail.
More From WBSM-AM/AM 1420