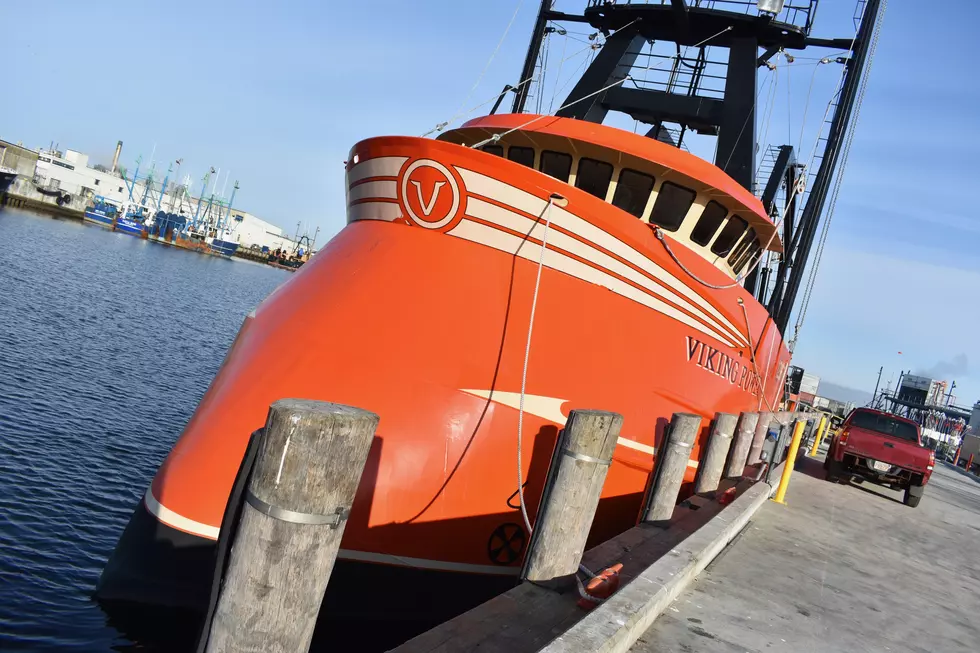 Innovative Scalloper 'Viking Power' Arrives at Port of New Bedford
Mary Serreze/Townsquare Media
NEW BEDFORD — With its unique bow design, towering A-frames, and hydraulic rams, the 106-foot Viking Power doesn't look like any other commercial scalloper in New Bedford Harbor.
The bright orange vessel, built to careful specifications for Fleet Fisheries owner Lars Vinjerud II, paraded into America's most productive fishing port for the first time last week, propelled by a V-12 Mitsubishi Marine engine. The Viking Power had made its way from Williams Fabrication, a boatyard in Alabama that's favored by Vinjerud. As admirers watched, the eye-catching vessel passed through the Fairhaven-New Bedford drawbridge and docked at Fish Island.
The "positive energy bow," which gives the impression of having an upside-down hull, will deliver a safer and more comfortable experience for workers, Vinjerud told the trade publication National Fisherman.
The hull is designed to reduce the motion of the vessel, providing a more stable work platform. In addition, the vessel sets its dredges using A-frames instead of traditional booms. That eliminates a lot of work in bringing the dredge aboard.
Viking Power
The boat features an optimized process for scallop fishing involving a chilled shucking house, a special sorter/washer, custom chill plates, stainless steel racks, and a custom-built ice hold and freezer hold. With a crew of seven or eight, the Viking Power can shuck around 5,000 pounds of scallops per day.
The Viking Power has 17 bunks, but Vinjerud's boats are now limited to seven or eight crew members because of permit limitations, National Fisherman reports. Vijerud said with more men, they could freeze up to 7,000 or 8,000 pounds per day.
It also has a special separator on board to prevent oil spills, and remote monitors to keep track of operations. Vinjerud told National Fisherman that he's been working with Lane Williams, the Alabama boatyard, since 2001. He said he's been "drawing the boat for 20 years."
Vinjerud maintains a growing presence at the New Bedford fishing port with his 14 boats and other commercial interests in the seafood business.
Enter your number to get our free mobile app
More From WBSM-AM/AM 1420