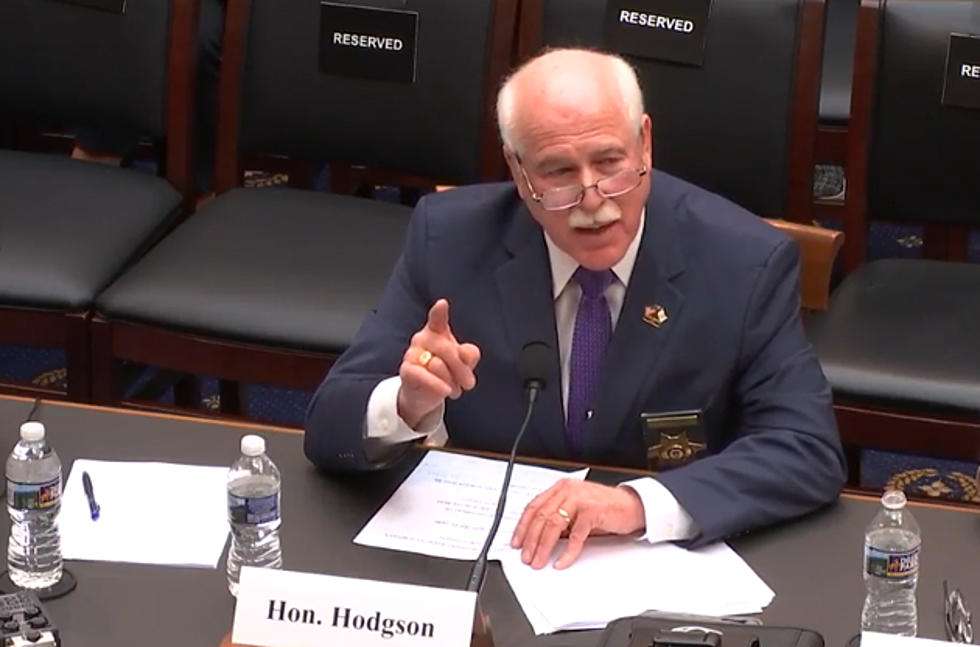 Hodgson: 'Shame on Elected Officials' Ahead of House Vote
House Judiciary Committee Meetings/Youtube
Wednesday morning, the Massachusetts House of Representatives will vote on two bills proposed by State Representative Antonio Cabral of New Bedford, aimed at blocking Bristol County Sheriff Thomas Hodgson's proposed programs.
That includes the partnership between the Bristol County Sheriff's Office and federal immigration authorities, commonly known as the 287(g) agreement, as well as the inmate program in which volunteer inmates would work on federal projects such as disaster relief and the proposed U.S.-Mexico border wall.
Hodgson told WBSM's Barry Richard that blocking the 287(g) program would say how state reps feel about protecting citizens against dangerous illegal immigrants.
"If they do, that would mean that the state reps basically said, 'We do not want the people in Massachusetts to be as safe as they otherwise could be, with the work and the partnership of the sheriff's office and the federal government,'" he said.
Hodgson said it doesn't make sense that state lawmakers have no problem financing sheriff's deputies and state police working with federal organizations like the FBI, but won't do the same with ICE.
"How do you say it's OK for the state police and our people who are assigned there (with the FBI), that's under our state budget, but you're going to pick ICE?" Hodgson said. "But it's all politics, and everybody knows it. Shame on these elected officials."
The other bill being voted on Wednesday on Beacon Hill would keep Hodgson from sending Bristol County inmates to help with federal projects, such as disaster relief or the proposed U.S.-Mexico border wall.
Hodgson plans to be in attendance at the State House for the debate on the bills and the vote.
Read Sheriff Hodgson's letter here.
More From WBSM-AM/AM 1420