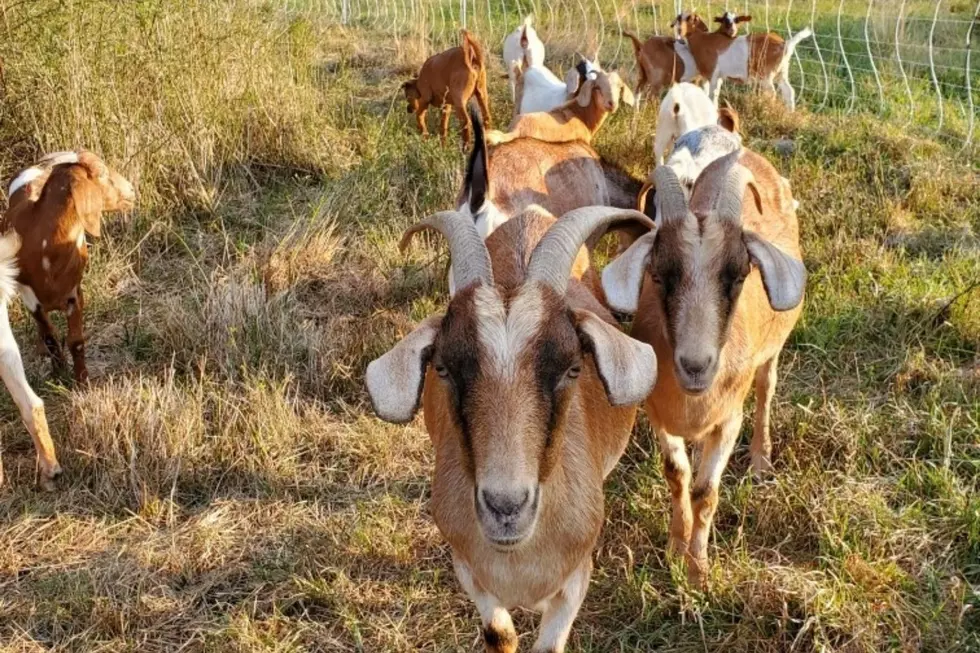 The Goatbusters Are Hard-Working 'Kids' in Dartmouth
Photo contributed by Hannah Wylie
At Round the Bend Farm, there is a herd of goats that have a reputation for being hard workers. This landscaping crew is tasked with removing weeds and brush and leaving behind natural fertilizer. But to them, it doesn't feel like work. The Goatbusters just eat. Where can I get a gig that pays me to eat?
Hannah Wylie and her partner, Tyler started the Goatbusters crew about two years ago. They have about 30 goats in their herd and they are rented out privately to eat unwanted vegetation in Dartmouth and Westport.
"They eat brush and invasive plants," Wylie said. "They eat more of the forest edge where there are vines and rose bushes. They like shrubs and thorny vegetation. We tend to rent out a group of about 15 to 20 goats for an area up to an acre. Our fencing can mold to whatever shape the area is."
The herd includes mixed ages of goats for the job. The oldest is seven and the youngest is just a couple of days old.
"We have 16 one-year-olds, three 4-year-old castrated boys, eight mama goats, and one buck named Hamilton, Wylie said. "So far this season, we have had three babies, but will be having at least 10 more."
Their names are as adorable as they are.
"Our milking mamas are Rosey, Dotey, and Tanya," Wylie said. "Our older boys are Walker, Ranger, Oreo. We also have Peaches, Coco, Cream Puff, and many more."
The Goatbusters want the SouthCoast to know that goat-scaping is something that takes time.
"The goats don't really kill the plants in one go," Wylie said. "They eat the plants down and then ideally you would let the plants grow back that same season and then you would bring the goats back to the area to eat it again. Over time, the plants get stressed and give up. Goats are a great alternative to big gas-powered machines."
The Goatbusters are out here as living proof that if you love what you do, you'll never work a day in your life.
Check out these 50 fascinating facts about dogs:
More From WBSM-AM/AM 1420