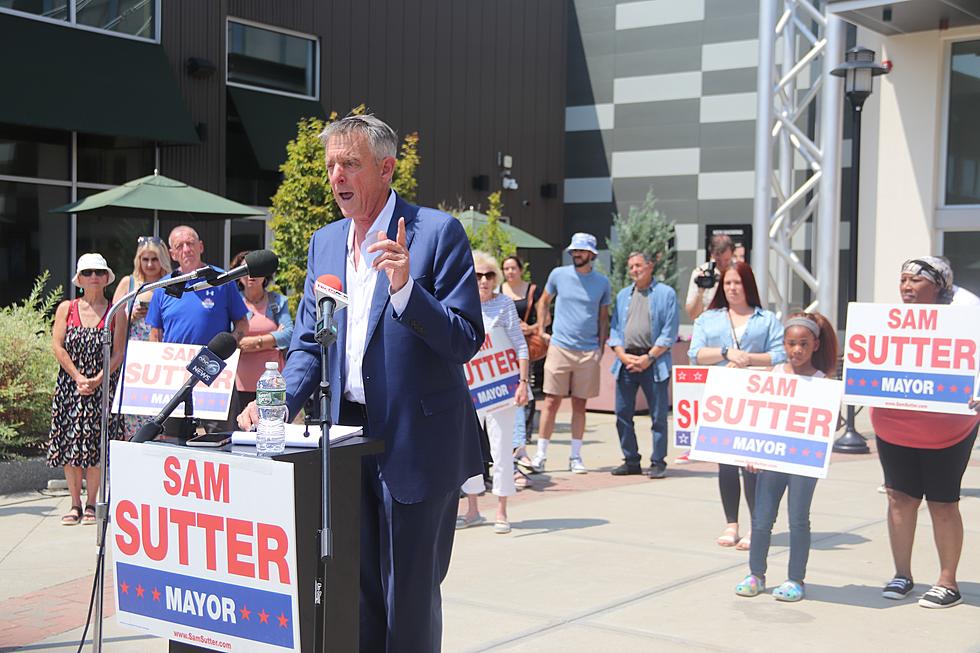 Sutter Kicks Off Run for Fall River Mayor With Rally
Adam Bass/Townsquare Media
FALL RIVER (WBSM) — Former Mayor of Fall River and former Bristol County District Attorney Sam Sutter kicked off his mayoral campaign on Tuesday with a rally at SouthCoast Marketplace.
Introduced by his daughter Ava to a crowd of about 30 supporters, Sutter said he would bring more economic opportunities and lower crime in Fall River if elected mayor.
He told supporters that incumbent mayor Paul Coogan did not have the same level of experience as he did, contrasting his nine years in public office to Coogan's four years.
"I can deliver results for the people of Fall River. Results that he has not been able to deliver," Sutter said. "I can deliver them for all the people of Fall River and not just a select few of friends."
During the event, Sutter talked about past accomplishments during his only year as mayor from 2014 to 2015.
He highlighted the SouthCoast Marketplace and the Amazon Fulfillment Center on Innovation Way as two big projects that brought jobs and businesses to Fall River.
"I will make economic opportunities for the people of Fall River just like this mall," Sutter said to applause. "It's about economic development leading to fiscal stability which leads to lower taxes."
Sutter also touted his career as a district attorney and how he closed 11 cold cases and increased volunteering during his tenure from 2006 to 2014.
He said his work as district attorney connects with his mayoral campaign as an example of leadership that provides safety for Fall River residents.
Sutter further criticized the Coogan administration's track record on crime and vowed that if elected mayor, he would bring back the ShotSpotter activation system that ended in 2017 due to false alarms.
"When a politician moves from one office to another, they judge them on what they did in their last office," Sutter said. "I had nine years in politics. Eight as D.A. and one as mayor. He had four."
Supporters at the kickoff rally said they were impressed with Sutter and hoped to learn more about different policy plans throughout the campaign.
Talia Ford said she is concerned with the rise in homelessness in the city and wants to see an affordable housing plan from Sutter.
"I work at a homeless shelter," Ford said. "We could use more affordable housing."
Another supporter, Ronald Cabral, said he is for Sutter based on his past work as mayor and that the best way to win an election in Fall River is to focus on economic development and find ways to expand small businesses.
"He's got to talk to every business owner," Cabral said. "I think he can do a lot for the community."
Sutter officially entered the mayoral race on July 6. He faces a three-way race between himself, Coogan and 2021 mayoral candidate Michael Vandal.
The preliminary election is on September 19.
Listen to Sutter with host Jessica Machado on WBSM's SouthCoast Tonight:
WBSM's Top SouthCoast Stories 7/3 - 7/9
Before and After Photos of the Bristol County House of Correction Damage
An
uprising by the inmates
in the Bristol County House of Correction on April 21, 2023 caused an estimated $100,000-$200,000 in damage. See photos of the damage caused and how the units look following the clean-up.
More From WBSM-AM/AM 1420