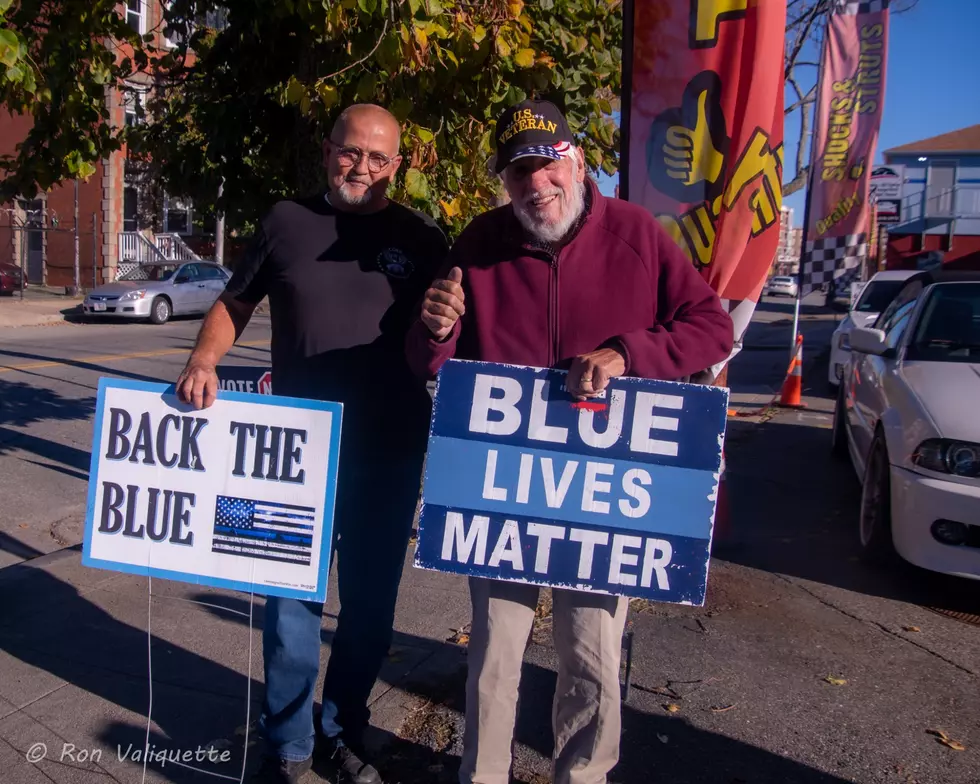 Fall River Police Arrest Man Suspected Of Assaulting Veteran
Photo by Ron Valiquette
FALL RIVER — Fall River police have arrested a man accused of assaulting police supporters outside the city police department on Saturday — one of whom, an elderly veteran, has previously been the alleged victim of an assault due to politics.
Police said at around 3:15 p.m. Saturday, officers responded to the parking lot in front of the Fall River Police Department building for "an ongoing disturbance with people fighting."
They arrived to find three older people holding pro-police signs and another person — later identified as 25-year-old Jajuan Torres — allegedly yelling at them and hitting one of them with an open hand in the back of the head, according to police.
The three alleged victims, aged 84, 64, and 66, told police that the younger man had approached them on the sidewalk and grabbed at one of the signs before allegedly pushing the 84-year-old man holding it to the ground.
According to police, the two others reported that they tried to intevene when Torres allegedly hit and spat at them.
Police said Torres was arrested and charged with multiple offenses including unarmed robbery of a person over 60, assault and battery on a person over 60, and intimidation of a witness.
A public Facebook post from one of the alleged victims, Ron Valiquette, identified the 84-year-old man as Charlie Chase, an Air Force veteran who was allegedly assaulted in June 2020 while holding a sign supporting then-president Trump.
After the previous incident, Chase received a phone call from Donald Trump, Jr. thanking him for his support.
Valiquette described this recent alleged assault in his post, calling it a "kerfuffle" that he said started when "a twenty something black man approached Charlie and tried to pull the sign out of his hands."
In his post, Valiquette wrote that the man eventually "pushed poor Charlie to the ground" before spitting on another man and hitting Valiquette on the head.
After a Fall River police officer came outside, Valiquette said, the man was arrested and the three alleged victims experienced no other incidents.
WBSM's Top SouthCoast Stories 10/10 - 10/16
More From WBSM-AM/AM 1420