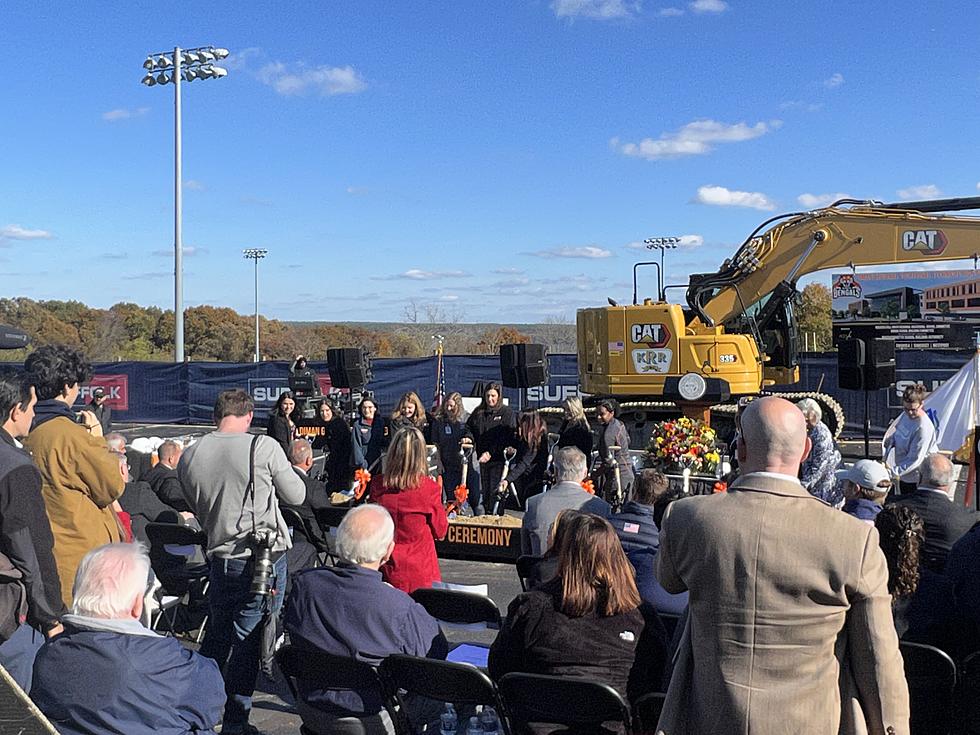 Fall River Diman School Groundbreaking Extra Special for Father-Daughter Duo
Ariel Dorsey/Townsquare Media
FALL RIVER (WBSM) — A new legacy begins in Fall River with the construction of the new Diman Regional Vocational Technical High School.
The Greater Fall River Vocational School District Committee partnered with the School Building Committee to host a groundbreaking ceremony today to mark the beginning stages of construction for the academic future ahead.
The high school will upgrade its building to provide students with a 21st-century learning environment, allowing them to excel further in the vocational programs. The new structure not only plans to enhance students' education but benefit the community as well.
What made the ceremony so unique, however, is the history of the high school and the hands behind Diman's first groundbreaking construction project.
In 1968, Gerry Murphy worked for Wescott Construction as lead superintendent for the Diman Regional Vocational Technical High School project and celebrated the opening of the new school on Stonehaven Road in Fall River. No women were working on the project during this time, and there were no female students at the school.
Over 55 years later, Gerry watched as his daughter, Maureen Murphy, leads the team building the new Diman Vocational High School.
Maureen Murphy is the lead planner for the project with Suffolk Construction as the general contractor.
According to Maureen, she was inspired by her father to pursue a career in construction and hopes that she can even inspire young girls to pursue a future in building.
"I think this is an opportunity for women and the other women who will be working on this project to inspire a lot of girls that are interested in construction or S.T.E.M. because it is a great opportunity for women to get into it for a career," Maureen Murphy told WBSM.
The event included leaders from all of Diman's communities, the school district and building committees, state leaders, Suffolk, the Massachusetts School Building Authority, and many others who have partnered to make this project a reality.
Murphy said she hopes to continue to inspire more women not to be afraid of entering construction as a career path.
The new school is expected to be finished in June 2026.
20 Photos That Prove the SouthCoast is Just as Beautiful in Winter
Sure, everyone loves the SouthCoast in summer — beaches, ice cream, outdoor concerts, all that good stuff. But the real ones know winter is just as good. Check out these gorgeous local landscapes! Can you figure out where they are?
Gallery Credit: Kate Robinson
A Look Around the Buzzards Bay Antique Center
The Buzzards Bay Antique Center, located at 61 Main Street in Buzzards Bay, is home to a treasure trove of unique items from floor to ceiling. Let's take a look around.
Gallery Credit: Tim Weisberg
More From WBSM-AM/AM 1420