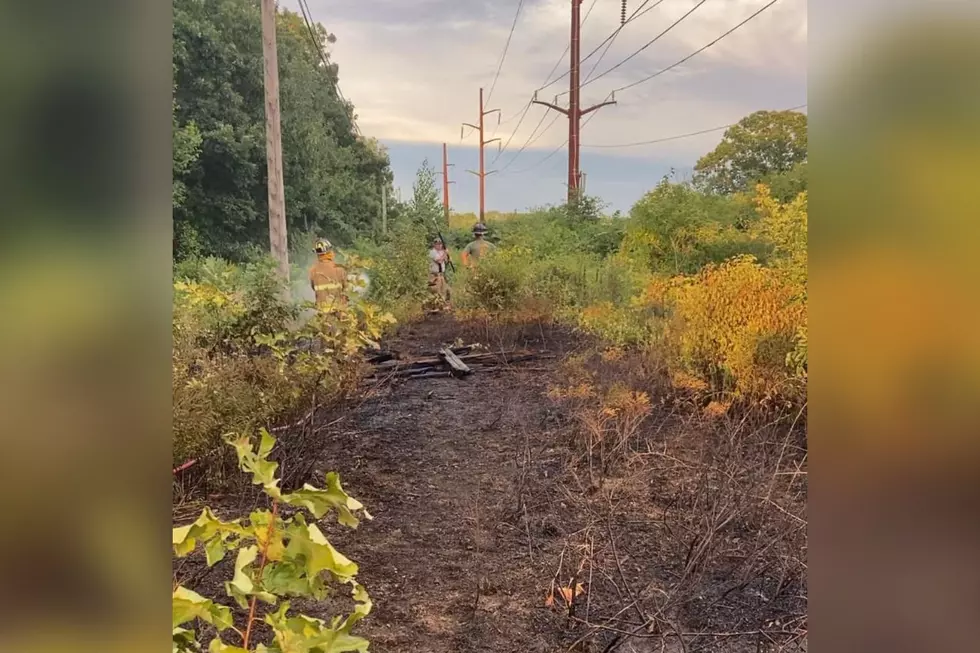 Fairhaven Explosion Causes Fire, Power Outage
Courtesy Fairhaven Fire Department
FAIRHAVEN — An explosion caused by a squirrel shorting out an Eversource switch near Alden Road  caused a brush fire and widespread power outages in Fairhaven.
Fairhaven Fire Chief Todd Correia said in a release that fire crews responded to the explosion and fire in the brush near All Trust Bank at 123 Alden Rd. just after 6 p.m. Monday.
Crews from Engine 3 quickly contained the brush fire before it reached containment trailers behind Brownell Trailers, a hydraulic boat trailer company on Alden Road.
Firefighters were able to extinguish the blaze by 6:26 p.m. once Eversource cleared electrical hazards from the area, according to Correia.
The fire chief said Eversource was able to restore power to the town within 10 minutes by rerouting power from other sources.
Firefighters remained on the scene for 45 minutes overhauling the areas.
No injuries were reported in the incident.
A Facebook post from the Fairhaven Firefighters Association on Monday evening noted that just one full time firefighter was available to respond to the crisis, with another firefighter coming from home to take another apparatus to the scene.
"Thank you to everyone who came in from home to supplement our inadequate staffing levels," the post concluded.
Correia did not address the allegations about staffing levels.
Eversource officials told the department that the explosion was caused by a squirrel shorting out two phases at a switch location at a multi-phase electrical pole.
The explosion resulted in the blackout as well as the fire.
No structures were damaged during the incident.
Mattapoisett Police/EMS responded to a Fairhaven EMS call during the fire, according to the release.
Remember This? Another Fairhaven Blackout Left the Stop & Shop Looking Eerie
See Inside the Boyhood Home of Fairhaven's Legendary Henry Huttleston Rogers
This small, unassuming Fairhaven house was the boyhood home of Fairhaven's greatest benefactor, Henry Huttleston Rogers, and was even the home that had the first telephone in Fairhaven history. The house
recently sold
for $335,000.
More From WBSM-AM/AM 1420