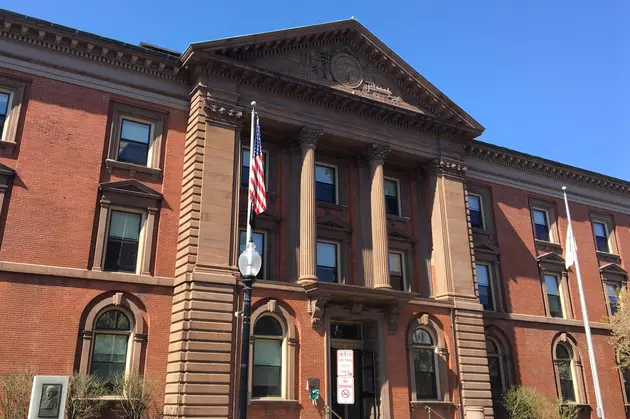 City Council Sends Healthcare Discussion To Finance Committee
New Bedford City Hall/City of New Bedford
On Thursday night in a Council Chambers packed with city employees and union representatives, City Council voted 10-1 to push the discussion of public employee healthcare coverage to the Finance Committee. The Council also voted for a 90 day hold on the end of negotiations to the Chair of Finance.
Ward Three City Councillor Hugh Dunn provided the sole vote against sending the discussion to the Finance Committee. Dunn drew a round of applause from the crowd representing city workers for his condemnation of Mayor Jon Mitchell's order to City Council to accept the use of Massachusetts General Laws Chapter 32B, Sections 21-23 - a state law adopted in 2007 that would allow the city the use of a neutral arbitrator in deciding city's health insurance plans.
"I've done extensive research on this and have noted that there's no savings to the taxpayer in any gateway city similar to New Bedford that has enacted and entered into the GIC health system," Dunn explained. "In Lawrence, taxes went up by 3.6-percent to date. In Springfield taxes went up 3.8-percent. In Pittsfield they're up 6.8-percent. This is not the way to do this."
Dunn saw support from a number of other councillors on his stance, including Councillor At-Large Naomi Carney. She equates the decision to use a neutral arbitrator to "writing a blank check to insurance companies."
Carney also initiated the motion to place a 90 day hold on the Chair of Finance to end negotiations between employee unions and the city.
"I want the opportunity for the Public Employees Committee (PEC) and the Administration to sit down. I am not willing to give a blank check to anybody to choose our healthcare when that's a big concern of mine. I'm not going to play God with people's lives," Carney said. "I hope the negotiations work well and that they can come back to us with some solid plans because I know that with 5,000 people being insured (by the city) that somebody is going to step to the plate and give us a good price."
Councillor Dunn also says that he'd like the council to explore different healthcare plans and that companies have gone to him to compete for the city's contract. He also says that he'd like to see the Administration make progress while working with PEC, and that he looks forward to "seeing what they can hash out."
"I can't vote to rob Peter to pay Paul when it's our public employees' health and well-being that's being put at risk. They've earned the right to negotiate. I want to see them negotiate," Dunn said. "My vote is based on the fact that I know the taxpayer will not receive any savings on this and that the money will just be spent somewhere else."
More From WBSM-AM/AM 1420