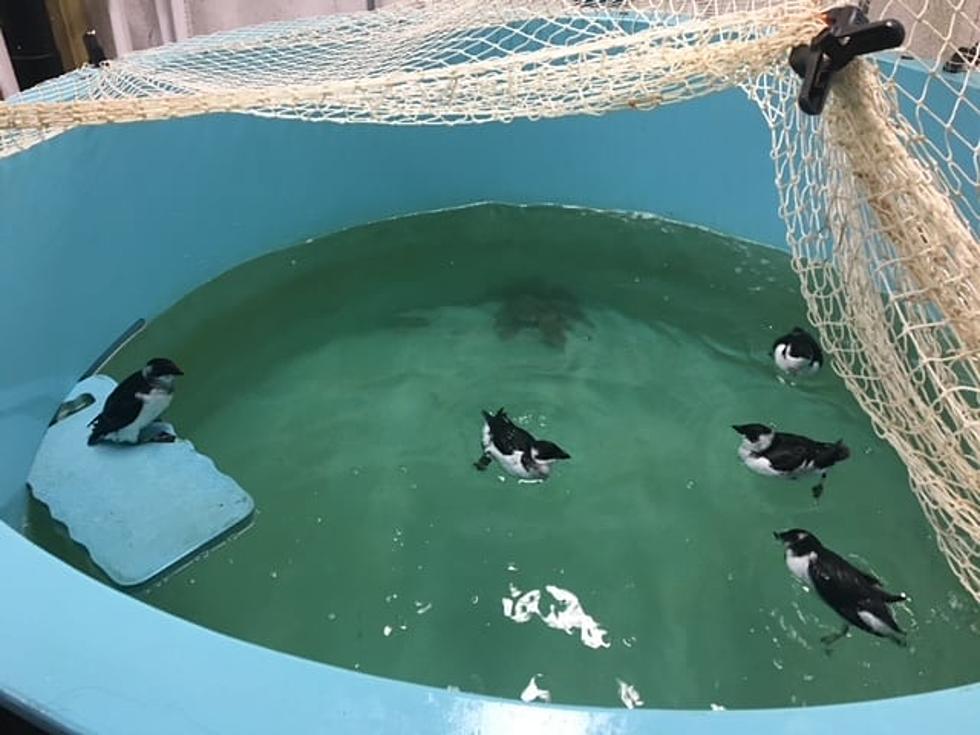 Watch Stranded Cape Cod Seabirds Finally Released Back to Nature
Wild Care Cape Cod via Facebook
They look like penguins, but are no bigger than an American robin and they have no business being on the SouthCoast. Yet several small dovekies were stranded all along the Cape earlier this year and just this week became strong enough to return home.
Wild Care Cape Cod was taking care of eight dovekies that had been brought to them from various parking lots and other odd locations after several storms blew them in around mid-January. These seabirds are abundant very far north, but typically do not travel this far south unless a storm forces them to.
As Executive Director Stephanie Ellis noted, dovekies "spend their winters offshore in the northeast and breed in Greenland. They can most easily be seen from Race Point and sometimes off McMillan Pier, Provincetown – especially after Northeast storms."
Luckily, the storms that blew them inland were well-timed with the internet's "Betty White Challenge" and the extra donations brought Wild Care Cape Cod's way went towards feeding the eight hungry birds that each got "six smelt every two hours, along with an energy-rich slurry."
The hearty meals have clearly done the trick for these tiny seabirds, because just this past weekend several of them were finally released back to the wild. As you can see from the footage shared with Wild Care Cape Cod by Owen Nichols of The Center for Coastal Studies, the birds were a little hesitant to leave, but then took off across the icy waters.
With the weather warming up across the SouthCoast this week and staying clear for a least a few days, hopefully these adorable dovekies can get a good head start back towards their northern home.
Keep your yard animal friendly all year round by avoiding these items
We spoke with Wild Care Cape Cod Executive Director Stephanie Ellis about the dangers of many everyday yard items and how they can affect the wildlife we know and love. Here are some of the dangers your yard may present to animals and how you can reduce their risk.
More From WBSM-AM/AM 1420