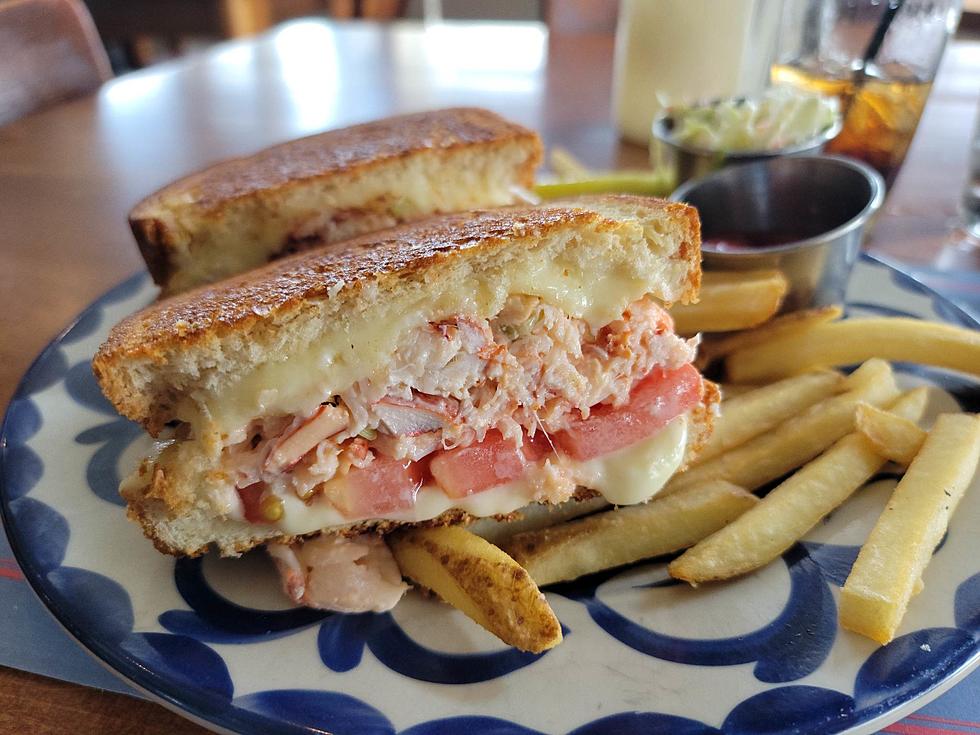 Bristol Restaurant's Lobster Sandwich Is a Cheesy Take on a New England Favorite
Tim Weisberg/Townsquare Media
When "lobster" is in your name, it's expected you'll do some creative crustacean cuisine, but Lobster Pot in Bristol, Rhode Island has taken the lobster roll to a new level.
As you look out over Bristol Harbor and peruse the menu, it's hard for any seafood lover to decide on just one dish.
Yes, the seaside spot has all manner of lobster available – heck, you can even get a lobster pizza – including the classic New England lobster roll. However, Lobster Pot also offers the grilled lobster salad sandwich.
So how does that differ from the standard lobster roll?
Well, it's completely different. It's a grilled cheese sandwich.
STUFFED WITH LOBSTER MEAT.
It's two thick slices of bread, grilled to perfection, with melted cheese and tomato, and then a heaping portion of fresh, sweet, delicious lobster meat.
I've had a lot of lobster rolls over the years – both warm with butter and cold with mayo – but I'd never had a sandwich like this before. The only time I'd combined cheese and lobster was in lobster mac and cheese, but that's different because the meat is mixed in with the macaroni.
In this sandwich, the lobster was the star, and there was plenty of it. The cheese and the tomato actually brought out even more of the flavor of the lobster. You have to try it for yourself the next time you're craving a lobster roll.
Served with a big pile of fries and a ramekin of coleslaw, the sandwich is listed on the menu as market price. On the particular day I went, it ran $38, but it was worth every penny.
If you're looking for an appetizer, I'd recommend the firecracker shrimp. The creamy sauce had just enough kick without making it too spicy.
We have a half-price opportunity on sale today at 3 p.m. when you can get $50 to Lobster Pot for just $25 at SeizeTheDeal.com. There's a limit of three per person, and they make great gifts – but make sure to "pinch" one for yourself.
The Dishes to Try Most at Over 100 SouthCoast Restaurants
From the freshest seafood you can find to some of the best dang Portuguese dishes outside of Portugal itself, there are so many dishes to enjoy and love here on the SouthCoast, and we put 'em all into one spot. Check out more than 100 of the SouthCoast's favorite restaurants, and let us know if your favorites made the list.
The Demolition of Wareham's Lobster Bowl Restaurant
Wareham's Lobster Bowl restaurant served the community for 46 years, from 1954 until 2000. In 2001, the 99 Restaurant moved in before opting to go across town in 2016. Having sat empty for six years, the iconic building has been demolished to make way for a new car wash.
More From WBSM-AM/AM 1420