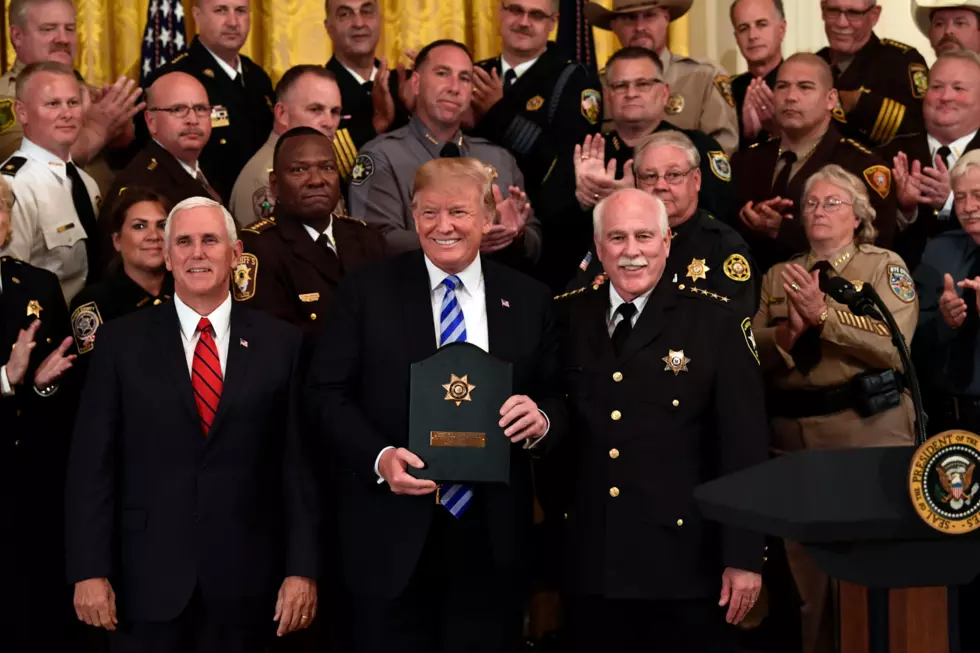 Bristol County Sheriff Presents President Trump With Plaque
Courtesy Sheriff Hodgson
WASHINGTON D.C. — Bristol County Sheriff Thomas M. Hodgson thanked President Donald Trump for his support of law enforcement and presented him a plaque and badge at a White House ceremony on Wednesday afternoon.
Earlier in the day at a press conference outside the U.S. Capitol, he made a major announcement: The National Sheriffs Association is hosting a crowdfunding website to finance and construct the wall along the southern border.
Sheriff Hodgson escorted President Trump and Vice President Pence into the room for a gathering of Sheriffs at the White House in the afternoon.
"You and your administration have given law enforcement its footing back and given law enforcement the support and tools necessary to protect the people in our neighborhoods, communities and our entire nation," Sheriff Hodgson said to President Trump.
Prior to the visit with the President, the Sheriffs took part in a roundtable discussion about the security aspects of border security and the dangers presented by criminal illegal aliens. Vice President Pence stopped by the roundtable to thank Sheriffs for their service. The discussion featured officials from the Department of Justice, Department of Homeland Security, Immigrations and Customs Enforcement and the White House.
Sheriff Hodgson then presented President Trump with a custom-made plaque featuring a badge and the inscription: "There's a new Sheriff in town - In appreciation for your support of our efforts to enforce our nation's laws - America's Sheriffs."
Earlier in the day, Sheriff Hodgson and the other Sheriffs joined members of Congress outside the U.S. Capitol for a press conference urging lawmakers to act immediately on the security aspects of immigration reform. Sheriff Hodgson urged other members of Congress to work together to pass legislation on immigration reform.
"Without major changes to our nation's immigration laws, such as increasing border security and ending sanctuary policies, the people we're sworn to protect will remain at a greater risk to be victimized by criminal illegal aliens," Sheriff Hodgson said.
At the end of his remarks, he announced the NSA's crowdfunding page - Sheriffswall.org - in which 100 percent of every donation goes directly to the funding and construction of the wall along the southern border.
He said the wall will help "stop the flow of MS-13 gang members, drug cartels and other criminal illegal aliens who continue to walk right into the United States unabated."
"We believe the people of our nation are ready to stand with America's Sheriffs to jump-start one of the most significant public safety and border security programs in our nation's history," he said.
More From WBSM-AM/AM 1420