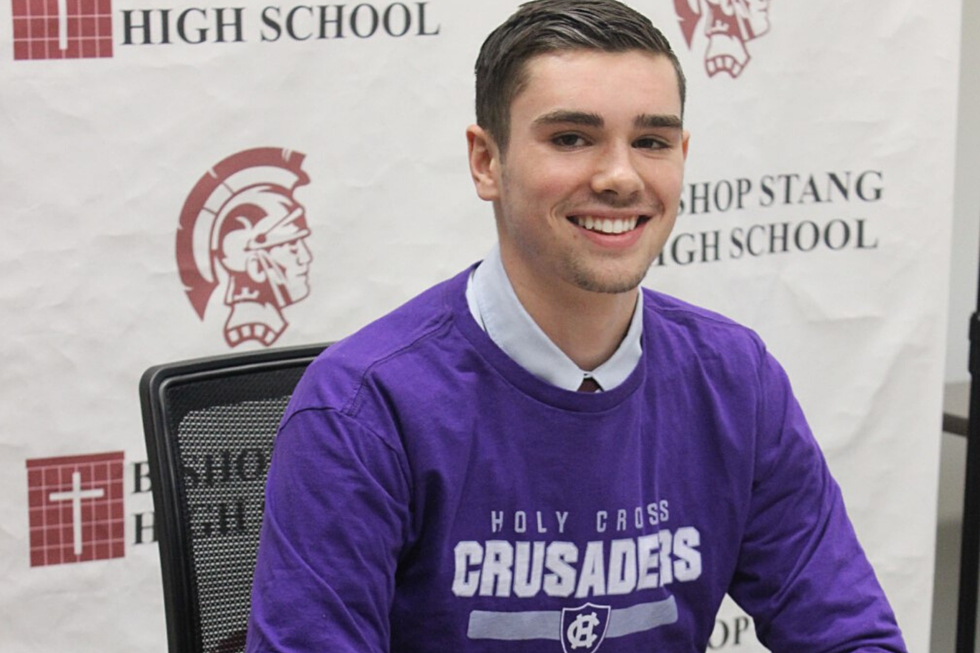 Bishop Stang's Drew Kelly to Swim Division One at Holy Cross
Drew Kelly / Bishop Stang
Bishop Stang Senior Drew Kelly of Dartmouth signed a National Letter of Intent to join the Division 1 men's swim program at the College of the Holy Cross in Worcester, Massachusetts. Drew's parents Jim and Pam Kelly, family members, teammates, and friends, along with leadership from Bishop Stang were present for the signing.
Drew swims the IM, with specialties in the backstroke and breaststroke, and participates in several relays for the boys' swim team at Bishop Stang. He has already qualified for states in multiple events during his Senior season. He was Fall River Herald all-star, on the Standard Times Super Team and an EAC Champion as a Junior.
After a year-long search to find the right fit both athletically and academically, Drew committed to swim for Coach Jeff Barlok at Holy Cross. Drew knew he wanted to attend the school after visiting the campus and spending time with his future teammates. It was a great fit for him academically as well, with his aspirations of becoming a dentist. Drew is following a legacy by choosing Holy Cross, as the nephew of Bishop Stang Hall of Famer Erin Hoye (BSHS '91, HC '95), who also attended Holy Cross and went on to dental school.
Drew is grateful for the opportunity that Bishop Stang has offered him in the pool and in the classroom. Drew's swim coaches and teammates have benefitted from the sense of purpose he brings to practices and meets. Academically, his guidance counselor Nicole Dias stated, "Drew is a high-achieving and goal-oriented student." His parents, Jim and Pam, are excited that Drew has achieved this goal, but not terribly surprised because he has always been driven towards his goals, and willing to put in the work to succeed.
The signing took place at Bishop Stang High School in North Dartmouth.
I've known the Kelly family for many years and am very proud to see Drew doing so well for himself. There is no doubt that he will go on to achieve great things at Holy Cross and beyond.
Enter your number to get our free mobile app
More From WBSM-AM/AM 1420