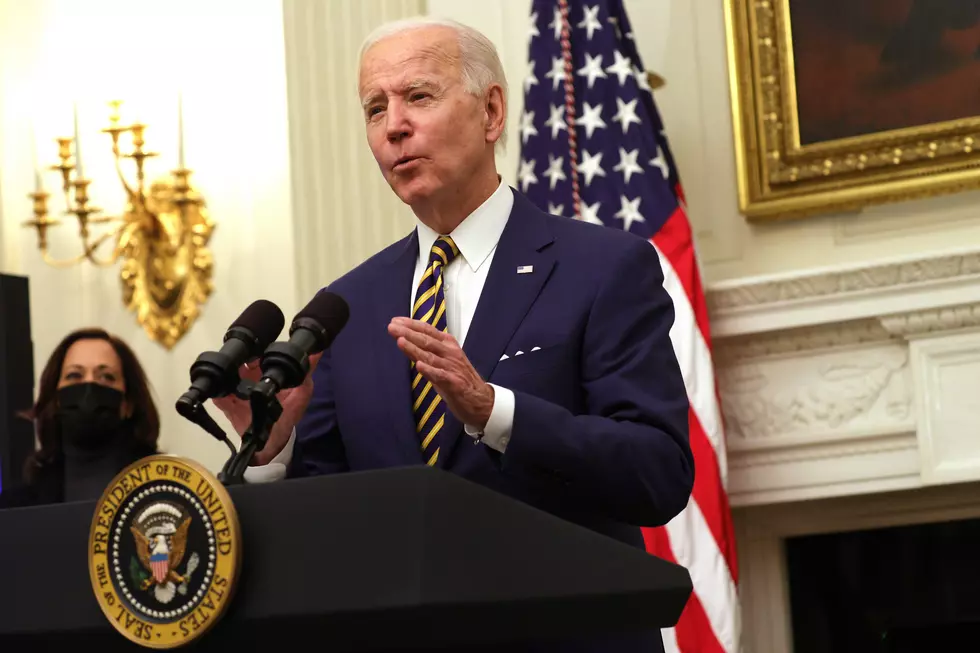 Optimism for Biden Approach to Marine Monument [SOUTHCOAST VOICES]
Getty Images
THIS GUEST OPINION PIECE BY: Saving Seafood is a 501(c)(6) association organized as a non-profit corporation funded by the fishing industry. Saving Seafood conducts media and public relations outreach on behalf of the seafood industry, as well as communications to keep industry members aware of issues and events of concern.
Saving Seafood members believe that the lack of benefit from a prohibition on commercial fishing in the Atlantic Marine Monument, the harm to domestic sustainable seafood production and coastal communities, the lack of scientific evidence demonstrating any harm deriving from decades of commercial fishing activity in the region, and the inherent unfairness of the Obama Administration decision to ban commercial harvesting while permitting recreational fishing have already been well-documented in the press and reviewed by appropriate government agencies.
However, we appreciate that President Biden has requested a review of the Trump Administration's actions on the Northeast Canyons and Seamounts Monument rather than issuing an immediate reversal. Our members look forward to discussing these issues with Rep. Deb Haaland (D-New Mexico) as soon as she is confirmed as Interior Secretary, just as we met with Secretary Ryan Zinke and Secretary David Bernhardt.
Contrary to the dramatic tone of some press releases and online campaigns from conservation groups, the Trump Administration's action last June did nothing more than create parity between recreational and commercial fishing in the monument, allowing both recreational and commercial fishermen to harvest sustainably in accordance with the Magnuson-Stevens Act. The Magnuson-Stevens Act has been hailed by U.S. conservation groups and by international bodies as one of the most successful laws in the world for managing fisheries responsibly and sustainably.
Sustainable fishing has taken place in the Northeast Canyons and Seamounts area for decades. Conservation groups and proponents of the monument have described the area where fishing has taken place as "pristine." There is no evidence that commercial fishing has ever damaged these canyons and seamounts or the corals and other marine life that exist there.
Our members have worked diligently with officials and members of Congress on both sides of the aisle since secret proposals for an Atlantic Marine Monument were revealed in emails between conservation groups and former Obama administration officials through a public records request in 2015. We met with officials in the Obama administration before they made what we considered to be an inconsistent decision to allow recreational fishing but not commercial fishing in the monument.
The region now encompassed by the Northeast Canyons and Seamounts Monument is important to the offshore lobster, red crab, and swordfish and tuna fisheries. And displacement of the offshore lobster fishery from their historic location would likely harm the highly successful and sustainable Atlantic scallop industry.
We appreciated that the Obama Administration recognized that an immediate closure would have serious negative consequences to the red crab and offshore lobster fisheries, and were grateful for the seven-year extension which allowed those fisheries to continue to operate. Unfortunately, no such extension was granted to commercial swordfish and tuna fishermen, who were harmed from the time the closure went into effect until last summer when parity and fairness were restored.
After the 2016 creation of the monument, we continued to work through the remainder of the Obama administration and through the Trump administration to restore fairness and equal treatment under the law to all who fish responsibly and sustainably in the area.
President Biden has vowed to make science a central theme of his administration. In an online briefing introducing his team of top five science advisors before the inauguration, he said "As president, I'll pay great attention" to science and scientists. As long as the review ordered by President Biden is conducted fairly and honestly, and in accordance with science and data, we believe the results should be to continue to allow sustainable fishing, both commercial and recreational, under the Magnuson-Stevens Act.
Editor's Note: 'SouthCoast Voices' is a series of guest opinions from newsmakers and other people across the region, on relevant issues that directly impact the people of Greater New Bedford and the surrounding communities. The opinions are solely those of the author. If you are interested in contributing, please contact tim@wbsm.com for more information. 
Enter your number to get our free mobile app
More From WBSM-AM/AM 1420