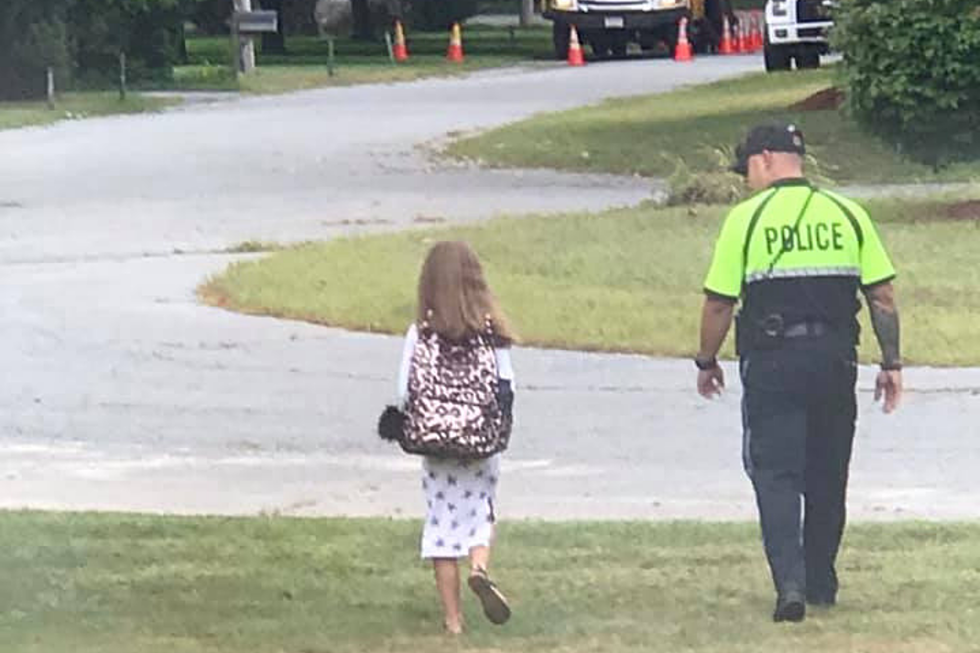 Berkley Police Officer Helps Little Girl Get to School Bus
Melanie Beaulieu via Facebook
Some heroes don't wear capes.
A mom posted about an extremely positive interaction with a local police officer who demonstrated a simple kindness that was truly beyond words. They live on a cul-de-sac, where construction was blocking the road preventing the bus from entering to get to her daughter for school on Friday, September 6. Officer Zachary Mosher of the Berkley Police Department was working the detail at the time when he walked to her house and escorted her to the main road where the bus was waiting.
Sophia's mom, Melanie Beaulieu, was eager to share the news of this incident on Facebook: "To this Berkley Police officer...You were beyond kind today!! Sophia's bus couldn't make it down our circle, so he came to ask if she felt comfortable for him to walk her down & put her on the bus. He shook her hand, introduced himself then chatted with her about school & her favorite things as they walked off!! Cops need more positive posts like this so Thank You!!! And Yes our Sophia is already getting escorted away by the cops."
Thank goodness the mother explains the picture in the caption because the photo really does make it look like the little girl is being taken away by an officer. Shoutout to Officer Mosher for being so kind and going out of his way to help this little girl.
We hear of these exceptional stories and it always melts our hearts. I'm glad to provide you with a dose of happiness and a smile right before the weekend. Tell your friends!
More From WBSM-AM/AM 1420