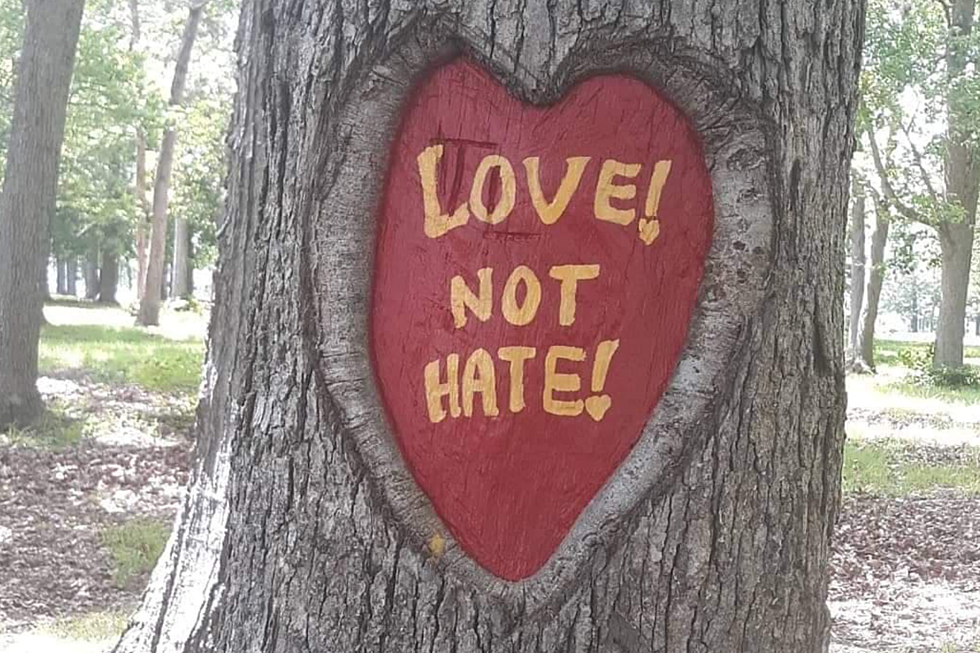 An Act of Love [SOUTHCOAST VOICES]
Emily Lewis/Contributed Photo
THIS GUEST OPINION PIECE BY:  Emily Lewis, a mother of three from New Bedford, shares the story of what happened after she discovered vandals had scrawled racist graffiti on her favorite tree in Brooklawn Park, and how one person took it upon himself to fix a message of hate with an act of love.
Eric Johnson, a New Bedford native, historian, and moderator of the Historic New Bedford Photo Club on Facebook, covered up racist and offensive writing on a tree at Brooklawn Park in New Bedford's North End.
During a walk Monday, what Mr. Johnson saw written on a heart-shaped scar along Brooklawn's upper path seriously hurt him on a deep level.
"It is an insult to this place, this land and our neighbors and all people of color," he said. "As well as to the memory of a man who wished for the abolition of slavery up to 15 years before the Civil War."
So what did Mr. Johnson do?
He got a can of red paint. He then painted the heart along with the words "Love! Not Hate!" 
Not only was this a beautiful display of art, but an even more beautiful message to all, that love will lead the way. In doing this, Mr. Johnson shows a true sense of pride in his community and urges others to do the same.
Brooklawn Park is a vast expanse of woods nestled in the heart of an ever-changing city. Something he credits with being the reason he is so passionate about the city's history.
This park was a home to one of New Bedford's greatest citizens, Daniel Ricketson, who wrote A History of New Bedford, Volume 1 and entertained such minds as Henry David Thoreau, Ralph Waldo Emerson, William Ellery Channing, and many more in a small shanty and home in Brooklawn. The park is steeped with a rich history of abolitionism and transcendentalism.
"My hope is that any of the kids and families who traverse this route daily to school or wherever see that love can win out over hate," Johnson said. "Sometimes it just takes a can of paint and a little heart."
"Explore these woods and trails, let them shape your soul as they have mine and always fight for equality," he said.
Mr. Johnson wants to thank all the local artists who make this a unique art city and push each other to a new extreme.
"Particularly Superflat NB, who is changing our landscape via murals," he said. "They're changing things way more than my one little message of love on the park trail."
Editor's Note: 'SouthCoast Voices' is a series of guest opinions from newsmakers across the region, on relevant issues that directly impact the people of Greater New Bedford and the surrounding communities. The opinions are solely those of the author. If you are interested in contributing, please contact tim@wbsm.com for more information. 
More From WBSM-AM/AM 1420