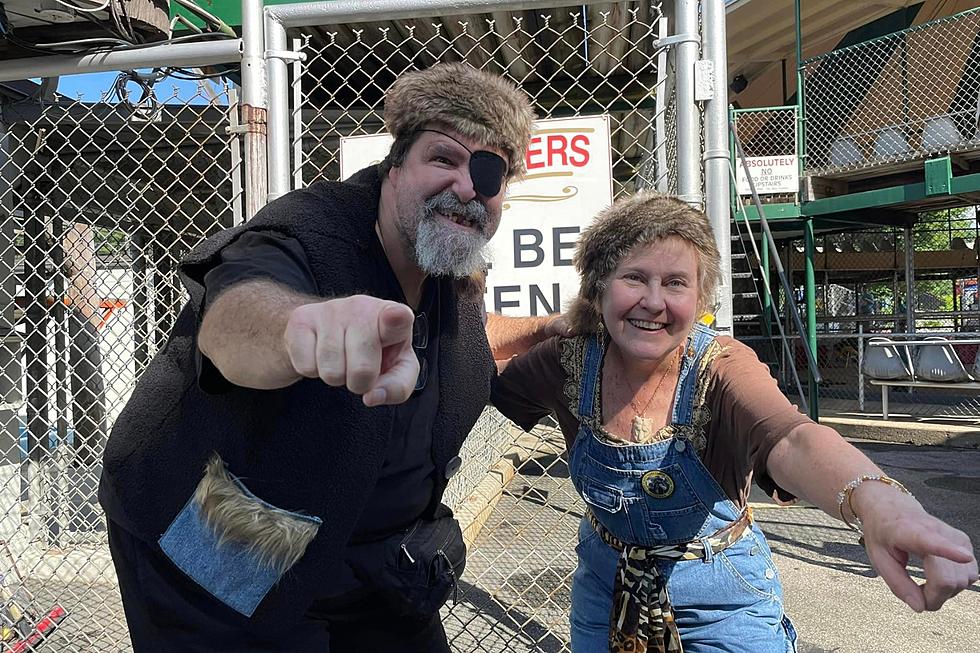 WWE Legend Mick Foley Appears as 'The Wolfman' at New Hampshire's Clark's Bears
Clark's Trading Post via Facebook
This past weekend, the Clark's Bears theme park in the White Mountains of Lincoln, New Hampshire celebrated a milestone, and a World Wrestling Entertainment Hall of Famer was in attendance as part of the festivities.
Yet "hardcore legend" Mick Foley didn't just show up to pose for photos and sign for autographs; he also stepped in to portray the very character that was being celebrated.
It was part of "Wolfman Weekend," as Clark's Bears – formerly known as Clark's Trading Post – celebrated its infamous Wolfman character, who has been chasing the trains for 50 years now.
As part of the experience at Clark's, visitors get to take a train ride into the woods surrounding the park – but the tracks also run through the property of the "old goat." He's concerned that the people on the train are really there to steal his secret stash of Unobtanium from his mine, and so he chases the train in his homemade vehicle in order to keep the visitors away.
As part of the celebration, Wolfmen past and present gathered to take part in special events and games with park visitors. Sadly, perhaps arguably the most iconic Wolfman, Bill Farrands, was only there in spirit after passing away in 2018, but a special guest was on hand to step in as a celebrity guest Wolfman.
Foley was in attendance on Saturday, playing the Wolfman throughout the day as the train full of park visitors rode on by, and he yelled silly things at them as they passed.
Clark's Bears said in a Facebook post that at the end of his train-chasing duties, Foley handed out autographed photos and posed for photos with "a very long line of guests."
In a lengthy post on his own Facebook page, Foley wrote about what a good time he had and offered support for Clark's Bears and other family-owned amusement parks.
"I have known the Clark family for over 25 years, so I jumped at the opportunity to join Wolfman Vern on our quest to protect his valuable cachet of Unobtanium," Foley wrote. "So every hour on the half-hour, I would jump out of my secret Unobtanium mine to chastise a genuine steam train full of passengers."
Foley mentioned his youngest son Mickey is also in his second summer working as part of the staff at Clark's Bears.
Foley had also recently posted about visiting other family-owned amusement parks, including Santa's Village in Jefferson, New Hampshire. "While I love Disney, Universal, and the Six Flags parks, there's just a different feeling when you're stepping onto the grounds of a place that is so deeply soaked in family tradition," he wrote.
View this post on Instagram
Foley said that in between chasing trains, he spent time reading a book from the Clark's gift shop about the history of the park, and marveled at the fact that the rails for the train were laid by the Clark family themselves, and the painstaking work of moving the 1904 covered bridge that it crosses from Vermont to Lincoln in the middle of winter back in 1964.
"If you have a chance to visit one of these magnificent family owned and operated parks, take it all in, and think for a moment of the hard work and sacrifice that went into making your day so much fun," Foley wrote.
WWE Superstars with New England Ties
They may not be from here, but these WWE superstars past and present have ties to New England in some way!
WWE Superstars From New England
Some of the biggest local talents who went on to have success in the squared circle.
8 Things You May Not Know About NH Native & WWE Star Triple H
WWE Star Triple H is a NH Native. Here are 8 things you may not know about him.
More From WBSM-AM/AM 1420