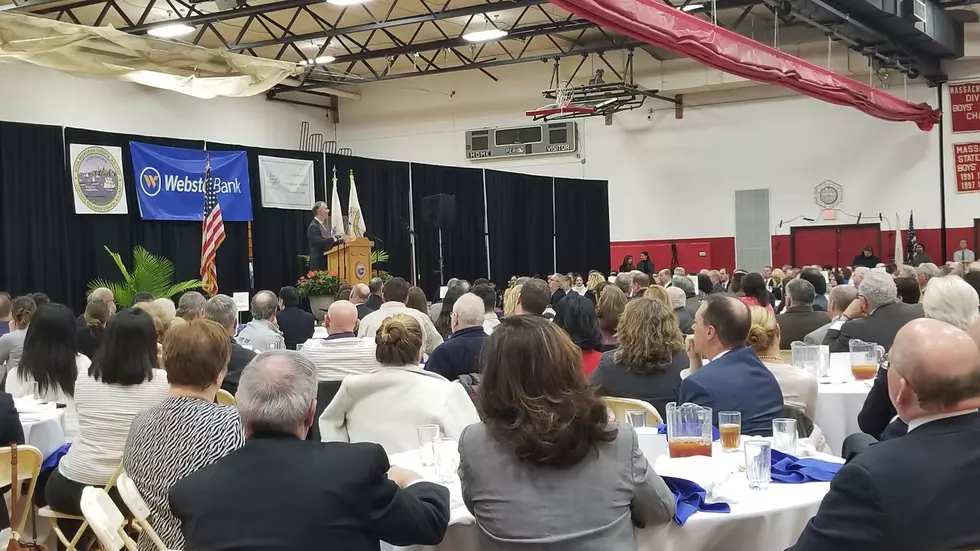 What They're Saying About the State of the City Speech
Tim Weisberg/Townsquare Media
Rick Kidder, CEO of the SouthCoast Chamber of Commerce, on New Bedford's future as presented by the mayor in his speech:
"The Mayor struck a really good tone today, and that tone was really about not only how far we've come and how far we have to go, but also a roadmap to get there. We're talking a lot about what's happening with the port, a lot of what's happening with offshore wind coming up, but also when you start talking about the redevelopment of properties to try to build our tax base, I think the mayor was dead on about improving quality of life and making this a better place to attract business."
"We'll never be Boston, and we'll never be a major metropolitan area. But what we can be is an extraordinarily good small city. We're well on that path now and it's going to take a few years for us to fully realize it, but we're getting there. Let Boston be Boston, let New York be New York. We will be New Bedford, and putting New Bedford on the map in new and better ways is something I think we're all committed to."
David Slutz, CEO of Precix, asked by Mayor Mitchell to head a review panel on how the New Bedford airport can reach its full potential:
"We hired a consultant some time ago to produce a report and talk about what the futre of airport can be. I'm simply going to lead the commission to address the report and come up with the recommendations."
"No question about it. If anybody has driven to Logan as of late and spent two hours in traffic and paid forty-five bucks a day to park you'd love to fly out of this place. Not to mention, the seafood industry can benefit, maybe Net Jets, UPS or FedEx. It's a gold mine."
"We've got a rare commodity with a city our size. We've got a harbor, we have a good highway system, we're getting the train down here, and we've got an airport, so let's rock."
City Councillor At-Large Brian Gomes, on the mayor's talk of dwindling crime rates, police overview, an increase in homicides in 2017, and new technologies for police work:
"All the things are good but we're still not making the impact that we have to make. We can play with the numbers and talk about numbers, but I'm talking about a safe city that should be across the city in every neighborhood. I'm happy to hear him talk about that today, but again, it's just reaction from action from others, and you're hearing him speak loud about the crime."
"As far as I'm concerned, we will continue to work at that and continue to address the issues. You didn't hear much about the school security today though, did you? You didn't hear about some other things. Maybe we should open up our ears and listen."
More From WBSM-AM/AM 1420