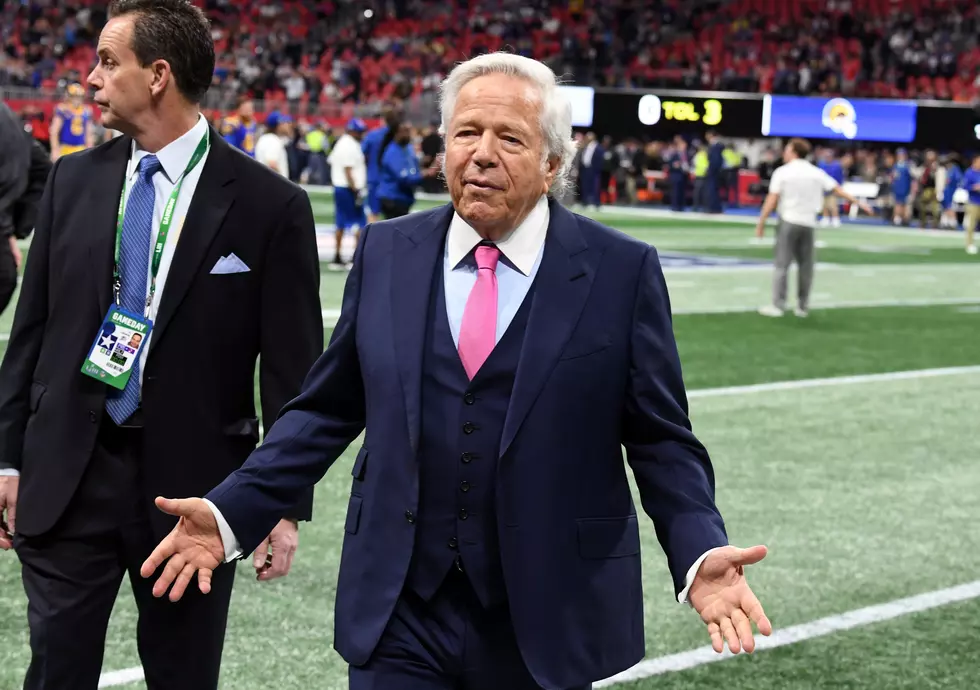 We Don't Need to See Kraft Sex Tape [OPINION]
Getty Images
If the public's right to know includes releasing a video that purports to show 77-year-old Robert Kraft romping through Cupid's grove with a couple of hookers, count me out. Why on Earth does the press think anyone wants to see this?
The Boston Globe has joined a court action to force the release of the video that was allegedly shot by police at a Jupiter, Florida spa where Kraft was alleged to have bought himself a smile while his New England Patriots were preparing for the playoffs. Kraft is fighting to keep the video from being made public and his legal team claims the police may have actually recorded Kraft illegally.
Kraft, who maintains that he's done nothing illegal, has made clear that he has no interest in cutting any kind of deal with prosecutors in a case that was supposed to be all about human sex trafficking, although so far there has been no evidence of such. Kraft's lawyers are seeking a jury trial.
However, the case is ultimately resolved and if in fact there is a videotape, why should it be made public? How does it serve the public good?
Why would anyone at the Boston Globe find the video newsworthy? What would they do with it? Post it on their website? Talk about creepy.
No one needs to view this videotape other than perhaps a judge and jury, if the thing is even admissible as evidence. If in fact it is credible, the judge should order it sealed or destroyed since there is nothing in its release that would serve the public good. Frankly, it's nobody's business and Kraft's privacy should be respected.
Barry Richard is the host of The Barry Richard Show on 1420 WBSM New Bedford. He can be heard weekdays from noon to 3 p.m. Contact him at barry@wbsm.com and follow him on Twitter @BarryJRichard58. The opinions expressed in this commentary are solely those of the author.
More From WBSM-AM/AM 1420