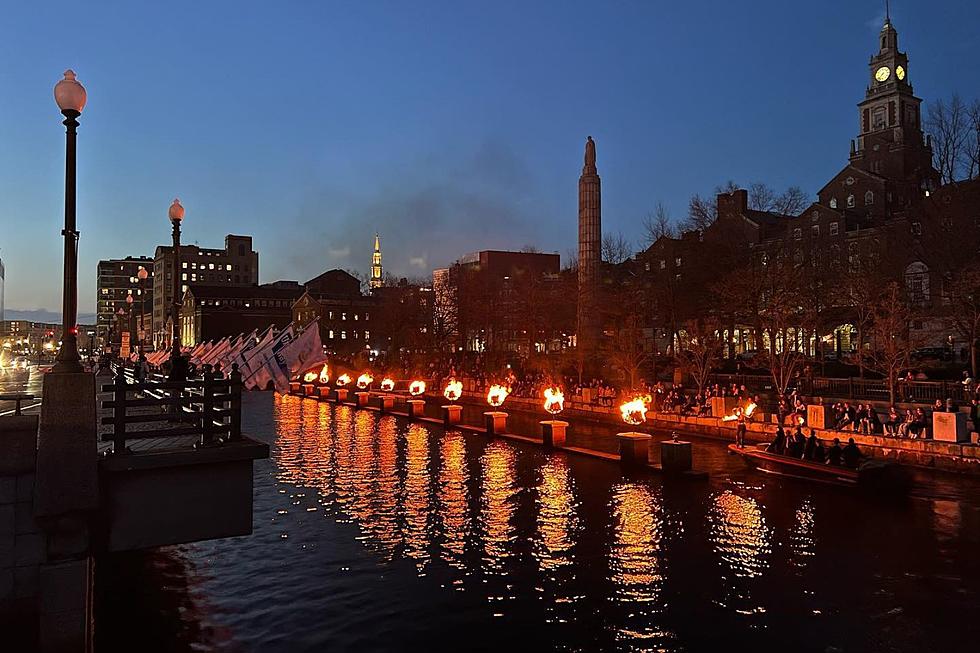 WaterFire Providence to Kick Off 2023 Season with First-Ever WaterFire Day
WaterFire Providence/Facebook
WaterFire in Providence is a beloved tradition in Providence. The city glows at night as over 80 sparkling bonfires ignite in the three rivers that snake through the downtown.
For the first time ever, WaterFire will host WaterFire Day on Wednesday, April 19, to kick off the 2023 season at Memorial Park.
It's a beautiful display of art and culture, and the nonprofit organization is ready to "strike the match."
What Is WaterFire?
WaterFire Providence is an independent, nonprofit arts organization whose mission is to inspire Providence and its visitors by revitalizing the urban experience, fostering community engagement and creatively transforming the city by presenting WaterFire for all to enjoy.
In 1994, Barnaby Evans created the "First Fire" to celebrate the 10th anniversary of First Night Providence. Evans's supporters encouraged him to create an ongoing fire installation experience and to establish Waterfire as a nonprofit. From there, WaterFire has grown to be a glowing spectacle that attracts millions of people every year.
WaterFire Providence to Introduce WaterFire Day
On Wednesday, April 19, WaterFire Providence will unveil the lighting dates for the 2023 season at Memorial Park. The "Strike the Match" event will begin at sunset and feature a press conference. The full schedule for the season will be announced in front of the war memorial and will conclude with the lighting of 12 braziers in Memorial Park.
WaterFire is about bringing people together, so it's no surprise it aims to "spark up an appetite" by teaming with local restaurants so that10% of daily proceeds will be donated to WaterFire Providence "in celebration of another season of 'Keeping the Fire Burning.'"
Participating restaurants include Bayberry Garden, Blu Violet, Hot Club, Moonshine Alley, Troop PVD, Sport & Leisure and Black Sheep Providence.
What to Expect at WaterFire
This season will feature 10 full lightings and several partial lightings. If you have never been to a WaterFire, maybe you make this the year.
I have been going with my family since I was a little girl. The glowing balls of fire reflecting on the river have never lost their luster, and there is something so magical about the gathering of people to enjoy local art, food, and tradition.
WaterFire Day is just the start of a long season of one of my favorite traditions in Rhode Island.
See the Dynamic Dinosaurs Wowing Guests at Roger Williams Park Zoo
If you're wondering what the Dinosaurs Among Us exhibit at Roger Williams Park Zoo is like, these pictures may help you out.
From towering T-Rex to toddler Triceratops, the new walk through the Wetlands Trail has over 60 animatronic dinosaurs of all sizes hanging out.
Here are a few you can see for yourself through August 13, 2023.
Epic Cape Cod Inflatable Park Does Not Disappoint
Just a short drive up I-195 is a day of family fun just waiting to happen. The Cape Cod Inflatable Park has added the Wicked Waves Water Park for summer 2022, joining the Lazy River, water inflatables, trapeze setup, ninja warrior obstacle course and arcade already at the West Yarmouth park.
It is staycation fun for the whole family that you just have to see to believe.
More From WBSM-AM/AM 1420