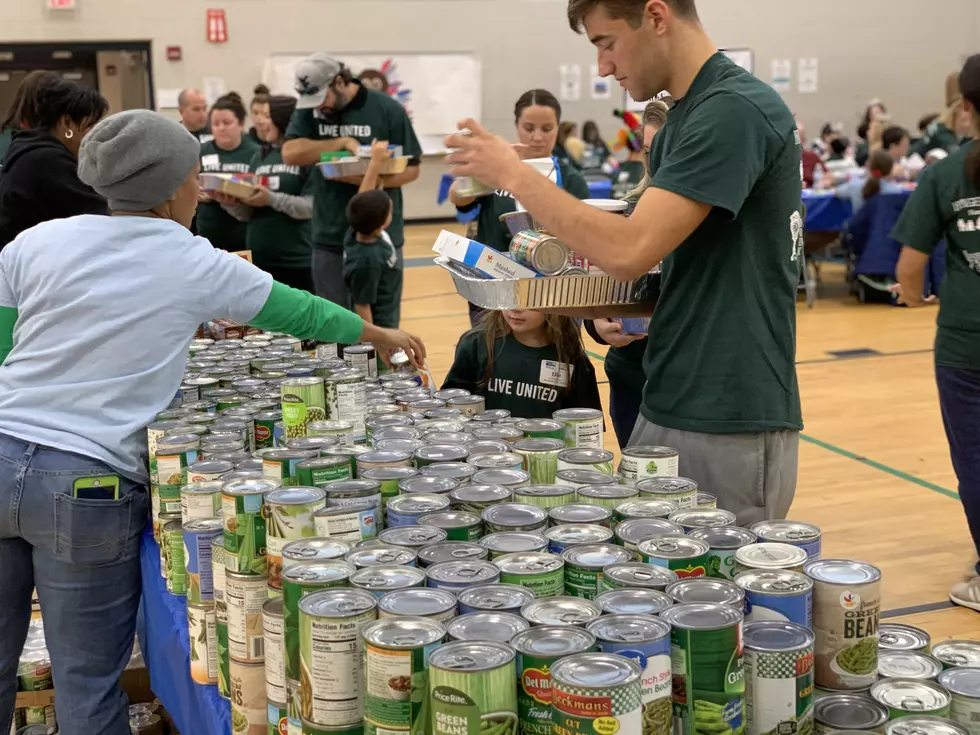 United Way Hunger Heroes Project Packs 1,000 Thanksgiving Baskets
Townsquare Media
Over 300 volunteers worked all morning and afternoon to coordinate the packing of 1,000 Thanksgiving baskets Saturday. The Hunger Heroes Project was held at Keith Middle School in New Bedford. It is an event organized annually by the United Way of Greater New Bedford.
Volunteers began with an empty tin and walked around the Keith Middle School gym packing it with stuffing, cranberry sauce, dessert, cornbread and cans of vegetables. The baskets are topped off with a handmade card from volunteers wishing the recipients a Happy Thanksgiving. The cards ranged from handwritten notes of thanks to colored turkeys and drawings from some of the younger children.
The common theme was local, SouthCoast families helping people that needed it for the holiday.
Volunteers were also shown a video that underscored the importance of giving to the United Way.
"These baskets will feed so many people next Thursday, but hunger is a year-round problem here on the SouthCoast," said one United Way representative.
By days end, the baskets were packed into the Hunger Commission van. They will be paired with a turkey.
"We even have directions showing how to thaw and cook a turkey," said Victoria Grasela of the United Way of Greater New Bedford.  "We don't want anyone looking at a raw turkey coming out of the oven on Thanksgiving Day."
The food that was used for Saturday's Hunger Heroes project was collected from dozens of food drives around the Greater New Bedford area over the past several weeks including Fun 107 and WBSM's Hunger Heroes Food Drop last weekend at Buttonwood Park.
Enter your number to get our mobile branded app
More From WBSM-AM/AM 1420