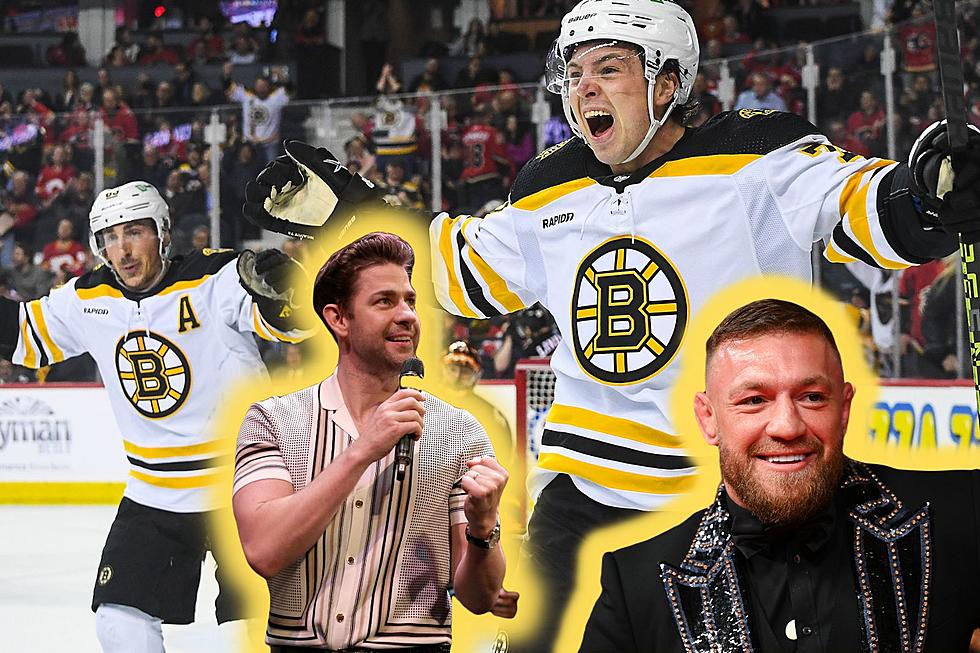 These Celebrities Love the Boston Bruins As Much As You
Joe Maher/Derek Leung/Getty Images/Rick Kern/Getty Images for Paramount Pictures/
The Boston Bruins are on fire this season and are breaking NHL records all over the place. It's hard for fans not to be excited by this season and that includes celebrity fans.
Like many New England sports teams, the stars often come out to watch the action. While some will stop in to see games throughout the season, others really start to show the love when the playoffs begin.
The 2018-2019 season probably saw the Boston Bruins celebrity fan base grow quite a bit. Lots of actors and musicians took to their socials during the Stanley Cup Finals to lend their support to the team, but in the end they couldn't quite beat the Blues.
This season the team seems a little unstoppable. The win streaks are long, the points totals are record-breaking and the love for the Boston Bruins is at a serious high point.
Just last month, the team became the first in NHL history to beat 31 other teams in the same season. That is every other team in the league in case you were wondering. Because of expansion teams in 2017 and 2021, the B's are the only team to beat 31 others in league history.
Earlier this month they also became the fastest team to 100 points in a season when they beat the Buffalo Sabres 7-1 on March 2.
They are far and away the best team in professional hockey right now and fans everywhere are loving it.
Of course, what really matters to true Bruins fans is hoisting that Stanley Cup when the season is over and these celebrity fans are hoping they do just that in 2023.
These Celebrities Love Watching The Bruins As Much As You
Hockey season is underway and the Bruins are exciting fans both near and far. Here are the celebrities who will be routing for the B's not matter how far from Boston they roam.
20 Celebrities Who Love the New England Patriots As Much As You
Patriots Nation is strong with or without Tom Brady and these celebrities count themselves among the those who love New England's football team.
More From WBSM-AM/AM 1420