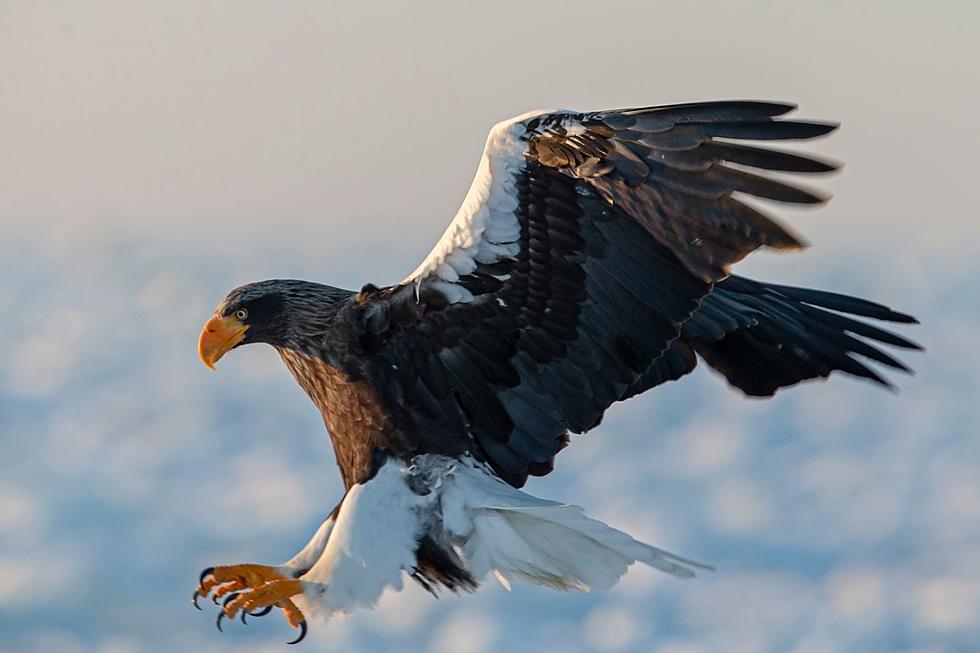 Sea Eagle Gets Lost and Flies Over 1,000 Miles From Asia to Taunton
Canva
A rare bird found its way to the SouthCoast with many birdwatchers flocking to Taunton to get a glimpse of the rare Steller's sea eagle that was seen over the Taunton River. It's one of the largest raptors in the world and appears to be incredibly lost.
The Massachusetts Division of Fisheries & Wildlife shared a photo Monday of the massive bird resting on a tree branch, and it truly looks like it belongs in the prehistoric era.
"This sea eagle is one the largest raptors in the world, weighing up to 20 pounds with a wingspan of up to 8 feet!" the organization wrote.
Mass Wildlife believes this is the same sea eagle that was recently spotted in Alaska and Canada and was the topic of discussion in a recent article in Smithsonian magazine.
Elizabeth Gamillo of the Smithsonian magazine explained how the unique markings on the bird were a tell for birdwatchers that this sea eagle had gotten drastically off course.
"Vagrancy occurs when a bird veers off course, possibly due to a navigation error, or it may have been blown off course by extreme weather patterns," Gamillo said.
It's unclear what happened, but one thing for sure is how incredibly rare it is to catch a glimpse of this monstrous bird.
They are native to China, Japan, Korea, and the east coast of Russia, and the New York Times reported that while some have flown as far east as western Alaska, none have ever been known to appear near the Atlantic Ocean – let alone appear in Taunton.
This massive raptor may continue to fly until it finds its species once again, but in the meantime, the SouthCoast gets a once-in-a-lifetime opportunity to spot a bird that typically requires a passport to see.
Massachusetts Wildlife You Can Legally Take Home as Pets
Massachusetts has such diverse wildlife, but also strict limitations on what you can bring home and cuddle. In fact, there are only certain reptiles and amphibians you can keep as pets (so no raccoons, squirrels, bunnies, etc.) and you are only allowed two of each. The state also
says
"you cannot sell, barter, or exchange them." Also, keep in mind, these are wildlife, so it's probably best to just leave them be and maybe visit a reptile shop instead to get your next pet.
More From WBSM-AM/AM 1420