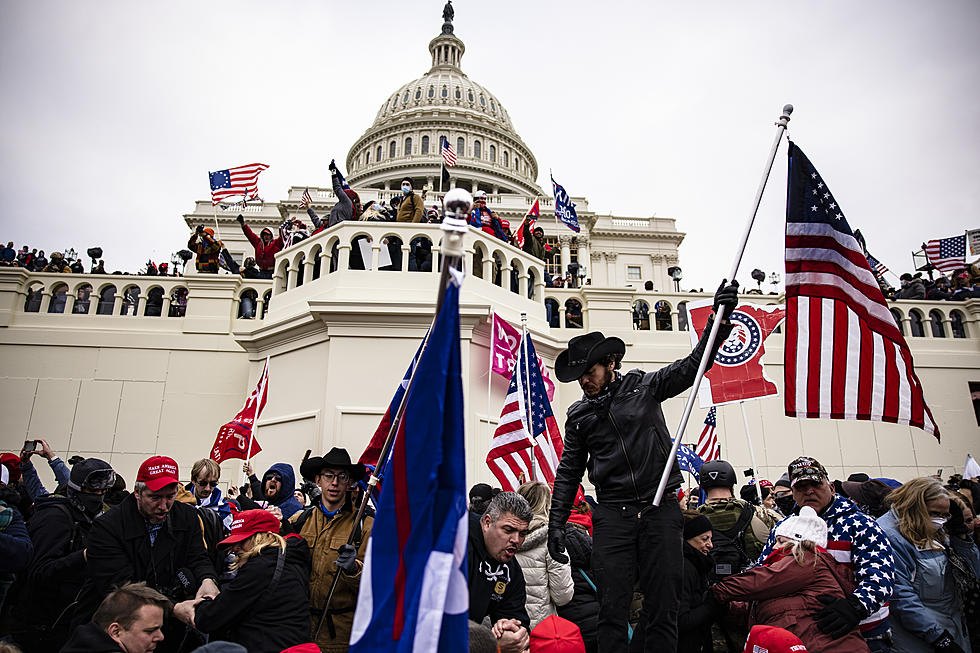 Swansea Man Arrested for Alleged Involvement in January 6 Riot
Getty Images
WASHINGTON, D.C. (WBSM) — A Swansea man has been arrested on felony and misdemeanor charges related to the January 6, 2021 breach of the U.S. Capitol during which he allegedly threw an object at the Capitol doors.
According to the U.S. Attorney for the District of Columbia, Michael St. Pierre, 46, of Swansea was arrested today in Fall River and charged in a criminal complaint with a felony offense of civil disorder.
Court documents allege that St. Pierre traveled from his home in Swansea to Washington, D.C. and participated in the U.S. Capitol riots on January 6, 2021.
"While walking towards the Capitol grounds, St. Pierre can be heard stating that the Capitol is 'where the meeting ground is. Hopefully, they'll bust through, and I'll join them to rush the Capitol, to grab Nancy Pelosi by the hair,'" the U.S. Attorney's Office said.
It is also alleged that St. Pierre was captured on video footage throwing an object through the open exterior doors at a set of interior doors of the Capitol building. He was also allegedly part of a group of people that threw objects at the doors that Capitol Police were standing behind.
"St. Pierre is also seen encouraging others to assist him as he joins a group of rioters pushing against a police line," the U.S. Attorney's Office said. "In another open-source video, court documents say that St. Pierre is seen encouraging rioters to enter the Capitol building through a megaphone, stating, 'We need everybody, let's get in the Capitol.'"
St. Pierre is also charged with several misdemeanor offenses, including destruction of government property; knowingly entering or remaining in any restricted building or grounds without lawful authority; disorderly and disruptive conduct in a restricted building or grounds; engaging in physical violence in a restricted building or grounds; and committing an act of physical violence in the Capitol grounds or buildings.
PHOTOS: Scene at U.S. Capitol shows chaos and violence
LOOK: Explore the iconic buildings from every state
From colonial homesteads to mansions by the ocean, iconic buildings define every state in the country. Stacker compiled this list of notable examples from historic and government reports and news articles.
More From WBSM-AM/AM 1420