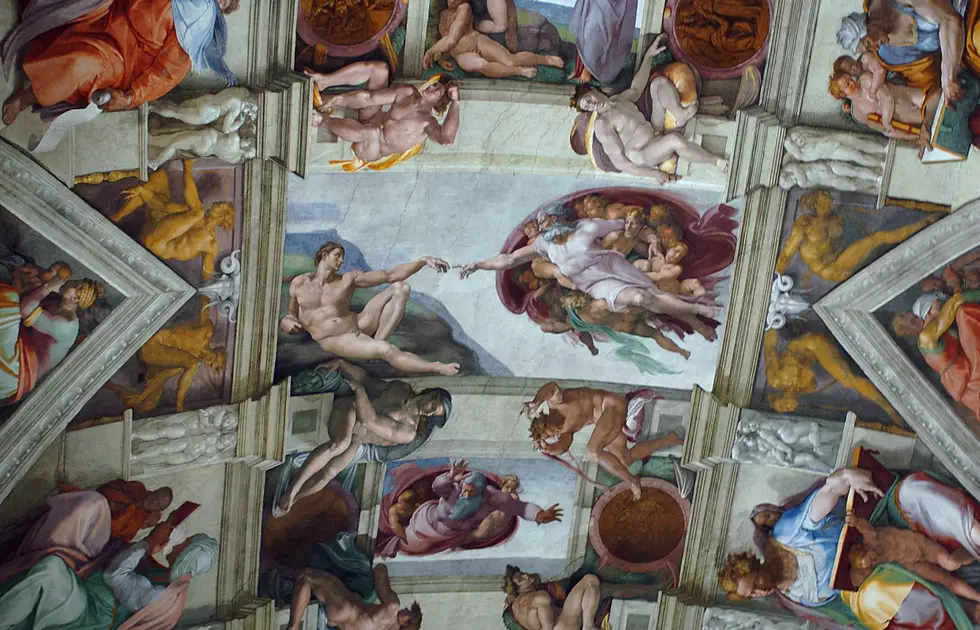 Sistine Chapel Masterpiece on Display in Providence
Fotopress/Getty Images
An artistic masterpiece typically seen inside Vatican City is on display for the next four weeks at the Rhode Island Convention Center.
Yes, Michelangelo's Renaissance artwork, the Sistine Chapel ceiling, has been brought to the Ocean State for art lovers to enjoy up close for the first time ever.
Of course, this is not the actual ceiling of the Sistine Chapel that has been taken apart and shipped overseas. It is a unique photo-to-fabric web recreation that allows viewers to explore this famous piece closer than they ever would in Italy.
From 1982 through 1994, the Sistine Chapel ceiling was being restored and a Japanese team received permission from the Vatican to photograph the works. Those detailed, high-resolution photos have been transferred to special fabric webs and are now the traveling art exhibition, Michelangelo: A Different View, stopping in Providence for the next month.
From May 12 to June 12, visitors can visit this religious work of art at the convention center and see Michelangelo's interpretation of the history of creation displayed before them rather than towering above their heads.
It isn't the only major art exhibition in town right now either. The Beyond Van Gogh exhibit opens May 17, also at the Rhode Island Convention Center, and will stay in Providence into early July.
Definitely a good time to be an art lover in Southern New England. All the beautiful artwork, none of the travel.
Yet seeing this Italian masterpiece up close in the Ocean State is just one of the ways Rhode Island has made us feel like we were traveling overseas. Keep scrolling to see more ways the country's smallest state has given us big-time European vibes.
All the Times Rhode Island Made Us Think We Were in Europe
Traveling overseas may not be in the cards for you right now, but you can certainly feel like you took a European vacation with these amazing Rhode Island restaurants, wineries and boat rides. Leave the passport at home for this trip.
More From WBSM-AM/AM 1420