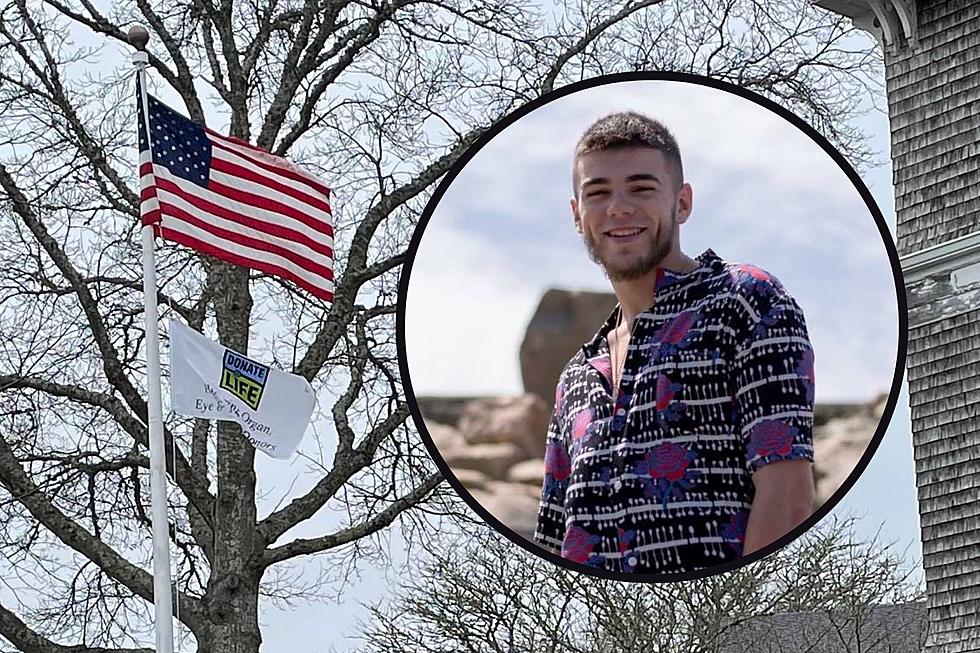 Mattapoisett Family Honors Late Son With Help From Town Hall
Courtesy of Cheryl Ellis
The next time you drive by Mattapoisett Town Hall, you will notice a new flag flying alongside the U.S. flag.
April is National Donate Life Month, and after one Mattapoisett family lost their son two years ago, the town hall has been flying this flag to raise donor awareness and to keep Sam Ellis's spirit alive.
The Story of Sam Ellis
Cheryl Ellis shared the heartbreaking story of how her son, Sam, lost his life in a car accident in 2020, just shy of his 21st birthday. He suffered a severe head injury, and the family was told from the start that he would not recover, leaving them to make a tough decision.
When Sam was still around, his family knew that he was a good person, but after his death, they found out just how big his heart really was.
"He was literally friends to everyone," said Ellis. "We learned that there was a girl being bullied at his high school, and he would walk her to class every day just so she wouldn't get bothered."
Sam had a tattoo on his hand that read, "Never Die." Like any mother, Ellis was not thrilled about it, but once she learned the meaning behind it, she was in awe of her son.
"He told my daughter the meaning of it," she said, "which was when he died, he wanted his legacy to live on."
He had a larger understanding of life and how important it was to make a mark while he was here. T
wo years after his death, his legacy is alive and well thanks to the "donor" label on his license.
The Power of Being an Organ Donor
"We were blessed with the number of gifts that Sam was able to donate," said Ellis. "Gifts" refers to the number of organs and tissue that a person is able to give. Sam was able to give his liver, heart valves, bone, skin and two kidneys, one of which went to a good friend of the family.
"His bones have gone as far as Colombia and South Korea," said Ellis. "He's traveling the world."
Mattapoisett Honors Sam and National Donate Life Month
While the Ellis family currently resides in New Bedford, Mattapoisett will forever be their home.
"Last April, my daughter, who is a New England Donor Society volunteer, requested a flag to fly in his honor (at the town hall)," she said.
The town happily obliged.
When people drive by that flag for this month, Ellis hopes it will encourage people to register to become donors.
"I hope they think of Sam and remember the good he did for people when he was alive and even afterward," she said.
Sam was taken too soon, but his legacy lives on in the people he continues to save.
Fairhaven Man Returns Home From Service
Garrett Wunschel Has been overseas serving our country and came home to surprise his family and his girlfriend who had no idea he was home.
A Guide to New Bedford's Memorial Tanks and Cannons
New Bedford has a large assortment of military hardware scattered throughout the city to honor various veterans organizations. See them all listed here.
More From WBSM-AM/AM 1420