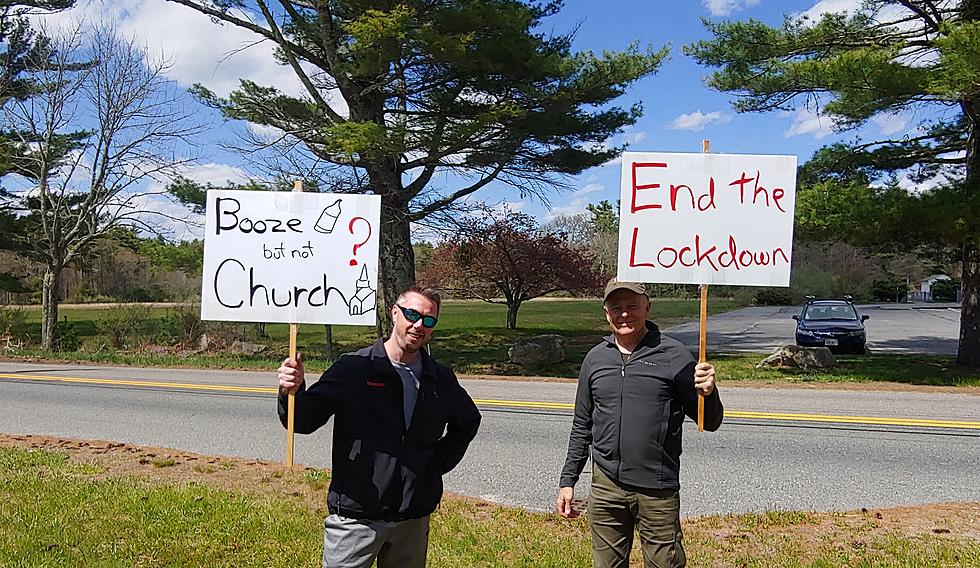 Rochester Lockdown Protesters Ask Baker to Lift COVID Restrictions
Mary Serreze/Townsquare Media
While in other regions, massive and raucous protests against COVID-19 restrictions have made national headlines, a small and peaceful group of demonstrators have been assembling on the town green in rural Rochester on a weekly basis.
On Sunday, passing vehicles honked in support as organizer Bendrix Bailey and a half-dozen others strolled in front of Rochester Town Hall calling for an end to Massachusetts Gov. Charlie Baker's economic restrictions designed to slow the spread of the novel coronavirus.
There were no MAGA hats to be seen and not a single Gadsen flag or American flag in sight. The protesters did not wear face masks, and did not appear to be practicing six feet of social distancing. They did carry signs saying "End the Lockdown," "Booze But No Church?" and, in the case of a young boy, "Let Me Go Back to School."
"We want to see the governor release everyone who's not vulnerable immediately," Bailey told WBSM. "And we need to let other people get back to work." He asserted that the state needs to do a better job protecting nursing homes, the elderly, and those with weak immune systems to support lifting restrictions for everyone else.
Bailey said while Gov. Baker's March 24 closure of non-essential businesses may have made some sense in the short term, that in his view, that time has come and gone.
"Initially this was not a bad policy, to try to protect everyone," Bailey said. "But now we know who is vulnerable. And we also know the extent of the disease. And we can see very clearly the damage that the lockdown is causing. It has caused horrendous economic problems."
Bailey said the state's COVID-19 restrictions have increased domestic violence, increased the number of overdose deaths, "and surprisingly, the number of driving deaths, too, because people are speeding on the unoccupied roads."
The Massachusetts Department of Transportation has reported that the rate of fatal car crashes -- not the actual number -- doubled in April over the previous year. Last month, there were 28 fatal accidents with about half the number of cars on the road, MassDOT reproted. The rate of speeding tickets for those driving over 100 miles per hour also spiked, according to Massachusetts State Police.
Asked if the protest had partisan or political roots, Bailey said no.
"Nobody here has on a candidate or a party shirt, and there's a reason for that. We've asked them not to,"he said. "Everyone of course has their own views, but we're here for one thing and one thing only. And that's to try and convince the governor that he needs to end the lockdown faster than he's doing."
Baker last week responded after hundreds of protesters outside the statehouse in Boston demanded that he lift restrictions immediately. He said his priorities involved stopping the spread, making sure the state's health care system didn't get overwhelmed, and doing everything possible "to keep people safe and healthy, recognizing that that would come with significant economic dislocation."
The conflict comes as some public health officials warn of a resurgence of COVID-19 in the Fall if restrictions are lifted too early.
Baker on March 24 declared a state of emergency as COVID-19 started to grow in Massachusetts. He issued a "stay-at-home advisory" and an executive order closing "non-essential businesses" until May 4. But at the end of April Baker extended his restrictions until May 18 and announced the formation of an advisory board to guide re-opening the state's economy. Baker later issued an order requiring face masks or face coverings when entering businesses or when people can not practice proper social distancing.
Baker has made two moves to lessen the restrictions - last week he allowed gun shops and gun ranges to re-open following a ruling from the Massachusetts Supreme Judicial Court that their closure violated the Second Amendment. Also last week, he allowed golf courses to re-open with strict protocols in place.
Bailey said Sunday that protests such as the one in Rochester have sprung up in a number of Southcoast communities, and that he is responsible for the website "Lockdown Protest dot com."
Enter your number to get our free mobile app
More From WBSM-AM/AM 1420