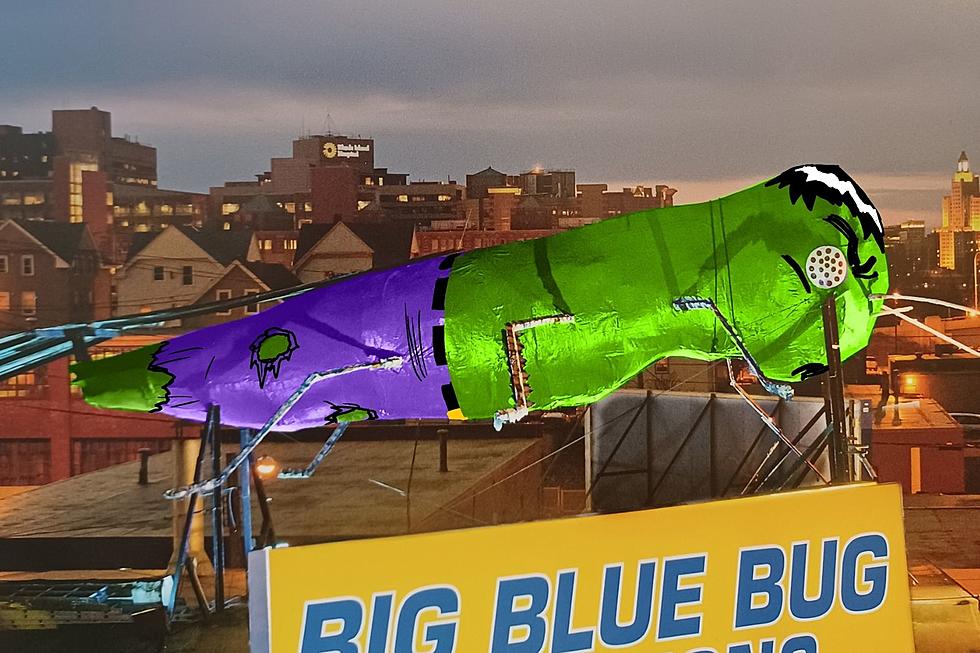 Rhode Island's Big Blue Bug Gets Hulk Makeover Ahead of Comic Con
Courtesy of Big Blue Bug Solutions
Rhode Island Comic Con makes its return to the Rhode Island Convention Center next month, and a popular Rhode Island character is getting in on the cosplay fun. Nibbles Woodaway, best known as the Big Blue Bug that towers over Interstate 95 in Providence, is getting a makeover of heroic proportions.
I drive by Nibbles every morning and every afternoon, and when I saw a few people on ladders Tuesday morning putting green paint over the bug's blue body, it had me wondering what Big Blue Bug Solutions was up to.
Big Blue Bug Solutions and the Rhode Island Chapter of ALS Association have teamed up to give Nibbles a new paint job that will honor Rhode Island Comic Con guest Lou Ferrigno, the original Incredible Hulk.
Brian Goldman, the owner of the infamous pest control company, is excited to bring the idea to life.
"My father retired after he had a health scare a few years ago. He was working on this project to do something cool with Nibbles, and he was trying to think outside the box," Goldman explained. Comic Con was coming along, and one of the biggest figures that frequently attends was Ferrigno. Goldman discovered that Ferrigno was a huge supporter of the ALS Association, an organization that the Big Blue Bug has supported for a very long time.
"How cool would it be to come together and combine us, Lou, and ALS, and do something special for the Rhode Island Chapter?" Goldman said.
With his father's imagination in mind, Goldman and the RI ALS Chapter put plans in motion to transform the Big Blue Bug into the Big Green Bug in Ferrigno's honor.
"Lou is so excited. He will be coming November 4 and hopefully take some pictures," said Goldman. "The Big Blue Bug meets the Incredible Hulk."
Big Blue Bug Solutions plans to donate to the ALS Association in Ferrigno's name.
"The organization is near and dear to us, and it also means a lot to Lou," Goldman said. "It worked out so well that we could combine our efforts."
Nibbles will wear his Hulk costume for about a month to enjoy the Halloween season, and by the middle of November, he will shed his green layer and go back to blue in preparation for his annual Rudolph costume for the holidays.
Expect to see Nibbles in his completed cosplay outfit by the end of the week.
What One Man Learned Reading All 27,000 Marvel Comics
More From WBSM-AM/AM 1420