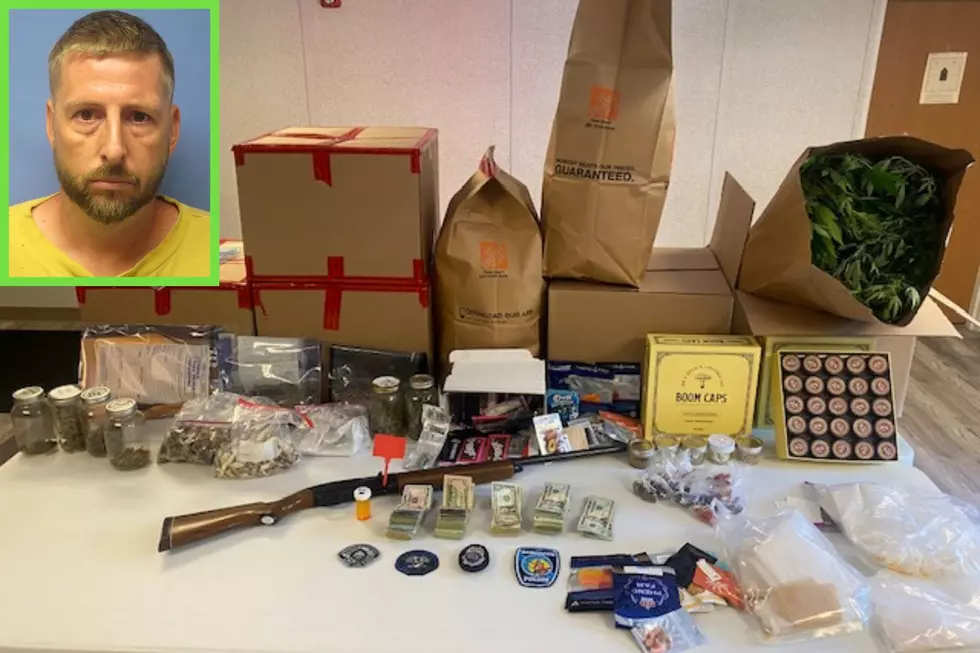 Rehoboth Man Caught in Drug Bust
Courtesy Rehoboth Police Department
REHOBOTH — Rehoboth police have arrested a 37-year-old Rehoboth man on drug trafficking charges after a three-month investigation led to the seizure of 100lbs of marijuana and other narcotics.
Police said Michael Young was arrested on multiple drug-related charges after law enforcement officers searched his residence at around 10 a.m. Thursday.
According to police, "several items" were discovered during the search that implicate Young in the trafficking, sale, and distribution of illegal drugs.
Although police did not say what narcotics were found, a photo of the items seized from Young's home show at least one firearm along with piles of cash, plastic bags of what appear to be mushrooms, powder and pills, and multiple jars of what appears to be marijuana.
Also shown in the photo is a paper bag with what looks like a cannabis plant inside, among other items.
Young was arrested at the scene and is charged with trafficking in 100 pounds or more of marijuana as well as possessing with intent to distribute a class C, class B, and class E substance.
He is being held on $100,000 cash bail and is due back in court for arraignment on Friday.
Rehoboth and Seekonk police participated in the drug bust along with New Bedford Drug Enforcement Agency and Northern Bristol County Drug Task Force members, police said.
10 Life Skills SouthCoast Students Could Benefit From
From sewing to gardening, credit checks to cooking, here are 10 important life skills that should be taught in school systems before kids graduate, as submitted to Westport Middle-High School teacher Daniel Marques.
Craziest Cheeseburgers on the SouthCoast
National Cheeseburger Day is September 18, so why not celebrate with 18 of the craziest cheesburgers being cooked up on the SouthCoast.
Here's the burgers you told us were some of the best in the area.
More From WBSM-AM/AM 1420