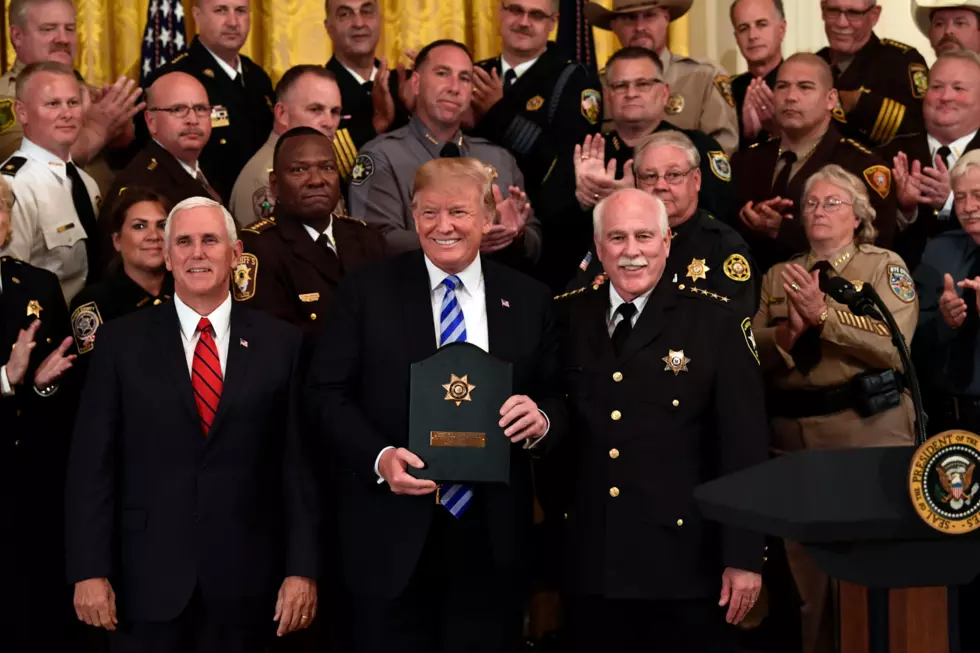 President Trump Should Deploy Sheriff Tom Hodgson [OPINION]
Courtesy Sheriff Hodgson
Bristol County has repeatedly elected Sheriff Thomas Hodgson because of his stance on illegal immigration and law and order.
Sheriff Hodgson has been working on the problems of illegal immigration for his entire tenure as the top law enforcement official in the county. He has worked with presidents, congressmen, governors, and local officials from both the Republican and Democratic parties to get to a solution. Sheriff Hodgson, who enforces the laws made by others at the state and federal level, will tell you President Trump is different from all the others. President Trump is getting the job done.
The Trump campaign should be deploying Sheriff Hodgson as an ambassador all over America. Before he was a sheriff, Tom Hodgson was a police officer and he was a New Bedford city councilor. He is an excellent retail campaigner and he has the experience to back up his positions. He can talk about school budgets, police overtime costs, the opioid crisis and how it is all connected to illegal immigration.
Sheriff Hodgson worked with Mitt Romney when Romney was the governor of Massachusetts before he ran for president and before he became the U.S. Senator from Utah. I'm sure the people of Utah would love to hear from Sheriff Hodgson about how important President Trump is to the future of America. The people of Utah are familiar with Sheriff Hodgson from his appearances on Fox News over the last decade.
Sheriff Hodgson is a regular on the Howie Carr Show, even serving as a guest host when Howie is on vacation. The people of New England, including nine radio stations in New Hampshire and five radio stations in Maine, are familiar with the solid work and reputation of Sheriff Hodgson and they listen when he speaks to them. The people of New England will appreciate hearing the truth from a local sheriff in the face of all the propaganda they will get from the radical left about our president.
There is nobody better on the campaign trail than President Trump. However, the president can't be everywhere and he has an important job to do. While President Trump is busy stopping illegal immigration, correcting unfair trade deals, and battling the leftists in Congress, he should deploy Sheriff Hodgson across America to testify to why we need to re-elect him as our president.
Chris McCarthy is the host of The Chris McCarthy Show on 1420 WBSM New Bedford. He can be heard weekdays from 10 a.m. to noon. Contact him at chris.mccarthy@townsquaremedia.com and follow him on Twitter @Chris_topher_Mc. The opinions expressed in this commentary are solely those of the author.
Enter your number to get our free mobile app
More From WBSM-AM/AM 1420