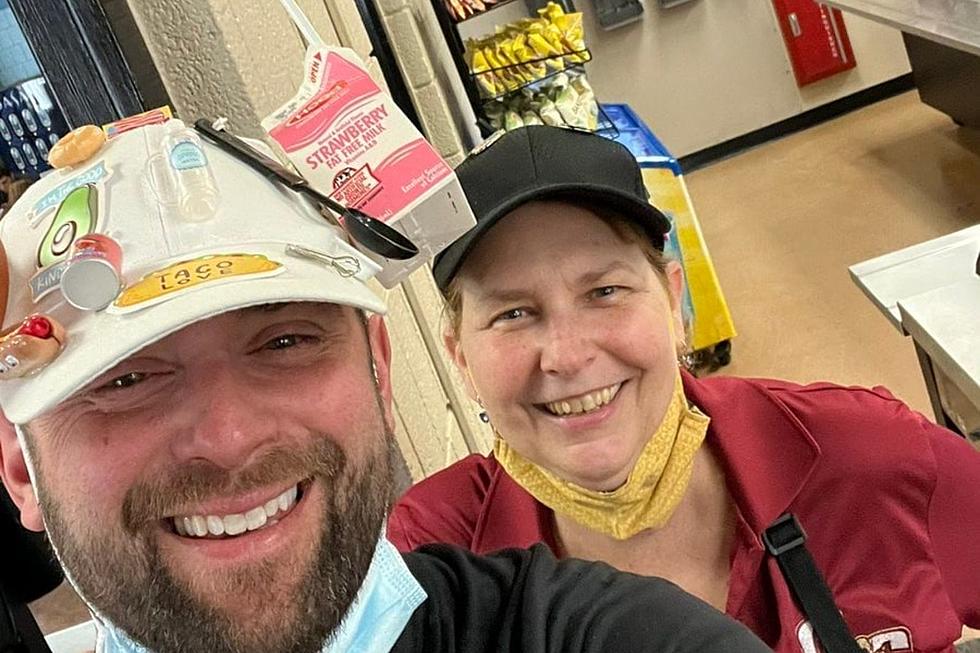 Old Colony Lunch Lady Hangs up Her Hat After 14 Years
Courtesy Old Colony Regional Vocational Technical High School via Facebook
After 14 years serving up delicious homemade meals to the kids of Old Colony Regional Vocational Technical High School in Rochester, one lunch lady is hanging up her fun hats and saying goodbye.
Barbara St. John of Rochester spent the last four years of her career at Old Colony as a full-time lunch lady with 10 years prior to that as part-time. Retirement was a bittersweet decision for her because it meant saying goodbye to hundreds of faces she would greet with a smile on the daily.
"Everyone in there is just so amazing; we have so much fun with the kids," St. John said. "There's not a kid in that school who doesn't love the lunch ladies."
St. John's journey in life came full-circle. She not only worked at Old Colony, but graduated from the cosmetology department there in 1983. She worked at a salon for 10 years before adding the title "lunch lady" to her resume.
On Friday, Feb. 18, St. John spent her final day in the same place where she met her high school sweetheart, now husband, Stephen St. John, who studied welding.
"When the school opened in '76, my father was the electrical instructor," St. John said "After my father stepped down, my brother took over the department, and finally, once he was finished, my nephew took the reigns.
"My family is so involved with the school over the years and just I can't say enough about it. If you have the opportunity to attend this school, I highly recommend it. Even the food is unlike (anything) you'll ever have for lunch. It's all homemade and not packaged."
To pay tribute to St. John, Athletic Director Matt Trahan asked if he could wear one of her unique lunchtime hats. St. John would often deck out her work hat, making the experience fun for the students. It was something she enjoyed doing.
"In May, we celebrated 'Lunch Lady Day' so I went all out and made a wacky hat that represented us lunch ladies and that's what I brought him in to wear," St. John said. "On my last day, Mr. Trahan got the kids all riled up with my hat on and they began chanting my name. I spent most of the day crying (happy tears). It was such a great feeling."
Working side by side with her lunch crew, St. John requested to send just one last shoutout to her fellow "lunch ladies" Krystal, Kim, Sharon, Lisa, Ashley and Paula.
"From the teachers, to the staff, right down to the students, I will miss them all," St. John said. "It's not just about the work, it's about the people you work with who make the difference."
In the land of lunch ladies, St. John is the gold standard.
Old Rochester Regional High School Senior Parade, Class of 2021
Michael and Maddie took the Fun107 van for a ride and joined the senior parade for ORR. Here are some of the best moments.
More From WBSM-AM/AM 1420