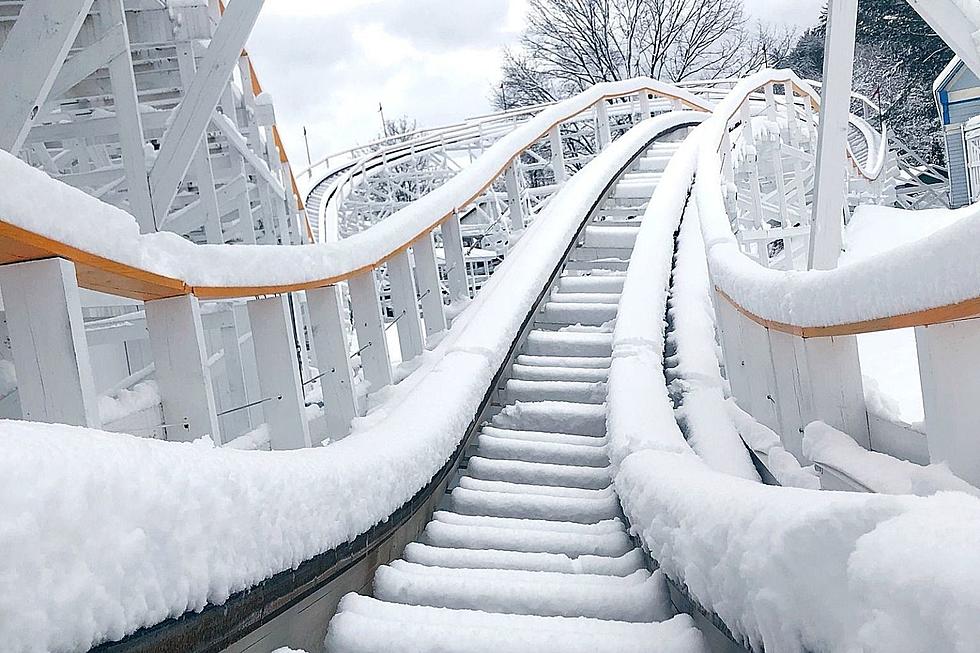 Frozen Fun as New England Theme Parks Get Covered in Snow
Lake Compounce via Facebook
We may have had a small taste of spring this past weekend, but Mother Nature was quick to remind us all that the 2022 theme park season isn't here just yet.
After record highs around the area on Saturday, a fresh dumping of snow followed on Sunday, leaving some of our favorite New England summer spots looking wintry all over again.
If you didn't get out and enjoy the taste of spring on Saturday, I'm sad to say you missed out. It was absolutely gorgeous out there – so much so that my oldest daughter and I decided to go hiking at the Audubon Society nature trails she'll be heading to for summer camp.
Yes, we foolishly had summer thoughts in our heads as we trekked across seriously muddy trails, but hiking wasn't the only summer fun activity on my mind. The fact that she is finally old enough and interested in theme park rides was top of mind in the sunshine, too.
Clearly, the sunshine didn't last, but that didn't make my theme park thoughts fade. Instead, I got curious about how some of New England's most loved amusement parks might look in the middle of winter. So I found out.
After some serious Facebook digging, I found some good photos from the biggest amusement parks in our corner of the world. From snow-covered coasters to wintry waterparks, here is what your favorite family summer spot is probably looking like right now.
See New England Theme Parks Covered in Snow
Winter isn't over yet in New England and your favorite theme parks are clearly not quite ready for you. See how some of your favorite spring and summer rides look covered in fluffy, white snow
More From WBSM-AM/AM 1420