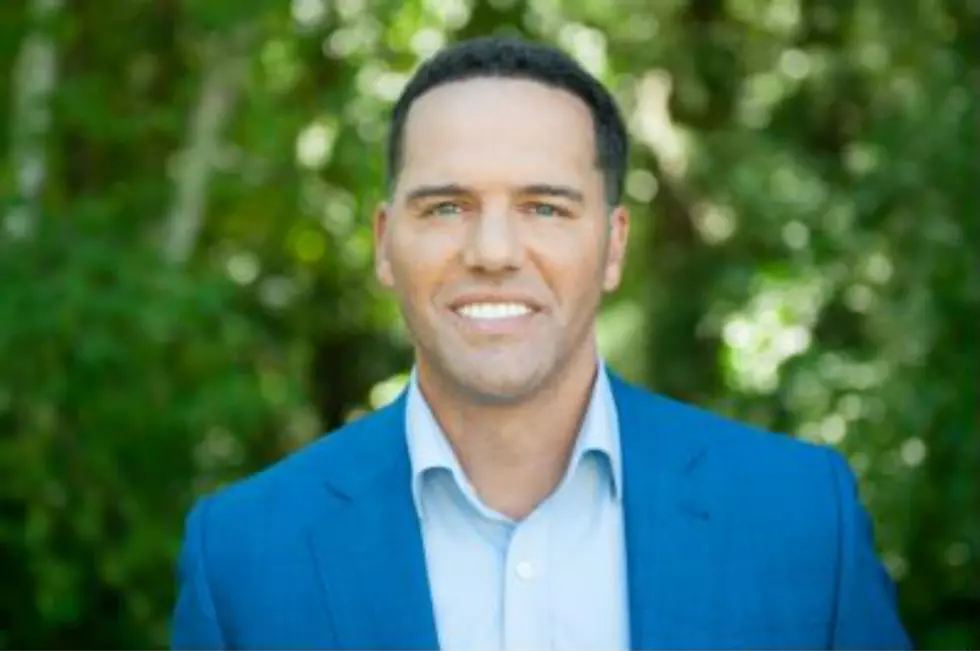 New Bedford Native Joins U.S. Senate Race in Massachusetts
via State House News Service.
NEW BEDFORD — A native of the Whaling City has announced his plans to run for U.S. Senate.
Businessman Steve Pemberton spent his childhood bouncing through the foster care system in New Bedford. Now he hopes to take that experience to the halls of Congress.
The Democratic primary for U.S. Senate in 2020 will get another entrant today with Pemberton planning to launch his campaign in his hometown on the South Coast. He is the second Democrat who has decided to take on U.S. Sen. Ed Markey, who spent almost 37 years in the House of Representatives before being elected to the Senate in 2013.
"I don't see this as a race against Ed Markey," Pemberton said in an interview with the News Service ahead of his campaign kickoff.
"We live in a representative democracy and while I'm keenly aware that seats have become associated with the office holder, my campaign is about electing a lived experience and a perspective that I don't see in the Senate today," he said.
Since U.S. Rep. Ayanna Pressley's successful challenge last year to long-time Congressman Michael Capuano, incumbents across Massachusetts running for re-election are finding that money, name recognition and stature are no longer enough to ward off potential challengers.
Pemberton, 51, enters the Senate race a day after Holyoke Mayor Alex Morse announced he would mount a primary challenge to U.S. Rep. Richard Neal, the dean of the state Congressional delegation. U.S. Reps. Joseph Kennedy, Stephen Lynch and Seth Moulton also have drawn early primary opponents.
Pemberton said he hopes to appeal to voters frustrated with the gridlock in Washington and his campaign will focus, in large part, on income inequality and the problems that stem from that, including access to higher education, addiction and incarceration.
"I think the U.S. Senate for me is the place you can have the most impact, and ability to bring attention to issues, the very kind of issues that had such an adverse impact on my life," he said.
"I very much reflect the human toll of policies that don't work. I had to live that and I had to navigate that."
Born in New Bedford to a white mother and a black father, Pemberton entered the foster system at early age. He bounced from home to home, and suffered abuse. He eventually lost his mother to opioid addiction and his father to street violence, he said. "I had to navigate a challenging path to adulthood," he said.
But he did find his way out, eventually enrolling and graduating from Boston College. He got get married, had three children and has worked as a college admissions officer and as an executive for corporations like Monster.com and Walgreens.
After several years living outside of Chicago, he's back living in Framingham and working as the chief human resources officer for software company WorkHuman. His autobiography, "A Chance in the World," even got made into a movie.
"We can honor the commitment and public service of an incumbent and still suggest that there's an opportunity to bring a lived experience and a different perspective," Pemberton said.
Brookline labor attorney Shannon Liss-Riordan has already entered the Senate race, putting $1 million of her own money behind her effort to get around the state and introduce herself to voters. Former New Bedford Mayor Scott Lang has also said he's thought about running.
Markey raised about $1 million in the second quarter of 2019, and reported just over $4 million in his campaign account at the end of June. He also also traveled recently to the southern border to observe and criticize President Trump's immigration policies, and has aligned himself with the progressive wing of the party fighting against climate change.
"I'm as energized as I have ever been because Donald Trump every single day is launching assaults on all of the issues that are at the core of the identity of the state of Massachusetts and our entire country," Markey said after a speech to business leaders in May on the same day Liss-Riordan announced.
Like Liss-Riordan, Pemberton will have to overcome the challenge of introducing himself to voters who may be familiar with Markey and his positions, such as sponsoring the Green New Deal, but unfamiliar with him.
"It's going to require me traveling to every corner of the state," said Pemberton. He'll start Tuesday in New Bedford, before visiting Boston and Worcester.
He is working with Northwind Strategies, whose founder Doug Rubin helped guide Elizabeth Warren's first successful campaign for Senate in 2012 against Scott Brown.
Pemberton said he did not have a specific plan yet to address income inequality, and wanted first to listen to community leaders about their needs.
Asked specifically about U.S. Sen. Elizabeth Warren's "ultra millionaire" tax and the surtax on millionaires moving toward the 2022 state ballot, Pemberton said he would support "some version of a wealth tax."
"I do think that everyone should pay their fair share," he said.
Pemberton also said that he "would be ready to take that vote" to impeach the president if it came before the Senate, calling Trump "uniquely unfit" for the White House. But he also mentioned allowing the investigation in Congress to play out.
"I think that as the process continues to unfold and we find that he has broken the law then he should be handled in the way we would handle anyone who has broken the law," he said.
Both Markey and Liss-Riordan are supporting Warren in the crowded Democratic primary, but Pemberton said he's still feeling out the presidential field and "like every other voter I will be looking at all the candidates."
"The person I'm supporting in 2020 is me," Pemberton joked.
More From WBSM-AM/AM 1420