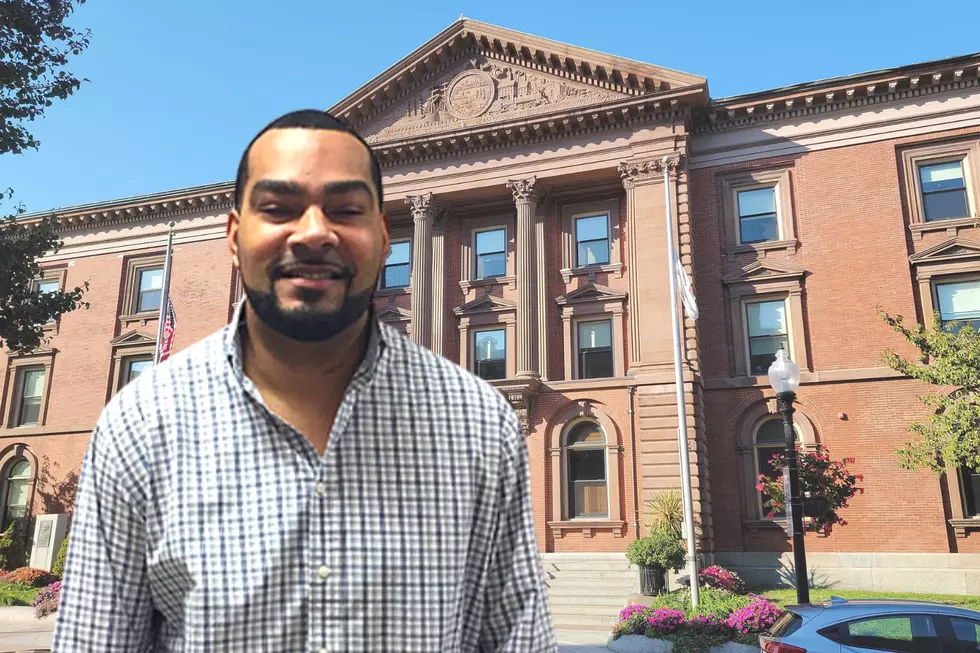 Man Charged in Hate Crime Against New Bedford Election Commissioner Has Alleged History of Racial Slurs
Tim Weisberg/Townsquare Media
NEW BEDFORD (1420 WBSM) — More details have emerged about the man who allegedly got into a verbal altercation with New Bedford Election Commissioner Manny DeBrito at City Hall and who has subsequently been charged with a hate crime as a result.
On November 19, DeBrito called New Bedford Police regarding an incident that took place that morning at City Hall in which he said a man had called him multiple racial slurs and threatened to kill him, before spitting in his eye.
That man was later identified as Franklin Garcia, 24, with a listed address of Lakeville but believed to be homeless. He was later picked up by police and charged with assault while also being arrested on two outstanding warrants.
Police Report Suggests Garcia Was Preoccupied With Race
In a copy of the police report provided to WBSM, responding Officer Chris Cotter stated that Garcia allegedly entered City Hall to use the bathroom. When he was told the building was closed and he had to leave, Garcia allegedly began arguing with a custodian. DeBrito then intervened, telling Garcia to leave, at which point Garcia allegedly became hostile and called on DeBrito to fight him.
According to the report, when DeBrito refused, Garcia allegedly "stated that he would kill DeBrito and calling him a 'ni**er.' Garcia then spat on DeBrito where some of the saliva had gone into the left eye of DeBrito."
Cotter stated that DeBrito was then transported for medical treatment and examination.
Cotter also stated he had earlier encountered Garcia regarding a disturbance call downtown, and he then went to look for him regarding the library incident. He stated that upon locating him downtown, Garcia at first tried to walk away and then ran away from Cotter.
Cotter wrote in his report that when he finally was able to question Garcia about the incident, Garcia told him, 'I didn't do anything! They started yelling at me for using the bathroom! Those people don't like white people in that building!'"
Cotter also said at first Garcia refused to give his name, then gave him a false name of another individual before eventually giving his true name. Cotter said Garcia was then found to have two outstanding warrants out of New Bedford and Wareham District Courts, and that he was arrested without incident.
Garcia Had a Previous Incident of Racial Slurs
In the official investigation into the incident, New Bedford Police Lieutenant Scott Carola, who is the officer designated to further investigate hate crimes for the department, revealed that Garcia had previous charges dating back to 2017 of disturbing a school and violation of civil rights. The charges were discovered through a "summary check" with the Board of Probations, Carola stated.
The charges resulted from an incident on January 10, 2017, in which a Middleboro Police report stated that Garcia made "racially charged threats" against "African American students" at the READS Academy in Middleboro, described as a "therapeutic day school" with an ethnically diverse school population.
According to the police report, Garcia allegedly referred to Black students at the school as "f***ing ni**ers."
"He created such a disturbance that he was placed into a separate therapeutic space within the building as a means of calming him down," Carola wrote.
However, the report stated that soon after, Garcia resumed calling out Black students by name and referring to them again as "f***ing ni**ers."
Garcia was arrested, and Carola stated that "it appears as though he was later convicted of disturbing the school, however the civil rights violation was dismissed."
Carola stated that he spoke with DeBrito about these revelations, and DeBrito pointed him to a library employee downtown who also had an incident with Garcia in which race was mentioned.
The library employee then told Carola that he had observed Garcia sleeping outside during the cold weather, assuming him to be homeless, and offered him help in finding shelter. Garcia then allegedly refused to go to a shelter because there are "Blacks and Puerto Ricans" there, and the employee said Garcia suggested "he would be harassed, due to the fact that he is white."
Why New Bedford Police Suggested Garcia Be Charged With a Hate Crime
Following his investigation, Carola stated why he felt it was necessary to charge Garcia with a hate crime in the incident with DeBrito.
"During the incident outside of City Hall, as well as the incident in 2017, Garcia (a white male) demonstrated gross animosity towards non-white individuals. He used a long-recognized derogatory racial slur," he wrote. "This animosity manifested in a physical attack on Mr. DeBrito (a Black male) during which he used force in the form of spitting."
"This assault and battery was motivated, at least in part, by Garcia's bias. This is indicated by the racial slur that he used during the confrontation, as well as his previous history which lead to his arrest in Middleboro," Carola continued. "At the time of this attack, DeBrito had a constitutionally protected right to personal security, which was violated by Garcia's assault, and was motivated by racial bias."
"To that end, the undersigned has filed an application for a complaint against Garcia for his violation of the civil rights law," Carola concluded.
Holiday Decorations at New Bedford's Clasky Common
We took a stroll around Clasky Common in New Bedford to check out some of the holiday decorations before the lights came on and the crowds arrived. Fans of Edaville Railroad in Carver may recognize a few of these displays.
More From WBSM-AM/AM 1420