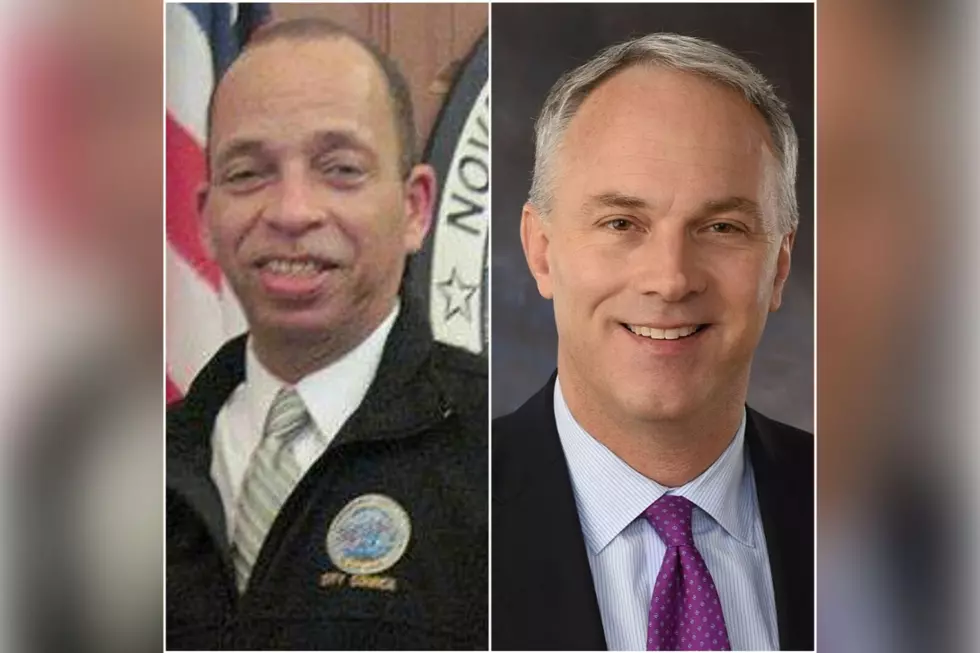 Mitchell, Gomes to Square Off in New Bedford Mayoral Final
Councilor At-Large Brian Gomes (left) and Mayor Jon Mitchell (right)/TownSquare Media and Mayor Jon Mitchell/Facebook.
NEW BEDFORD — The results of New Bedford's preliminary elections are in and the stage is set for the final election in November.
It was another year of low voter turnout in New Bedford, with 9.5 percent of registered voters showing up to the polls to cast 5,618 ballots, the same turnout as in the 2017 preliminary.
The mayor's race was all about incumbent Mayor Jon Mitchell and longtime City Councilor Brian Gomes, who will now face off in the final election. Mitchell came in as the clear frontrunner with 3,150 votes for 56.99 percent. Gomes, who is running for both mayor and re-election to his Councilor At-Large seat after mistakenly missing the deadline to withdraw from the mayor's race, took home 20.23 percent on 1,118 votes.
First-time mayoral candidate Richard Tyson Moultrie finished third, bringing in 596 votes for 10.78 percent of the final tally. Michael Medeiros received 397 votes for 7.18 percent; while David Pimental followed with 170 votes for 3.08 percent. Jose Perez rounded out the race, bringing in 71 votes for 1.28 percent.
All five incumbents in the Councilor At-Large race are moving on to the final election. Ian Abreu finished with 2,958 votes (14.85 percent), followed by Council President Linda Morad with 2,746 (13.79 percent), Naomi Carney with 2,573 (12.92 percent), Deborah Coelho with 2,504 (12.57 percent), and Brian Gomes with 2,484 votes (12.47 percent).
Five of the six remaining Councilor At-Large candidates are moving on as well. Candidate Paul Chasse brought in 1,887 votes (9.12 percent), Michael Janson with 1,186 (5.95 percent), Lisa White with 1,129 (5.67 percent), Leo Choquette with 1,013 (5.09 percent), and Carlos Felix with 768 (3.86 percent). Candidate Russell Dearing is knocked out of the race, gathering just 660 votes for 3.31 percent.
A dead-tie in Ward Four will send former Ward Four Councilor and current candidate Joseph "Jo Jo" Fortes and candidate Derek Baptiste to the final election. Fortes and Baptiste each finished with 287 votes for 27.81 percent to take in more than half the final tally (574 votes for 55.62 percent combined).
Four remaining Ward Four candidates missed the cut. Candidate Sean Carney finished with 178 votes (17.28 percent), with Nair Delgado following close behind with 145 votes (14.05 percent). Kenneth Gilbert brought in 89 votes (8.62 percent), while Dennis Houtman finished last with 44 votes (4.26 percent).
Finally, the Ward One City Councilor race will see candidate Melissa Costa try to unseat incumbent Brad Markey. The freshman Councilor Markey brought in 663 votes for 49 percent, while Costa finished with 334 votes for 25.63 percent. Melissa Costa just barely outpaced fellow candidate Daniel Costa, who brought in 331 votes for 24.66 percent.
The final election is scheduled for November 5.
More From WBSM-AM/AM 1420