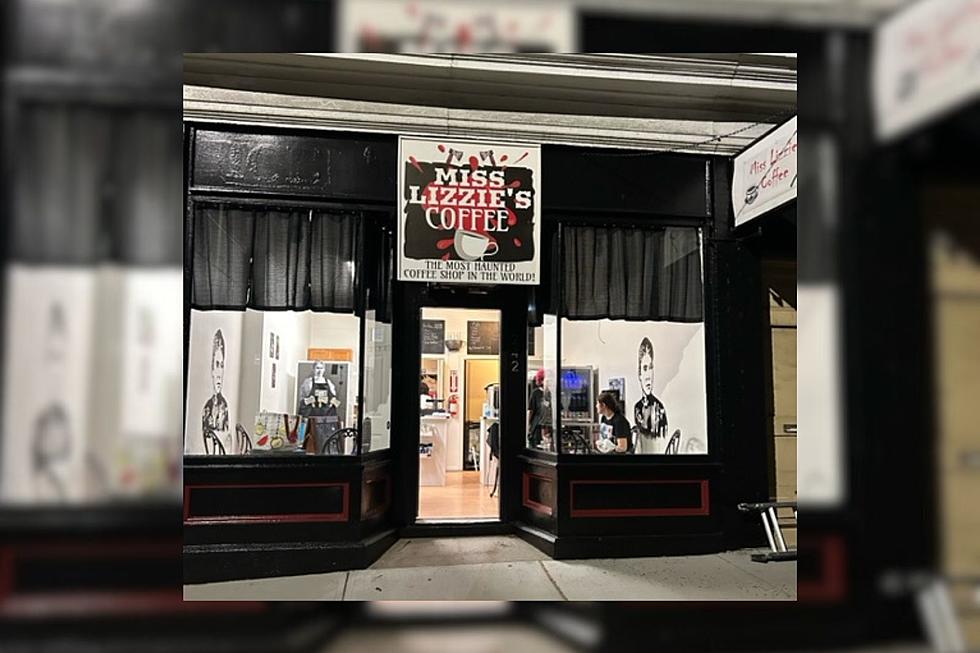 Fall River Coffee Shop Owner 'Confused' by Lizzie Borden House Rebuke
Miss Lizzie's Coffee
The owner of The Historic Lizzie Borden House in Fall River is not holding back on his distaste for the new, Lizzie Borden-inspired coffee shop that has opened directly next door.
According to an official statement, Lance Zaal is preparing to take legal action if necessary against Miss Lizzie's Coffee, claiming a violation of intellectual property against the house, where someone killed Andrew and Abby Borden with a hatchet in 1892. Their youngest daughter, 32-year-old Lizzie, was tried for the crimes but acquitted.
Joe Pereira, owner of the new Miss Lizzie's Coffee, was shocked to learn of Zaal's frustration and spoke with Michael and Maddie on Fun 107 about how he discovered the issue through a reporter instead of the owner.
The Story Behind Miss Lizzie's Coffee
On Aug. 4, the anniversary of the Borden murders, Miss Lizzie's Coffee opened its doors for the first time. The building that houses the coffee shop was once the residence of Andrew Borden's uncle and aunt, Laudwick and Eliza Darling Borden. It was also the site of another Borden tragedy in 1848 when Eliza drowned two of her three children in the cellar cistern before taking her own life. Today, one of the rooms at the Lizzie Borden house is often referred to as the Children's Room. complete with a toy chest in the corner, a nod to an earlier and equally dark chapter in the Borden story.
Dubbing Miss Lizzie's the "most haunted coffee shop in the world," Joe Pereira was ecstatic to open up shop and viewed his café as an additive to the intriguing history of Lizzie Borden.
So, where's the beef?
The Borden House's Problem with Miss Lizzie's Coffee
The owner of the Lizzie house told NBC 10 he plans to send a cease-and-desist letter to the owners of the new coffee shop and claims Miss Lizzie's will need to make some changes to stay open, citing his biggest grudge as "a violation of intellectual property."
Miss Lizzie's Coffee Responds to Allegations
Joe Pereira spoke with Michael and Maddie Thursday morning and was transparent in the fact that he had yet to speak, let alone meet, Zaal.
"I've never talked to Mr. Zaal, I don't know him, I've never talked to him," Pereira said. "I reached out, even before we opened, and told the people over at the bed and breakfast what my intention was, and they were excited. Then, a reporter contacted me and said that Mr. Zaal had expressed something about intellectual property."
Pereira was upset by Zaal's response, especially because the two have never officially spoken.
"Nobody ever called me or came and said, 'This isn't right.' ... I have called his business, emailed them, I've done my due diligence, and I haven't gotten a return call, email or anything," he said.
Fun 107 attempted to contact Zaal, but the owner had yet to respond as of publication time.
So, What's Next?
At this point, no legal action has taken place against Miss Lizzie's Coffee and Pereira plans to continue his business as usual.
"We get 200 to 300 people a day coming from all over the country," he said.
Pereira said he is proud of his little coffee shop and hopes this disagreement ends on positive terms.
He views his shop as added value next to the legendary Borden house and sees only positive effects for Fall River.
Go Inside Fall River's Lizzie Borden Bed & Breakfast
This infamous Fall River home is open for tours and overnight stays through U.S. Ghost Adventures. Here are all the rooms you can stay in and the haunted happenings that have taken place in them.
Lizzie Borden's Maplecroft in Fall River, Massachusetts
UPDATE: Maplecroft's new owners moved in on July 19, 2022 – Lizzie Borden's 162nd birthday.
While the house where Lizzie Borden's father and stepmother were brutally murdered on August 4, 1892 may have
recently been purchased
, the home where she moved after being acquitted for those same murders is on the market for anyone looking to own a piece of Fall River history.
More From WBSM-AM/AM 1420