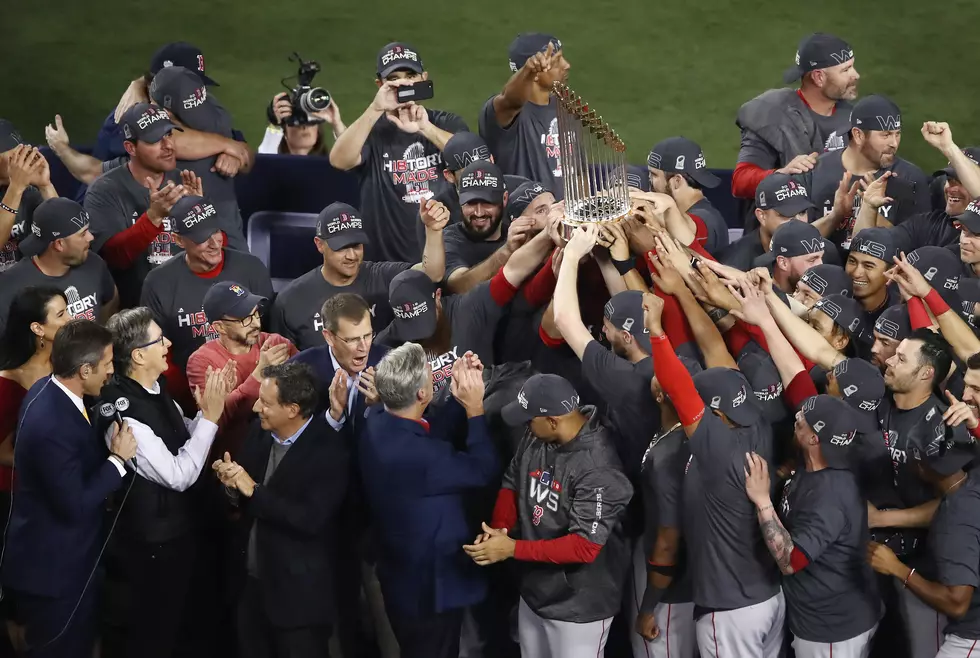 Media Tries to Instigate Sox, Trump Rift [OPINION]
Getty Images
The media is attempting to create a controversy where none exists over whether the Boston Red Sox will visit the White House to celebrate their World Series win over the Los Angeles Dodgers.
Immediately after the Sox clinched the title on Sunday night manager, Alex Cora was asked if the team would go to the White House. Having not been invited yet and in the middle of a champagne-squirting celebration, Cora responded that such matters would be discussed "later on."
During the season, Cora, a native of Puerto Rico, was approached by the media looking to provoke a spat between him and President Donald Trump. Trump had just disputed updated casualty figures from hurricanes that devastated the island last fall.
Cora admitted in an interview with Masslive.com at the time that he didn't know for sure how many had died as a result of the storms:
"Three thousand, six, 18, I don't know," Cora said. "We will never know how many we lost. I hate that people make it a political issue. This is about human beings. The people that went through this, they know what happened."
Cora said that while he doesn't "agree with a lot of the stuff [Trump] says" about Puerto Rico, he admitted to respecting Trump because "he's the President of the United States."
Red Sox principal owner John Henry, who has contributed oodles to Democrat candidates and causes, told WEEI radio that if invited, the players would probably go. Trump uninvited the Philadelphia Eagles last spring when many players were reluctant to attend the celebration.
Any professional athlete who refuses to attend a championship celebration at the White House, regardless of who is president, is selfish and childish. The fans spend a lot of time, money and energy supporting their teams, and to see them honored that way is as important as the duck boat parade.
Any athlete who puts him or herself ahead of their league, team and fans doesn't deserve the honor in the first place. But, since Henry says the team would likely go to the White House if invited, the media is caught again making it up for the sake of controversy.
I think that's why they call it "fake news."
Barry Richard is the host of The Barry Richard Show on 1420 WBSM New Bedford. He can be heard weekdays from noon to 3 p.m. Contact him at barry@wbsm.com and follow him on Twitter @BarryJRichard58. The opinions expressed in this commentary are solely those of the author. 
More From WBSM-AM/AM 1420