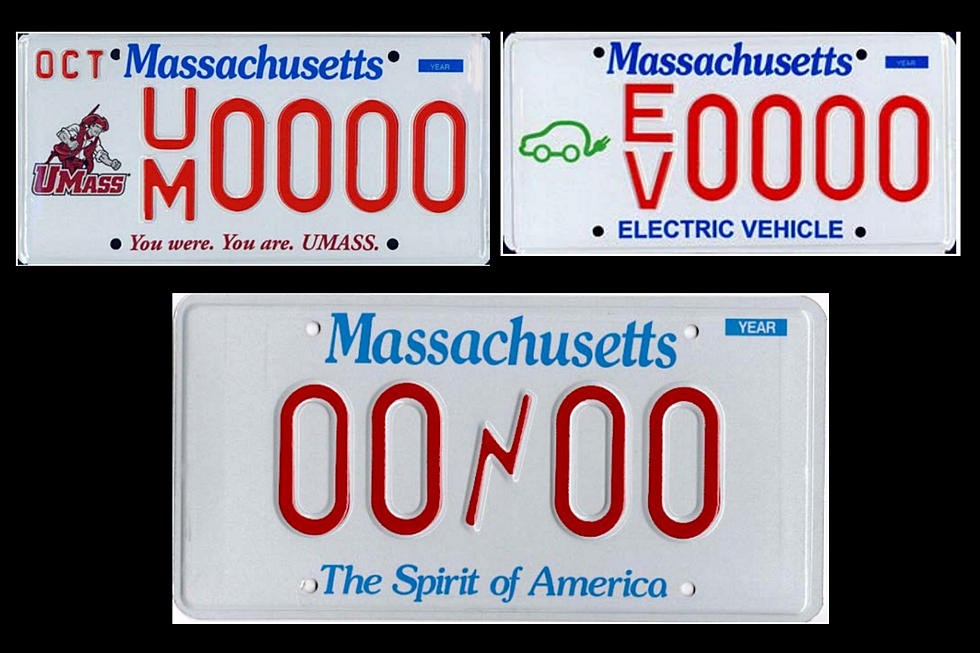 Massachusetts Has a License Plate for Everything [OPINION]
Mass.gov
I was sitting at a traffic light the other day contemplating life in general when it occurred to me that Florida seems to have as many motor vehicle license plates as it does people. No, seriously. Have you ever noticed just how many license plates the Sunshine State has? Well, I didn't count them. I don't really care all that much. But it made me wonder (it was a long light) how many license plate options Massachusetts has available to its drivers.
I vowed to do a little research into the matter one day. One day is today. The first thing that popped up in my quest for knowledge was an article written by WCVB-TV Channel 5 in Boston on the subject that was written six years ago. The short answer to my question of how many is lots. According to the House That Chet and Nat Built, Massachusetts offers 48 specialty license plates. Forty-eight? Really?
If you are willing to pay the price you can have a plate that promotes anything from support for breast cancer victims to the Red Sox. There are also special plates available for veterans, the disabled, antiques (the vehicle, not the driver) lovers of right whales, basketball, children, animals, and more. If that is not enough, you can order a specialty vanity plate. The Registry of Motor Vehicles website provides all of the details.
Specialty plates cost more than regular tags. A portion of what you pay covers the manufacturing costs and the rest goes to the charity or organization that you are supporting.
So my question was, does Massachusetts need 48 different license plates? I guess the answer is, why not? As long as they are doing good by raising funds for charity and not costing the taxpayer anything, have at it. It makes being stuck at a long traffic light more interesting when you can scout out the different license tags around you.
Barry Richard is the host of The Barry Richard Show on 1420 WBSM New Bedford. He can be heard weekdays from noon to 3 p.m. Contact him at barry@wbsm.com and follow him on Twitter @BarryJRichard58. The opinions expressed in this commentary are solely those of the author.
Sudbury Mansion With Private Hockey Rink Is Every Fans' Dream
Talk about a beauty! From stunning interiors and sprawling outdoor greenery to a heated pool and, yes, a hockey rink, this home for sale in Sudbury doesn't miss a single beat.
More From WBSM-AM/AM 1420