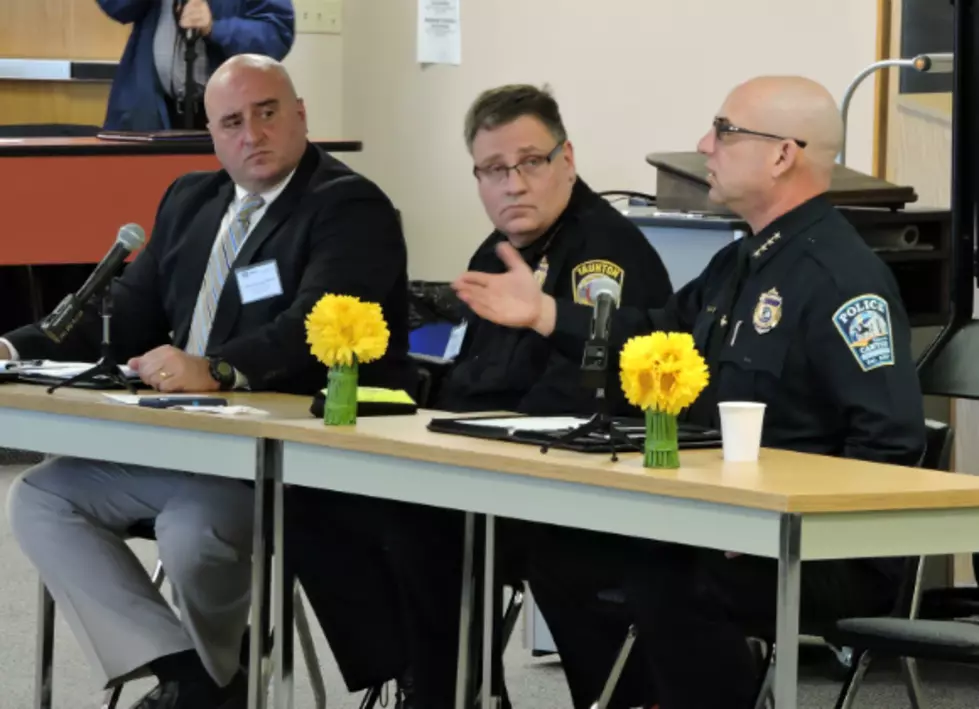 Law Enforcement Officials Discuss Opioid Epidemic from the Frontlines
Greg Desrosiers/Townsquare Media
Members of the legal, legislative and medical fields gathered at the University of Massachusetts School of Law Friday to participate in a roundtable discussion on the opioid epidemic and legal solutions to the crisis. 
'We won't ever arrest drugs out of our community,' said Canton Police Chief Ken Berkowitz.
The event was hosted by the UMass Law Review, a student-led organization that publishes a biannual law journal, at the law school's Dartmouth campus.
Police chiefs from Taunton, Canton and Somerset spoke about addiction in their own communities and what their departments have done to combat it. All three are taking approaches to treat addiction as a health issue rather than a criminal offense.
"We won't ever arrest drugs out of our community," said Canton Police Chief Ken Berkowitz.
In a unique attempt to increase awareness, Berkowitz has begun publishing weekly overdose reports in the local newspaper, including each call to an overdose and those that proved fatal. He said the "feedback from the community has been very good."
"People want to know what's going on," Berkowitcz said. "I think it's a good deterrent and a good educational piece for parents to see how prevalent it is."
Taunton Police Chief Edward Walsh said the city's problem has shifted from heroin to fentanyl, which is up to 100 times more potent than heroin.
Walsh's department has also geared its focus toward treatment and partnership with families.
"The only way we're going to stop it is to basically help the people that are already addicted," said Walsh. "We can try and stop it from starting with new people but we need to help these people because it's a lifelong issue and a lifelong addiction."
Bristol County District Attorney Thomas Quinn shared his own thoughts on the matter that will take plenty of work.
"This is a very serious problem that isn't going to go away easily," he said.
He believes a rise in prescription painkillers have greatly contributed to the increase in addiction.
To cut down on leftover medication, he plans to place a medical drug drop-off bin at every police department lobby in the county by the end of April.
"Working with the police, [I want to] have these bins available so that people, who in many cases are over prescribed medication, can go to their local department and drop off their leftover medication," Quinn said. "It's a real tangible thing that makes a difference."
Several local police departments already feature these bins, and they are often "overflowing" with disposed medication according to Quinn.
More From WBSM-AM/AM 1420