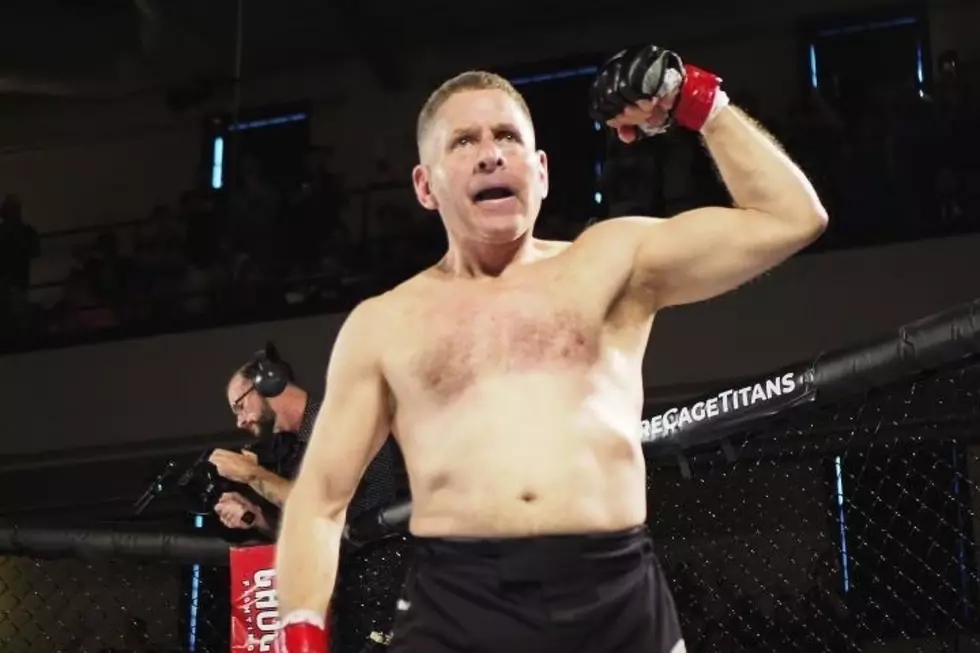 Salem Firefighter Secures Knockout Win at 58 Years Old in Plymouth
Courtesy of Jacob Taylor
At 58 years old, Salem resident John Payne leads a less-than-average life.
While most 50-something-year-olds spend their weekends on the golf course, Payne spent his Saturday night in the center of an Octagon, securing his first TKO win at Plymouth Memorial Hall in Plymouth, proving that age is really just a number.
How It All Started
Payne has been a firefighter for the Salem Fire Department for 30 years. Fighting is in his DNA, but it took some warming up for him when it came to following mixed martial arts.
"My sons and my stepsons starting following MMA," he said. "I wanted nothing to do with it."
One of his stepsons convinced Payne to try it out it. He began following local fighters such as Joe Lauzon and John Howard, and the itch to compete needed to be scratched.
Payne would go on to take his first MMA fight in his 40s.
Being "The Old Guy" in the MMA Community
It's not typical for a man in his 40s to commit to a new hobby, let alone a hobby that requires elite physicality, but Payne was never afraid of the challenge.
People called him crazy for starting so late, but he persevered and surrounded himself with top-tier talent, one of them being Connor Matthews, the Freetown fighter who is making his debut on the Dana White Contender Series on Aug. 2.
While his younger teammates joke that they can't imagine training at his age, he says, "I'll probably retire from the fire department before I retire from coming to the gym. I'll still be at (the gym) in my 60s."
Payne Wins by TKO at 58
While he fought his nerves heading into the cage, everything began to click after the first bell. Payne threw 23 left hooks to get a ground-and-pound victory over his 24-year-old opponent.
Plymouth Memorial Hall erupted and gave the fireman a well-deserved standing ovation.
Immediately following his victory, he made it known that he was ready to fight for the next event coming up in August.
Age is Just A Number for Payne
"I simply never gave up on what I wanted to do," he said.
His fight career started in his 40s, he earned his first TKO in his 50s and is ready to keep the young guns on their toes in his 60s.
Payne is an inspiration for anyone who thinks it's too late.
It's never too late to achieve greatness.
SouthCoast's Fittest Crossfit Athletes
Using the results from the 2022 Crossfit Open, here are the SouthCoast's Fittest Crossfit Athletes.
Your Complete Guide to Outdoor Dining on the SouthCoast
We compiled a list of all of the restaurants on the SouthCoast that offer outdoor dining. That's right. We did all the legwork for you. Now all you have to do is pick one and call to make that reservation so you can dine al fresco tonight.
More From WBSM-AM/AM 1420