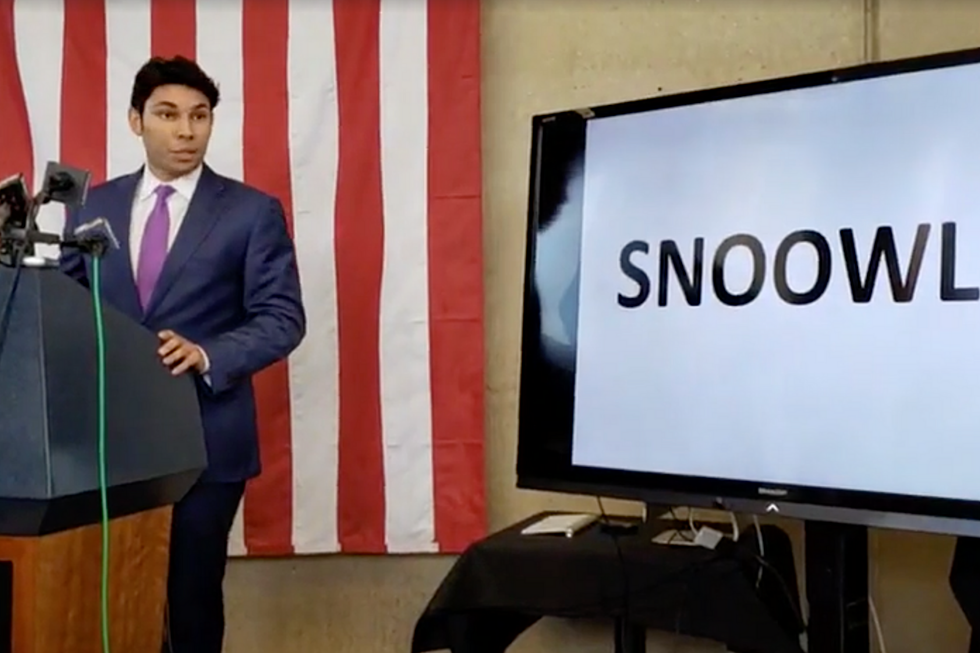 Jasiel Correia Wins as Fall River Falls for the Oldest Trick [OPINION]
WBSM/YouTube
Sixty-two percent of the 12,000 plus Fall River voters who showed up last Tuesday voted to recall Mayor Jasiel Correia. Then, they fell for the oldest trick in the book, to spread their votes to four separate mayoral challengers, virtually eliminating each of them.
You guys over there almost had it right. You had an "anyone but Correia" in the majority on March 12, and yet, you re-elected the same indicted and embattled mayor on the same two-part ballot. Were the ballots printed by Acme Printing? Do you feel like Wile E. Coyote today?
You were duped. The grin on Mayor Correia all month can be explained by someone crunching the numbers and figuring out that, even though he would certainly be recalled, he would certainly be on the path for re-election.
Of the 65,242 registered voters in the city of Fall River, only 13,798 (21.1 percent) showed up.
If there are five candidates, and you are Correia, you can probably win with anything north of 4,500 votes. He ended up with just about 4,800 votes and some 35 percent of the 21.1 percent of the registered voters who showed up. He won by fewer than 300 votes (241 unofficially).
In other words, around 7.3 percent of the Fall River voters helped him to return to the same warm seat that he was recalled from simultaneously.
I suggest to you that it is very likely that at least one of the candidates in the challenger field did so to assist the mayor. Deals like this are commonplace in politics.
I'm not saying I know who ran to secure his win at this time (itt likely rhymes with Schmarara) but this kind of thing is done almost as much as it isn't done in this scenario. Think Tim Cahill and the blows he absorbed for Deval Patrick, taking Charlie Baker's votes away in the 2008 Massachusetts gubernatorial race. There are a million other examples.
This was in the bag the minute the ballot had five options, one being the guy who got better than 52 percent when last elected in 2015.
Now, newly re-elected Mayor Jasiel Correia has since come on to shows such as The Barry Richard Show here on WBSM, and he declared that this recent special election is proof that "the voters of Fall River decidedly support me." Sure they do, all 7.3 percent of them.
While no trial date has been set, prosecutors and Correia's defense attorney, Kevin Reddington, informed the Federal Court Magistrate Judge Donald Cabell that Correia is reserving his right to offer "defense of insanity, public authority or alibi" at a later date.
His optimism about this coming fall's election, well, that I am not buying. He knew the math going into the March 12 election so he had a swagger, and he also knows the math showed that 62 percent of those voting voted for a recall and that 65 percent of the voters voted against him in the re-election bid. Without Correia being exonerated by federal authorities in the meantime, I will predict to you that in a two-candidate race, he will lose by 28-38 percent. Faux swagger or not, March 12 will likely be Jasiel Correia's last political victory in his life.
Ken Pittman is the host of The Ken Pittman Show on 1420 WBSM New Bedford. He can be heard Saturdays from 9 a.m. to noon. Contact him at ken.pittman@townsquaremedia.com and follow him on Twitter @RadioKenPittman. The opinions expressed in this commentary are solely those of the author. 
More From WBSM-AM/AM 1420