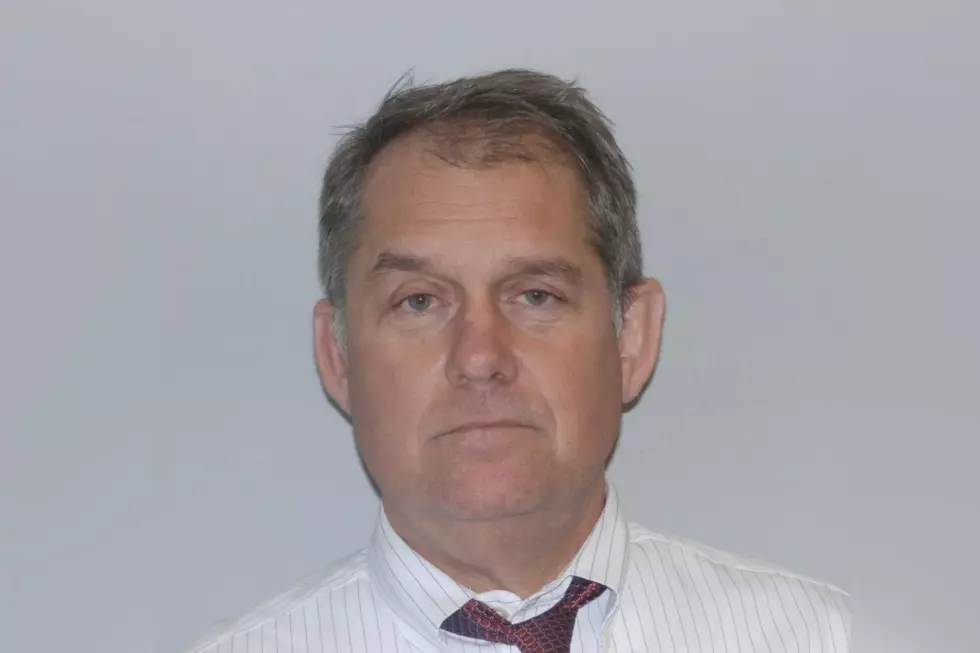 In Turnaround, Tabor Academy Headmaster Jonathan Quirk Placed on Leave Following DUI
Bourne Police Department
The Head of School at Tabor Academy in Marion has been ordered to take a leave of absence for the rest of the year. Trustees of the private boarding school made the announcement on Tuesday, and said headmaster Jonathan Quirk agreed to the arrangement. 
The announcement represents a pivot from the board's previous statement that Quirk would stay on the job. 
Quirk, 53, was arrested by Bourne police early on Jan. 31. He was arraigned later that day in Falmouth District Court on charges of DUI, speeding, and negligent operation of a motor vehicle. Police say they clocked him driving 78 in a 55-mile-per-hour zone and that he failed field sobriety tests and a breathalyzer. He was initially booked and released on $40 bail. 
In court last week, a judge allowed Quirk's case to be "continued without a finding," meaning that if he stays out of trouble for a period of time, his record will be wiped clean. In such rulings, a defendant admits to sufficient facts for a guilty finding, but no actual finding is entered.
The Tabor Academy Board of Trustees, in a Feb. 13 letter to the school community, said that Quirk could stay on the job and issue a public apology. The board said Tabor believes in second chances, and that Quirk had learned a lesson.
But in this week's follow-up letter, the board stated that it would benefit both the school community and Quirk if he stepped down for now.
"Therefore, John will be on a leave of absence from his role, effective immediately until the end of the school year," the letter reads.
Quirk has served as head of school at Tabor, known as the "School by the Sea," since October 2011. Previously, he was associate head of school affairs at Brooks School in North Andover, where he spent 25 years.
Julie Salit, associate head of school for faculty and school affairs, will now serve as acting head of school, Tabor Academy announced.
The full text of the most recent letter is as follows:
Since our letter last Thursday concerning our Head of School John Quirk, we have continued to consider this incident and its aftermath. We decided that it would benefit both the school and John for him to take time away from his responsibilities at Tabor. John agrees. Therefore, John will be on a leave of absence from his role, effective immediately until the end of the school year.
Julie Salit, Associate Head of School for Faculty and School Affairs, will assume the role as Acting Head of School. We are grateful that she has accepted the assignment and we are confident in her leadership and readiness to move Tabor forward at this critical time. Julie has a long history in independent school leadership and education. Immediately prior to joining Tabor as a member of our faculty in 2007, Julie served as Science Department Chair at St. James School. Before then, Julie was Dean of Students and Director of Admission at Bancroft School. Julie's robust involvement in managing school affairs at Tabor as Associate Head, combined with her knowledge and experience as a career independent boarding school educator and administrator will allow the school to move forward in John's absence.
In closing, all of the trustees thank you for your time, patience and understanding as we work through this challenging matter. We understand that this has been a difficult period for our community, and we apologize for the stress and upset this has caused. With your support, we are confident that we will emerge a stronger community.
Tabor Academy Board of Trustees
Here is the full text of the earlier letter:
February 13, 2020
Dear Tabor Community,As you may be aware, our Head of School, John Quirk, was charged on January 31 with operating a vehicle while driving under the influence of alcohol and at an excessive speed. Many of us were with John for a trustee dinner on campus earlier in the evening, and we were surprised to learn of this incident in the following days.Thank you for your patience and support as we collected information and deliberated on the matter. The Board has met on multiple occasions and was guided by what is best for our students and our entire school community, as well as by Tabor's mission and values.As you know, safety has been one of the highest priorities of our great school and we work tirelessly to reduce risk in our community through awareness, education and the enforcement of carefully constructed rules of conduct. Drinking and driving while speeding was a crime which posed an extreme danger and a violation of our rules of conduct, prompting the Tabor Board of Trustees to evaluate his ability to lead our school.After careful consideration, John will remain Head of School. Although gravely irresponsible, John's recent action does not outweigh all that he has accomplished at Tabor or the continued progress we expect him to lead as Head of School. We believe that his legacy is found in the thousands of students who have graduated during his tenure and are now uplifting the world with the ability and purpose he has helped instill within them. John Quirk has contributed greatly to our efforts to fulfill the promise of Tabor Academy and offer students the greatest boarding school community experience. John has given his life to Tabor and, together with all of the faculty and staff, he has created a highly supportive community that values the experience of learning, one which includes the lessons derived from the mistakes, challenges and forgiveness along the educational path. Through the work of Tabor's Disciplinary Committee and "two strike" policy, he has shown the students and families fairness including providing second chances and opportunities for redemption.John has expressed deep regret regarding his actions. As part of the goal of personal accountability which is embraced at Tabor, John will be addressing students and parents and all of our community stakeholders to express his apologies, and to share what he learned and continues to learn from this incident. John will also suffer the consequences of his actions as dictated by the justice system. In addition, although we cannot provide details, as would be the case for any human resource decision, the board has implemented a number of remedial and constructive disciplinary actions based on John's transgression. The Board believes that these actions are tailored to, and appropriate for, the nature and gravity of the situation, and will ultimately make John a better Head of School.We wish to thank the many who have contacted us and provided input on how the news of this incident has affected you and your families. Thank you for sharing with us the importance Tabor has in your lives, and how John's actions have impacted Tabor's culture. An overwhelming number of you, while not approving of John's actions, have been supportive of John and urged that he remain Head of School. Others have expressed concern and displeasure for his continued role. Although our decision was made based on our obligations as trustees, the overwhelming support for John helped to validate our belief in the value he has contributed to the school.
It is our belief that John can continue to help Tabor fulfill its mission, and it is our commitment to you that we continue to monitor, care for, and protect all that we have built as Tabor heads into an extraordinary future.
Tabor Academy Board of Trustees
Enter your number to get our free mobile app
More From WBSM-AM/AM 1420