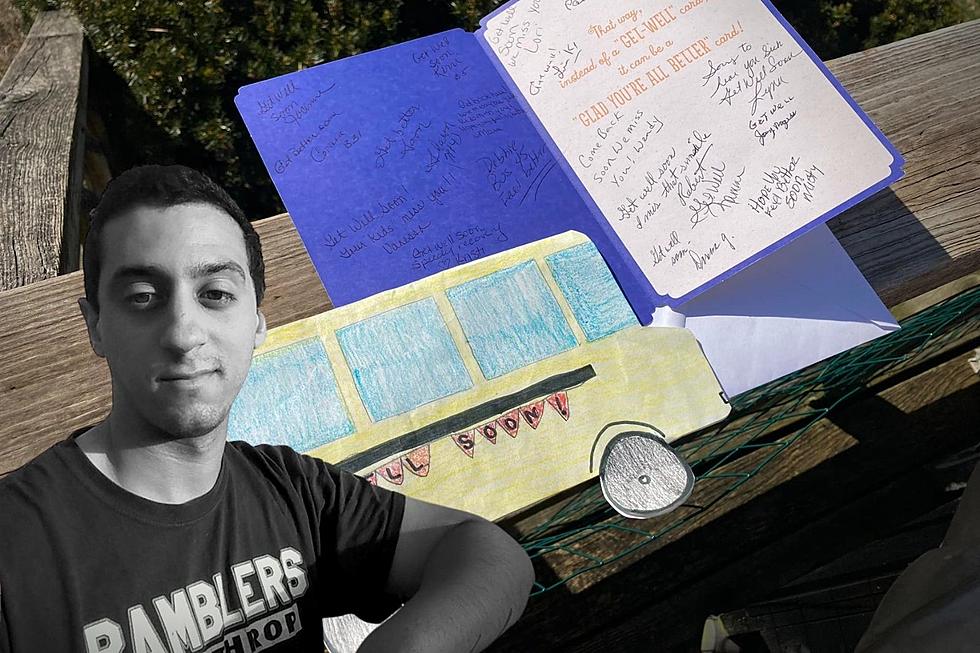 'Get Well Soon': Love for Wareham Bus Driver
Courtesy George Ramos
It was a heartfelt morning for George Ramos, who returned to his normal bus routes in Wareham after experiencing a life-threatening illness.
Around two weeks ago, Ramos, a Wareham native, was driving around Plymouth when he started to feel extreme pain in his stomach. Nausea promptly followed. Ramos kept pulling off to the side of the road. He made his way over to his father, who took him to Tobey Hospital. Ramos was sent to the operating room where his appendix was removed immediately.
On a normal day, Ramos drives a bus for Wareham Public Schools during the morning  and is a lunch monitor in the afternoon.
Fast-forward to post-op and Ramos returned to work with a warm welcome from the students he drives as well as his co-workers.
The kids made him a heartfelt "get-better" card and Wareham staff members pooled together a significant amount of money to help Ramos with his medical bills.
While Ramos was away from work for two weeks, he wasn't eligible for sick leave and was still in the enrollment process for his health insurance.
It's safe to say that timing was not on his side when the incident occurred, but that didn't stop the Wareham community from lending a hand when Ramos was down on his luck.
"I definitely believe that the love you give, the love is returned," Ramos told Fun 107. "I grew up here from kindergarten to high school and it's nice to be back and give back any way I can. I was very surprised when I received the cards, but most importantly very thankful."
As far as his energy and health are concerned, Ramos defines it as "night and day" compared to when his appendix was on the fritz. He is able to return to work but has to lay low for the next month as far as working out and going to the gym.
His final message to the people of Wareham and his coworkers is simple, yet meaningful.
"I'm very grateful to be alive. It could have been worse," Ramos said. "Thank you a million times over, I truly appreciate you all."
Wareham Remembrance Trees
The 73 decorated remembrance trees adorning Wareham's Besse Park are more than a sign of Christmas. They symbolize the individual beauty of lost loved ones.
More From WBSM-AM/AM 1420