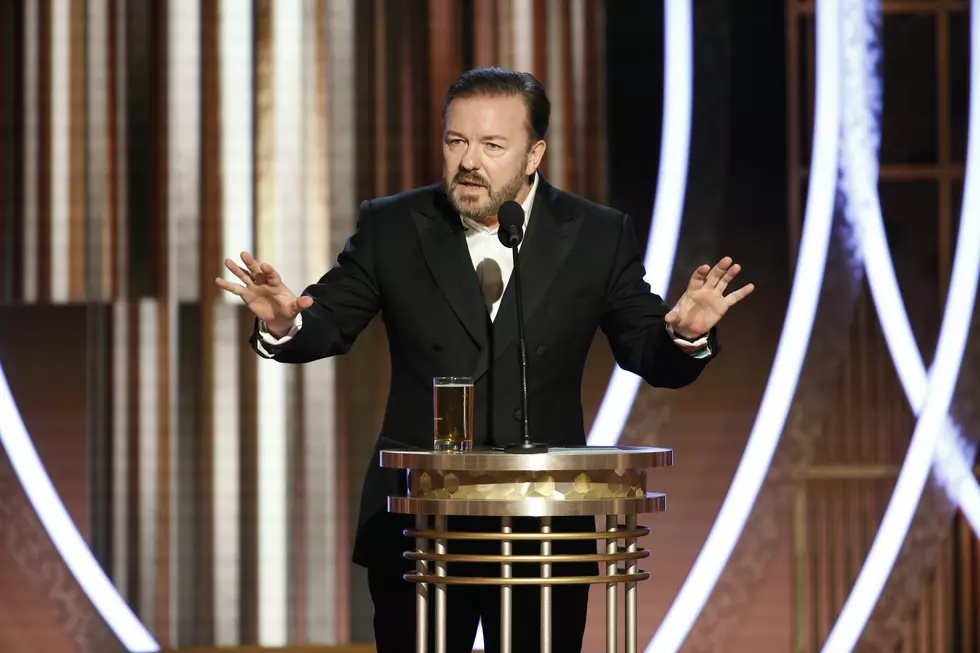 Gervais Delivers Gold with Globes Rant [OPINION]
2020 NBCUniversal Media, LLC via Getty Images
Before last night, I don't believe I'd ever heard of Ricky Gervais. Now, he is my hero.
For those who still may not know who Ricky Gervais is or perhaps you are just emerging from your Wild Card weekend stupor and haven't visited social media yet today, Gervais is the guy who sliced, diced and served up the Hollywood elite on a platter at the Golden Globe Awards last night.
Here I was minding my own business, binge-watching Lost in Space on Netflix, when suddenly my phone began to explode with alerts. Ah, just some guy named Gervais saying something controversial at another awards show. Probably just another high-priced liberal actor apologizing to Iranian terrorists. But wait – Gervais was calling out the elitists and their hypocrisy. At great risk to his career, Gervais was exposing and making sport of this self-righteous collection of slugs.
Gervais held nothing back, mocking the "woke" mucky-mucks for virtue-signaling and called them "perverts" for their friendship with sex pig Jeffrey Epstein. Gervais went after Disney and Amazon and attacked Apple TV as "a company that runs sweatshops in China." He lambasted the Hollywood hypocrites for taking money from these corporate giants. "If ISIS started a streaming service, you all would be calling your agents," he said.
Gervais advised the snob-set to keep their politics to themselves: "So, if you do win an award tonight, don't use it as a platform to make a political speech. You're in no position to lecture the public about anything. You know nothing about the real world. Most of you spent less time in school than Greta Thunberg. So, if you win, come up, accept your little award tonight, come up, accept it, thank your agent and your God, and f--- off. No one cares about your views on politics or culture."
It took guts for a guy like Ricky Gervais to go face to face with these clowns on their own turf and on international television, too. Gervais held up a mirror to an uncomfortable crowd that could do little more than fidget and laugh nervously while praying he'd be finished soon. This wasn't about Trump or left versus right. It was about exposing the hypocrisy in the entertainment industry and delivering a warning that the public has had enough of it.
Good for you, Ricky Gervais, for being a voice for so many of us who are tired of being lectured to by the holier-than-thou crowd.
Barry Richard is the host of The Barry Richard Show on 1420 WBSM New Bedford. He can be heard weekdays from noon to 3 p.m. Contact him at barry@wbsm.com and follow him on Twitter @BarryJRichard58. The opinions expressed in this commentary are solely those of the author.
Enter your number to get our free mobile app
More From WBSM-AM/AM 1420