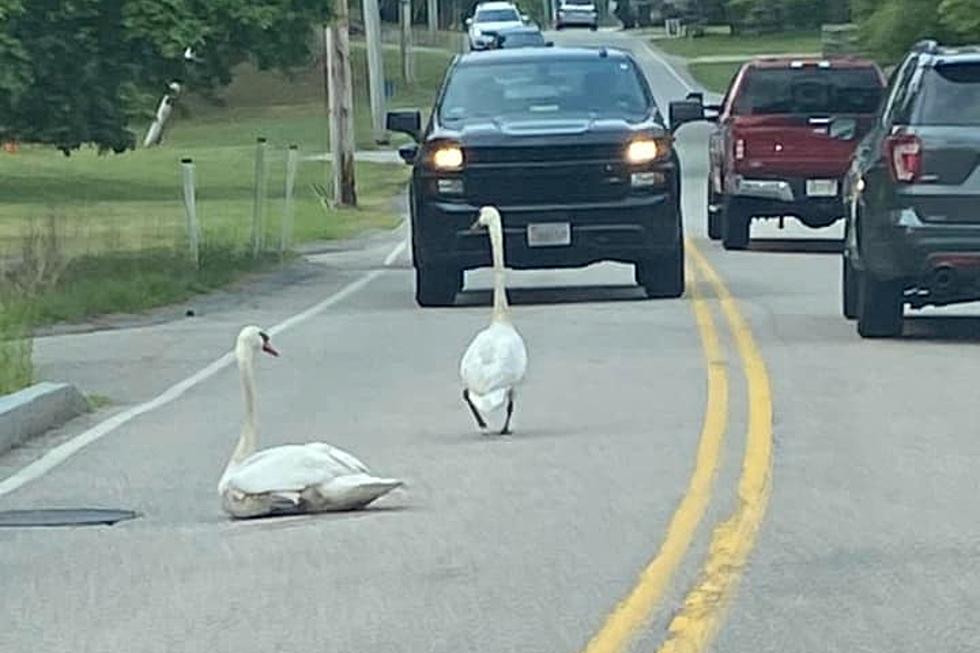 Freetown Swan That Rested in Roadway May Be Injured
Courtesy Patty Wolffe-Nicolan
FREETOWN (WBSM) — A swan caused a stir in Freetown this morning when it decided to take a rest right in the middle of a roadway, and the town's animal control officer is concerned it may be injured.
Charlotte Carvalho posted in the Freetowners Facebook group at 7:40 a.m. to warn residents that there was a swan lying in the street on Gurney Road, and that the police had been notified about it.
At 8:21, Kayla Barrows posted a photo of the swan lying on the side of the road.
She posted another at 9:15 stating the swan was now safely off the road and back in the water.
Freetown Animal Control Officer Lisa-Marie Griffith-Podielsky told WBSM that by the time she arrived on the scene, some folks from a nearby business had already put the swan back in the water, which she said was not a good idea.
"Now I can't get to it to check for what injuries it may have or if it needs medical care," she said.
Griffith-Podielsky remained by the pond, watching the swan to see if she could figure out what was wrong.
"I believe it has a broken leg," she said. "It was able to reunite with its mate and seems to be doing well so far. Some of the workers here are going to continue monitoring the swans and will keep me updated."
Griffith-Podielsky said she can't be 100 percent certain of the injury just by looking at the swan from afar, but that it could have been struck by a car or attacked by an animal.
"There are a lot of snapping turtles in that body of water, but it is strange that he ended up on the road," she said.
There was also a similar incident earlier this week in Mattapoisett, with a swan that had to be moved from the roadway.
LOOK: Stunning animal photos from around the world
From grazing Tibetan antelope to migrating monarch butterflies, these 50 photos of wildlife around the world capture the staggering grace of the animal kingdom. The forthcoming gallery runs sequentially from air to land to water, and focuses on birds, land mammals, aquatic life, and insects as they work in pairs or groups, or sometimes all on their own.
LOOK: 30 fascinating facts about sleep in the animal kingdom
More From WBSM-AM/AM 1420